---

Telling the story of your boating business can help build a stronger brand bond with your customers and the industry
If you are a longtime boater like me, then you have likely heard a lot of great stories on the dock. The story about the time your friends anchored out for the weekend and braved "the perfect storm"… or how about the summer your friends cruised the ICW, and of course the fishing trip with the "one that got away"?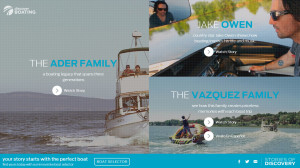 Boaters love a good story… and of course if it has anything to do with the water or boating it's really got their attention.
It's no wonder that Discover Boating has embraced the idea of storytelling in their new discovery series for boaters aimed at showcasing the boating lifestyle and recruiting more boaters. These real-life boater stories really help people connect with the boating lifestyle and get to the heart of Discover Boating's brand mission.
So it only makes sense that boating businesses share their story too. After all, most of us have a great story to tell about how we got started as a boating business.
Many marine businesses started out with an idea to make boating better, while others may be run by a multi-generation family that continues to serve local waterways as a marina, restaurant or boat dealer.
Whatever your story, it is likely one that gives great insights into your company and is worth sharing.
---
---
Building Your Story
What makes your brand unique? It's more than just the product you offer or the service you provide. It's the story behind your business… how you were created, the journey you took, the challenges you faced and how you evolved into the business you are today.
People like a behind the scenes look into a company – being able to peak behind the curtain and know more about what makes a company tick. Doing that can help reinforce the brand image you have worked so hard to create (or you hope to create).
The benefits of storytelling for a brand can be significant. First and foremost, if done right, it can truly strengthen your brand. It can help build trust and confidence in your brand and make it more memorable. And it can create a stronger brand bond with your customers, partners and industry.
So what's your story?
Your brand story can go back to your roots and focus on how you came up with your product idea, or it can simply be about the people behind your business and the company culture that makes your business special. Letting customers tell their real-life stories through their own experiences with your company or product is also a very effective way to expand on your brand message.
Whatever your story, it must be authentic, credible and valuable to resonate with your audience.
Sharing (or Marketing) Your Story
A business story should be an important part of your marketing communications mix and is integral to your content marketing strategy. It can be a powerful marketing tool – so once you create your story make sure you are utilizing it as much as possible.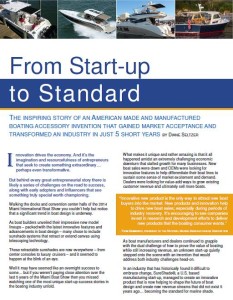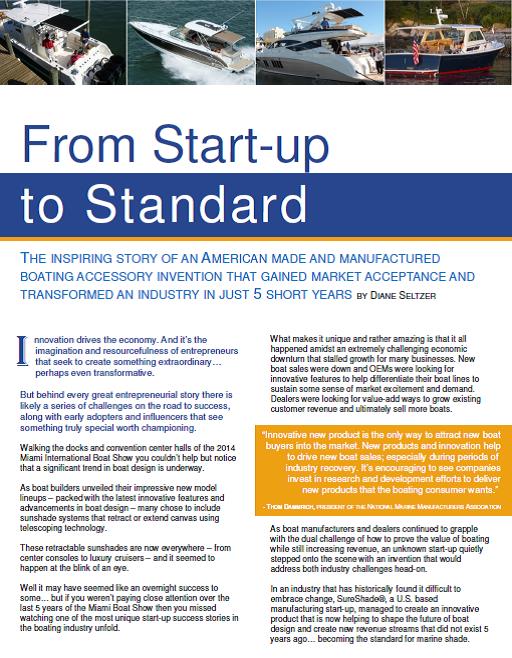 This year as SureShade celebrates its five year commercial launch anniversary we felt like it was the perfect time to share our story as a successful start-up in the boating industry. I have been lucky enough to be along for the ride for most of the journey as their marketing director for the last 4+ years, so I was able to pull together the details and help bring the story to life.
With the intent to offer real insight into the business, we created the SureShade growth story From Start-up to Standard, a 5 page PDF that chronicles the company's journey from product invention to commercial launch and market acceptance. Recognizing that it takes a team to change the game, the story also gives thanks to the many builders, dealers and industry players that have championed us along the way. It also reveals specific strategies for growth not available elsewhere.
We invite anyone – boaters or marine businesses – to download it for free at www.SureShade.com/story.
To debut the story we launched a series of trade ads with the theme "Preferred by builders, demanded by boaters" that introduces the 5 year growth story with the URL to download it. The story is now being promoted on our website, across social media and will likely include more special promos in the months ahead.
The Trend of Storytelling for Brands
The concept of storytelling has been around for centuries, but the art of storytelling for brands seems to have taken shape in more recent years as a powerful marketing tool. Perhaps it's due to social media or new multi-media tools at our disposal? Or perhaps the concept has just taken off because it is just a better way to cut through advertising clutter to get your message heard.
And the method for storytelling is also changing. Many brands are now choosing to own their story by self-publishing content for use on their blog, website or even on other publisher sites through native advertising opportunities.
Whether in the written form, audio, video or some other type of digital publishing technology, the way stories are told is likely to continue to evolve for brands.
The opportunities for boating businesses to tell engaging stories to really connect with boaters and other marine businesses are limitless.
photo credit: Vancouver Film School
---
The following two tabs change content below.

Diane is a marketer, avid boater and author of the award-winning book
PR Tools to Toot Your Own Horn
. In addition to being founder of MarineMarketingTools.com, Diane runs the small business site
SBMarketingTools.com
and the boating lifestyle sites
MyBoatLife.com
and
BoaterKids.com
.

Latest posts by Diane Seltzer (see all)