About Marine Marketing Tools

Marine Marketing Tools is dedicated to growing your business in the boating industry. We offer cost-effective marketing tools, resources and strategy ideas exclusively for boat dealers, marinas, boat builders, marine suppliers, boating product manufacturers and boating service providers.
This site was created to fulfill a need for more marketing resources to help growing small businesses in boating. There are many ways businesses can get big marketing budget impact without the time or money investment. Our site focuses on how to leverage easy-to-use and low-cost marketing tools to compete and grow, as well as straight-forward marketing ideas and strategies for the boating industry.
Designed to be a collaborative site with more than one voice, Marine Marketing Tools features best practices from a variety of boating industry professionals in the areas of marketing, sales and business productivity. Discover strategies and tactics from your peers, exciting new product ideas to add to your line and new ideas to improve your leads or customer retention.
---
---
---
About the Editor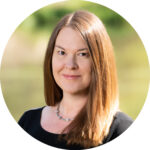 Diane Seltzer is a 25 year marketing veteran, award-winning author, marine marketing consultant and avid boater.
She founded Marine Marketing Tools to bridge her passions of marketing and boating by creating a site that would be devoted to growing the many small businesses in the boating industry.
With a diverse business background ranging from advertising account management to corporate marketing and marketing consulting, Diane offers a unique perspective on marketing strategies and implementation. Diane is also the founder of Small Business Marketing Tools, a guide to free or low-cost tools for small business marketing and productivity, and author of the award-winning book PR Tools to Toot Your Own Horn – Strategies and Ideas for Small Business Public Relations – a winner in the 2013 Small Business Book Awards for marketing.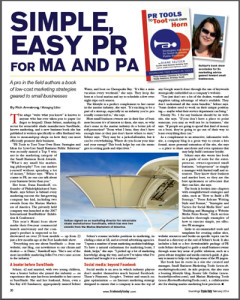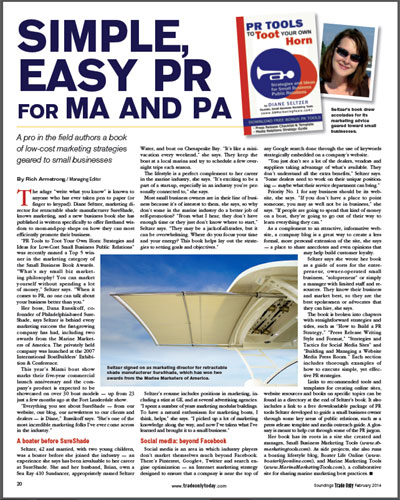 As the marketing director for marine sunshade system manufacturer SureShade for over 10 years, Diane has contributed to growing the SureShade brand to become the new standard for shade on boats.
Diane was also featured in the February 2014 issue of Soundings Trade Only in the article Simple, Easy PR for Ma and Pa. The article highlights her book PR Tools to Toot Your Own Horn, her experience in marine marketing and her passion for boating.
When she's not boating with her family on the Chesapeake Bay, Diane also runs the boating lifestyle sites MyBoatLife.com and BoaterKids.com.
---