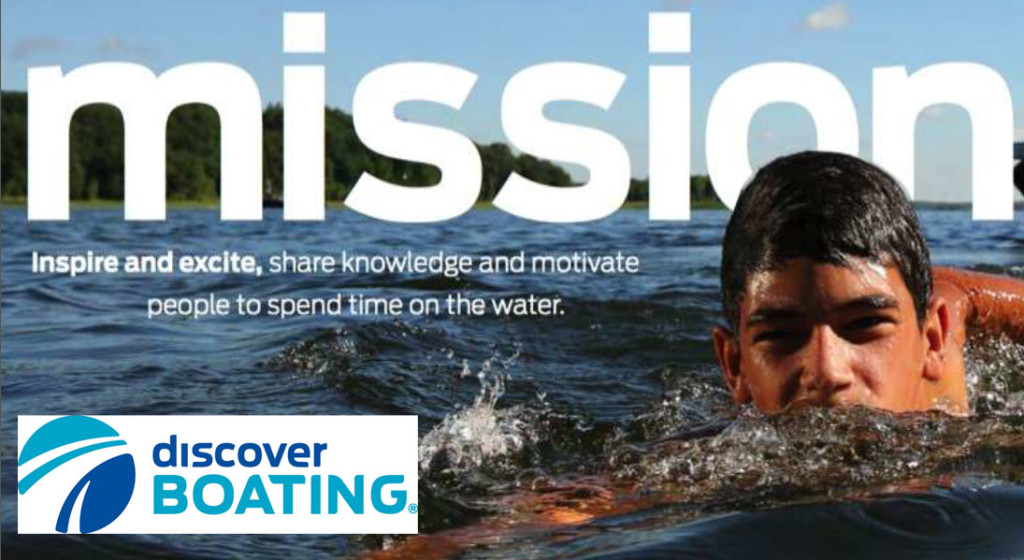 Marketing campaign strategies and objectives shared with boating industry stakeholders
Discover Boating, the public awareness effort managed by the National Marine Manufacturers Association (NMMA) on behalf of the North American recreational boating industry, shared details on their 2015 marketing plan during a webinar to marine industry stakeholders on May 19, 2015.
Led by Discover Boating president Carl Blackwell, the webinar included an overview of marketing plans developed by the NMMA/Discover Boating marketing team with the overall mission to "inspire, and excite, share knowledge and motivate people to spend time on the water".
---
---
New Marketing Campaign Plans for 2015
Many of the marketing plans outlined in the 2015 are aimed at building on strategies and programs introduced in the 2014 Discover Boating marketing plans.
Lead Generation
The 2015 campaign strategy is focused on moving consumers along through the buying funnel – from awareness to exploration to consideration – helping to lay down the foundation for boat builders and dealers to continue moving buyers toward a sale.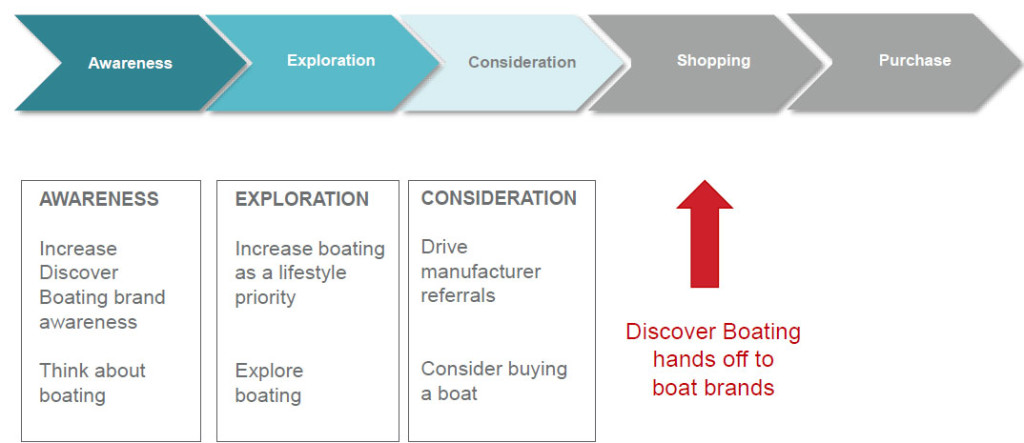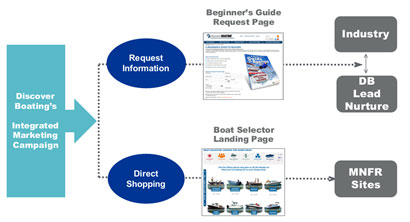 Although the lead generation process for boat manufacturers will continue to work the same way, the Discover Boating team notes that consumers are not as willing to give out contact information as much as they used to – consumers are 10X more likely to go to direct shopping than leave a lead.
As a result, Discover Boating is generating more traffic to builder websites. To optimize this traffic, it is recommended to edit your website information with NMMA to have traffic directed to a landing page that speaks to that type of consumer (at the top of the sales funnel – beginning of boat research & purchase process).
Stories of Discovery/Video
Showcasing the stories of real boating lifestyles will continue throughout 2015 by using long- and short-from web videos. Videos will feature real people from all types of backgrounds and ethnicity, capturing the emotional value of boating (as emotions are known trigger in purchase decisions in consumers).
All videos are available in the Discover Boating Video Vault and available to share online.
Jake Owen – Boating Ambassador
The Discover Boating partnership with country music star Jake Owen will continue for a second year with new promotional opportunities to share boating experiences with fans.
In addition to tapping into a fan base with in-tour elements as Jake Owen opens for Kenny Chesney's tour this summer, Discover Boating will be working with Jake Owen on PR & social media, developing exclusive content on DiscoverBoating.com and creating opportunities to take fans out on the water for boating experiences.
Social Media
A strong presence on social media continues throughout 2015 with some tweaks to specific strategies:
Creating PR moments on social media by capitalizing on pop culture stories and trends
Investing more in Instagram as one of the first brands to do paid placements (tapping into a growing audience with a strong millenials base)
More paid posts on Twitter and Facebook – transitioning to an engagement strategy as opposed to a fan building strategy
More Boating Industry Tools
Discover Boating is focused on providing tools to help consumers get out on water to get involved even if they are not ready to buy yet. Tools are aimed at getting them into the sales funnel and converting them into shoppers.
The campaign continues to invest in search to drive visitors to the Boat Selector Tool.  The boat selector guides people to their ideal boat, and then takes them to a boat detail page encouraging people to explore brands and contact a builder or dealer.
Marine Marketing Opportunities
Marine businesses can take advantage of industry-wide marketing efforts by reinforcing messaging and sharing content generated. Many of the marketing strategies and tactics – such as content marketing and social media engagement tactics – are marketing best practices that should be followed. Marine businesses are also reminded to tap into the many web tools and resources available to them on GrowBoating.org. (edit)
---
The following two tabs change content below.

MarineMarketingTools.com
provides occasional coverage on marine marketing newsworthy events and other updates that offer marine marketing opportunities to grow businesses in boating. If you are interested in a profile, please see our
sponsored post opportunities
.

Latest posts by News Editor (see all)