---
Integrated marketing plan includes strategies and tactics to build awareness for boating and connect consumers to boat manufacturers
Discover Boating, the public awareness effort managed by the National Marine Manufacturers Association (NMMA) on behalf of the North American recreational boating industry, shared details on their 2014 marketing plan during a webinar to marine industry stakeholders on April 22, 2014.
Led by Discover Boating CMO Carl Blackwell, the webinar included an overview of marketing plans developed by the NMMA/Discover Boating marketing team and their agency Olsen Advertising.
Strategies and tactics including continuing and expanding successful efforts like social media, as well as the introduction of new content marketing plans that aims to create and distribute relevant information to attract a clearly defined audience. The plan hopes to address industry challenges such as appealing to youth, diversity and the affordability/value of boating.
---
---
Discover Boating 2014 Marketing Plan Highlights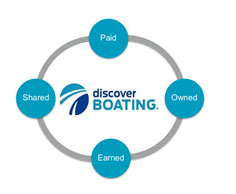 The review of Discover Boating's 2014 marketing plan emphasized an integrated approach to building awareness and positive perceptions of boating, with a goal of connecting consumers to boat manufacturers.
Marketing plans revolve around 4 types of media:
Earned Media – media coverage earned through PR efforts
Shared Media – social media engagement
Paid Media – traditional purchased advertising
Owned Media – properties like website, video, content and email databases
Specific areas of marketing focus include:
Branding
New Logo – the redesigned Discover Boating logo was consumer tested to be more inviting, friendly and inspiring
Website – a redesigned DiscoverBoating.com will now be responsive – making it easier to view on destop, mobile and tablet
Diversity – expect to see more diversity in photography, as well as more bilingual content that appeals to the Hispanic market
Content Marketing
Pre-Roll Video – 15-30 second video spots will be created and run as ads before relevant videos on YouTube
Editorial Content – known as "native advertising", valuable paid content will be placed in an editorial way on high traffic websites such as  People, Mashable, Parents, USA Today and Fitness.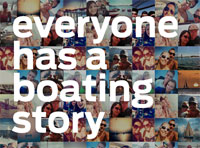 Boating Documentary Series – telling stories of boaters and sharing in video and other content. Stories include a family of boaters that spans generations, a cancer survivor, a Hispanic family and country music start Jake Owen as a marquee storyteller who has a passion for boating.
Jake Owen Days of Gold Tour – Discover Boating is the presenting sponsor of the Jake Owen Days of Gold Tour where boating will be fully integrated throughout the nationwide tour. His personal passion for boating, combined with an ideal demographic of his fans, gives Discover Boating an opportunity to reach and influence a wide audience of potential boaters.
Advertising
Banner Advertising – banners ads will run across the Google Ad Network promoting the Boat Selector Tool and the Beginner's Guide to Boating
Search Advertising – paid ads on search engines (Google, Yahoo and BING) using top keyword searches for target consumers
Social Media
Facebook – continued investment to grow and engage 677,000+ fans on Facebook with contests and sweepstakes and more paid advertising to support key events
Twitter – seen as a good way to reach and engage both media representatives and consumers (80% male following)
YouTube – will grow channel to include new documentary series and more "how-to" videos with a goal of informing and entertaining
Pinterest – visual way to promote boating and reach female audience who are primary users
Instagram – great tool to reach and engage young audience who are primary users – will encourage tagging of posts with #discoverboating
Lead Generation
All marketing efforts are focused on turning consumers into shoppers with two paths:
Discover Boating also hopes to track ROI on leads that eventually buy a boat through IP address analysis.
Budget and Calendar
Discover Boating noted that their marketing budget is only 45% of the budget of the Grow RV initiative, which is why efforts are focused on activities that get more "bang for your buck" as opposed to nationwide TV advertising. Future marketing budgets will be dependent on the growth of boat sales.
Many of the marketing plan activities are already underway – with overlapping time frames for key initiatives, along with a combination of seasonal and ongoing efforts.
The full Discover Boating 2014 Marketing Plan slide deck, including a recording of the webinar, is available to marine businesses on GrowBoating.org.
Marine Marketing Opportunities
Marine businesses can take advantage of industry-wide marketing efforts by reinforcing messaging and sharing content generated. Many of the marketing strategies and tactics – such as content marketing and social media engagement tactics – are marketing best practices that should be followed. Marine businesses are also reminded to tap into the many web tools and resources available to them on GrowBoating.org.
---
The following two tabs change content below.

MarineMarketingTools.com
provides occasional coverage on marine marketing newsworthy events and other updates that offer marine marketing opportunities to grow businesses in boating. If you are interested in a profile, please see our
sponsored post opportunities
.

Latest posts by News Editor (see all)