How to use Discover Boating vault of boating videos for marine businesses to promote boating
Videos can be a great tool to showcase boating and educate people on different aspects of boating in an interactive and engaging way. Videos are easy to share or embed into your website and use as part of an overall content marketing strategy.
Discover Boating, the public awareness effort managed by the National Marine Manufacturers Association (NMMA) on behalf of the North American recreational boating industry, has created a Boating Video Vault on DiscoverBoating.com with fresh and fun video content on the boating lifestyle.
Marine businesses and boating industry stakeholders are encouraged to use and share these videos as part of a collective effort to promote the boating industry.
---
---
How to Use Boating Videos
Discover Boating encourages using and sharing these videos in the following ways:
Share them with your network and through your social channels
Post them on your website
Play them in your showroom or boat show display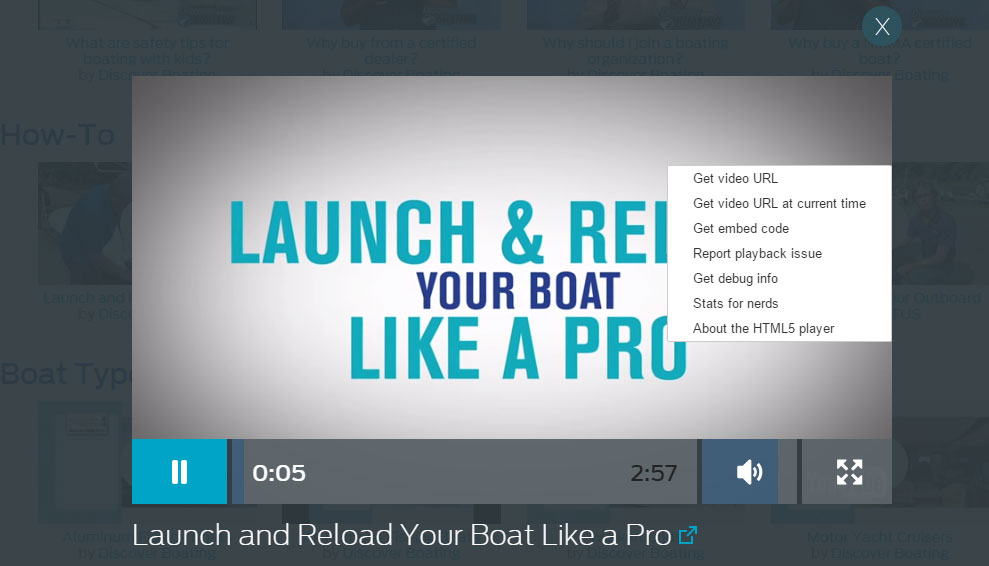 DiscoverBoating.com uses a HTML5 video player on their website and videos are accessed through YouTube. After you click on a video in the vault, right click and you will see options to get the direct link to the video to share on social media (Get video URL, etc.).
If you click the blue box with arrow next to the video name it will take you directly to YouTube where you can get video embed code and other sharing options.
You should also subscribe to DiscoverBoating.com on YouTube so you can be notified of any new videos that are added.
Discover Boating also shares some sample social posts you can share on your Facebook or Twitter accounts:
VIDEO: Launch and Reload Your Boat Like a Pro
Social Post: Looking to launch your boat with ease? Try these expert tips from @discoverboating (video): http://bit.ly/18eQQYv

VIDEO: Getting to Know Your Boat
Social Post: New to boating & learning the ropes? This @discoverboating video helps with the basics: http://bit.ly/1wHjcGx

VIDEO: Documenting Your Boating Adventures
Social Post: Grab your waterproof camera or @gopro & learn how to capture on-water action in this @discoverboating video: http://bit.ly/1EdWTuq
Have questions on the Video Vault or how to post the videos? Contact Discover Boating's Michael Perulli at mperulli@nmma.org.
---
The following two tabs change content below.

MarineMarketingTools.com
provides occasional coverage on marine marketing newsworthy events and other updates that offer marine marketing opportunities to grow businesses in boating. If you are interested in a profile, please see our
sponsored post opportunities
.

Latest posts by News Editor (see all)