---
Tips on how to expand your social media presence with Instagram by sharing real-time photos at boat shows
Until recently, I resisted adding the photo sharing site Instagram to my ever-growing list of social media accounts. The list of "must-have" social media tools seems to be getting longer and longer… and adding Instagram just felt like too much extra effort.
The fall regional boat show season leading up to Fort Lauderdale prompted me to change my tune on Instagram. I began to notice a bit of an uptick in Instagram usage in the boating industry that caught my attention. As I was searching for sneak peeks of new boat models I found several make their first appearance on Instagram from a regional boat show (like Annapolis and Newport).
So I decided that the upcoming Fort Lauderdale International Boat Show (#FLIBS) – where I was planning to promote many new boat models for SureShade – seemed like the perfect testing ground for my first time using Instagram… and boy was I right.
---
---
What is Instagram?
Instagram is primarily a photo sharing social media tool – although you can also use it to share short video clips that you can take directly from the Instagram app on your smartphone. Like Facebook and Twitter, Instagram can be accessed from your computer or a smartphone app. Some apps are definitely better than others, and I find the Instagram app very easy to use.
To use Instagram you simply take a photo or video with the app, or select from one already taken with your phone's camera, and then upload it to Instagram. Because Instragram is all about photos and videos the site is highly visual… making it ideal for the boating industry.
Instagram at Boat Shows
People like to get an early look at new boat models and special events happening at boat shows, and real-time sharing of photos via social media helps make that happen. The problem with other sites right now is the clutter and accessibility. Facebook doesn't allow all your posts to reach all your fans (unless you pay extra) and Twitter is full of promotional links and feeds that make it easy for photos and tweets to get lost in the mix.
Instagram is a growing alternative to other social media sites, and it offers an ideal solution for real-time photo sharing at events like boat shows. Based on my initial test of Instagram at the Fort Lauderdale Boat Show it was very effective.
Here are some tips I learned when using Instagram at boat shows:
User Name
When you sign up for Instagram try to use the same user name as your Twitter handle if possible – it will make it easier for others to find you or your company and tag you in photos.
Practice, practice
Post a few pictures ahead of the show – experimenting with Instagram while working a boat show is not the time to learn about how to use it. Instagram is easy to use, but you don't want to be fumbling with a new app for the first time during your event.
Expand Follows
Search for companies and people that you want to follow at the show and you want to follow you. Warning: the boating industry is lagging with Instagram and even many of the big boat brands are not even using it yet. That will likely change.
Hashtags
With the use of hashtags anyone can search for your photo updates on Instagram (much like using hashtags on Twitter for boat shows but on Twitter it might get you a stream of tweets and photos to sort through). But with Instagram its all about the photos. Searching by a popular hashtag for the event will yield you a stream of real-time uploaded photos. Find out the primary hashtag for the show – like #FLIBS for Fort Lauderdale – and use it on all your posts.
Tagging
Like Facebook, you can "tag" people or companies in your posts. This will get their attention that they were mentioned in a post and allow your post to come up in more searches.
Share Posts
Instagram makes it easy for you to create one post from the app and easily share it to your other social media accounts – like Facebook and Twitter. So when you are busy at a show you can send an update to three sites with only one post.
Activity on Instagram
Its clear that the boating industry has not fully embraced Instagram yet (many seem to be spending all or most of their time with Facebook), but my early test results show that Instagram is a very good fit for the industry. And while it may not replace the beloved Facebook or Twitter, it can be a nice addition to your social media tools.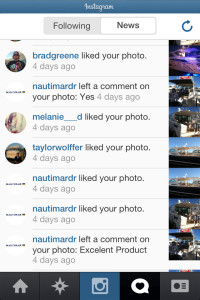 The SureShade Instagram posts I made at Lauderdale  generated a lot more activity than I expected. Talk about creating buzz… my phone notifications were in overdrive at Fort Lauderdale from Instagram! One evening I posted a picture of the new Regal 53 Coupe with our shade on it and woke up to over a dozen notifications of "likes" on the photo. That same post on Twitter did not garner the same reaction.
Instagram also helped me reach a broader audience for my photo sharing. Most of the likes were not from people following SureShade, they were from people that found the photo via the show hashtag or company tagged in the photo. Even with our small initial following, people were able to find our posts because of hashtags and tagging. And this was the case with nearly all the posts I made on Instagram during the show. We received lots of likes from people outside of our following – some familiar, some unknown.
Another interesting finding… Instagram seems to be much more popular with international than U.S. users for the boating industry. This may be because of the international appeal of Fort Lauderdale, but I suspect it is also due to an earlier adoption of Instagram outside of the U.S.
Either way, Instagram will continue to be my new go-to promotional tool for boat shows and I will definitely plan on using it for #MIAMIBOATSHOW in February.
Share Your Instagram Experience
Have you used Instagram yet at boat shows or elsewhere? Please share your experiences in the comments below.
---
The following two tabs change content below.

Diane is a marketer, avid boater and author of the award-winning book
PR Tools to Toot Your Own Horn
. In addition to being founder of MarineMarketingTools.com, Diane runs the small business site
SBMarketingTools.com
and the boating lifestyle sites
MyBoatLife.com
and
BoaterKids.com
.

Latest posts by Diane Seltzer (see all)