---
Compare social media marketing opportunities to reach and engage boaters and marine businesses
With so many social media sites available these days, it may be hard to decide where to focus your efforts (or even how to focus your efforts). Demographics and marketing opportunities are not the same for each social media site, and your social media marketing strategies should adapt to each one as well.
Not every marine business can afford a full-time social media expert on staff (or even an agency) and sorting through all the clutter can be a challenge for the average business. So to help guide marine businesses decipher the marketing opportunities, I put together the below social media comparison chart.
---
---
Social Media Highlights for Boating
If you are examining marketing opportunities for your boating business, here are some notable highlights of the below comparison chart:
Facebook: although very popular in boating (with a high level of use for boaters and boating businesses) the reach is very low unless you are willing to pay to boost posts to reach more boaters.
Twitter: the level of engagement is relatively high for Twitter (with a diverse demographic) but you must post / tweet often to get the benefits of website traffic, engagement and visibility due to the very short shelf life of your posts.
LinkedIn: this site is your best bet for professional networking and advancing your goals of building relationships with dealers, OEMs and other potential partners –  and with relatively lower clutter your posts have a better chance of being seen.
Google+: the most under-utilized mainstream social media site in the boating industry (and most industries as well), activity on Google+ can have a big impact on your SEO for Google search results so it should not be overlooked.
YouTube: a great way to tell your business story, demo a product or even sell a boat – YouTube is also an excellent utility for managing your video portfolio… with the added bonus of assisting you SEO because it is a Google product.
Instagram: popular with younger generations this highly visual site is perfect for raising brand awareness and creating buzz, but because it is used for real-time sharing the posts have a short shelf life.
Pinterest: just picking up for the boating industry, Pinterest can be a great traffic and online revenue generator that has a very long shelf life due to saved pins on boards.
Social Media Comparison Chart for Boating
Here's the full comparison chart for planning your social media marketing strategies:
(Note: click image to view larger if needed. Want to share? See embed code below.)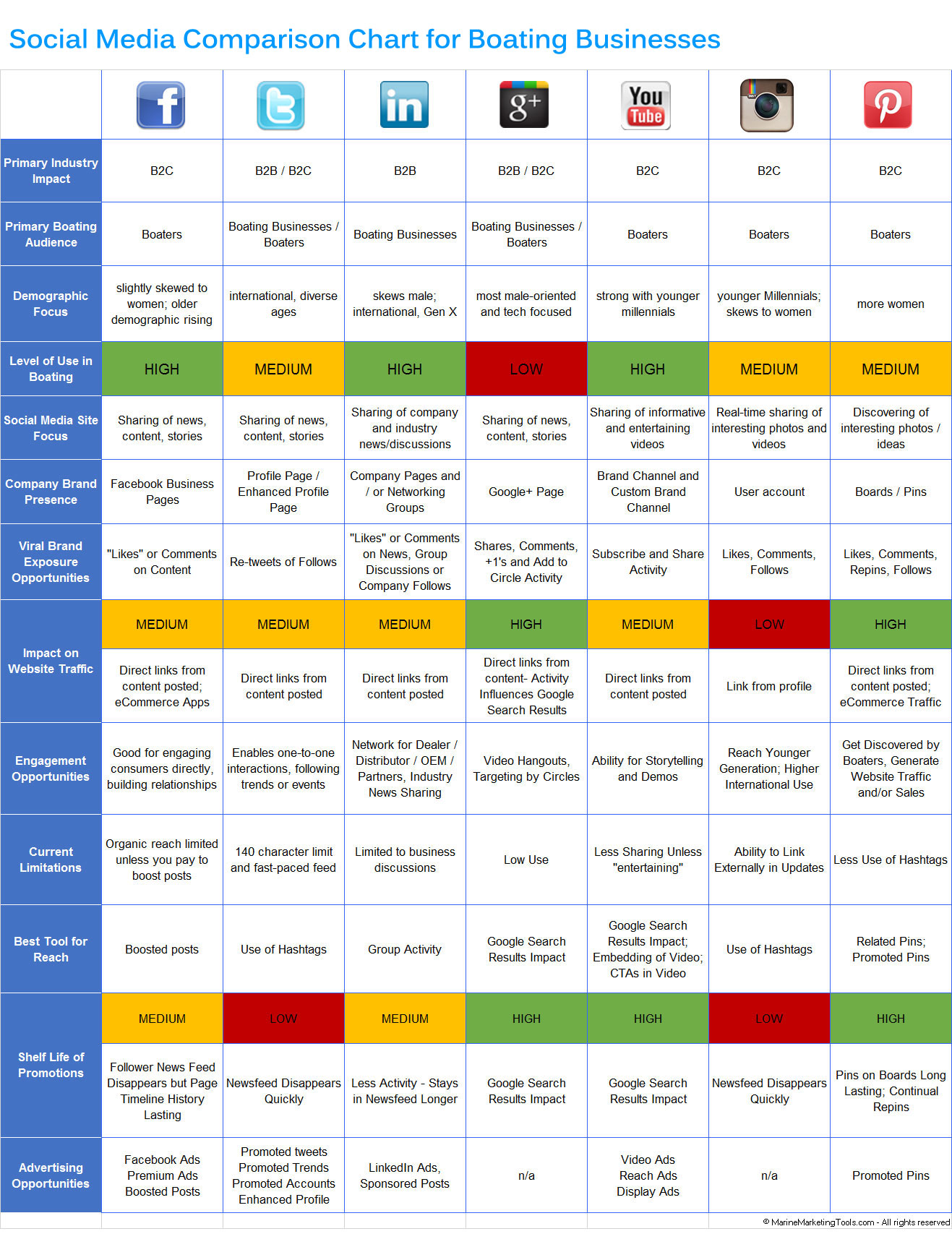 Need to view larger image? Click on the chart image above to view as a larger .jpg image and zoom in if needed (opens in new window).
Share this Image On Your Site
Want to share on your website or blog? Use the below embed code to share on your site.
(copy/paste the code in this box to share on your site)
Got something to add? Please comment below and I will be sure to update the chart with additional input and/or corrections if needed.
---
The following two tabs change content below.

Diane is a marketer, avid boater and author of the award-winning book
PR Tools to Toot Your Own Horn
. In addition to being founder of MarineMarketingTools.com, Diane runs the small business site
SBMarketingTools.com
and the boating lifestyle sites
MyBoatLife.com
and
BoaterKids.com
.

Latest posts by Diane Seltzer (see all)