---
Why boat builders and dealers should use innovative boating options and features in their marketing efforts
Home builders selling a new home design are likely to feature all the bells and whistles in their model home display. Not only does it help home buyers imagine the possibilities, but it also helps to showcase the best design features and options available.
Showcasing the latest design options enables home builders to stand out from the competition (or at least match available options offered by competitors). Buyers are not going to be impressed by a footnote in a list of available options… and it certainly won't entice them to be immediately drawn to the design.
---
---
Marketing Boat Options and Features
When it comes to boat design, it seems that the builders and dealers getting the most buzz these days are the ones that do the best job at displaying innovative options and features. It should start with the initial model launch from the builder and then continue at the dealership level.
When an innovative boat option or feature has a visual impact – something tangible that they can see or feel – you want to use that option to literally stop buyers in their tracks and grab their attention.
I have firsthand experience at SureShade with a variety of boat builders and dealers that have really excelled at creating new boat model buzz and continuing it strongly at the dealer level. There is a direct correlation between the marketing efforts of builders with our shades and the customer adoption level – in fact, the builders that market it well from the start see a nearly 100% selection of the option from boat buyers.
Similarly on the dealer level, those dealers that opt to order our shade on new models for their dealership lineup and showcase the option in their sales efforts do extremely well. For those who don't, chances are they'll need to order it anyway in order to sell the boat. We are seeing this more frequently – dealers having to order a factory shade direct from us and then do the installation because the customer wants the shade. The boat would have moved a lot faster if it had the shade option already installed at the factory.
Marketing Opportunities for Options
So based on our direct experiences, here is my round-up of the best marketing opportunities for builders and dealers to actively showcase innovative options and features: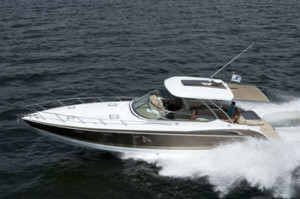 Photo shoot. Include your best options and features front and center when you invest in professional photography for new model launches. These early shots will be the ones that are used in throughout your early promotional efforts – such as boating publications, marketing collateral, point of sale displays and websites for builder and dealers. Don't miss out on the opportunity to showcase these options and features in your photography and video shoots… they will go a long way in assisting marketing efforts at the builder, dealer and vendor level.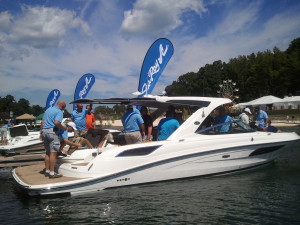 Pre-launch dealer meeting events. As a vendor, we love to be invited to a pre-launch dealer meeting event where we can demo our shade on a new model with dealers. For builders – we recommend extending invitations to marine suppliers that are key contributors to new model designs… and of course showcasing these new options on boat displays at your dealer meetings. For vendors and suppliers – this is an opportunity to make the most of boat dealer meetings by demonstrating the value of options and offering sales support if needed.
Boat shows. As you know, boat shows are one of the best ways for buyers to climb on board and see new models firsthand. A good presence can sell boats right at the show, and also make a lasting impression for future purchases of your brand. With social media the viral buzz created expands your reach exponentially. Whether it is a new model launch at an international show like Fort Lauderdale or Miami, or a regional boat show run by a local dealer, having your best options on display will make your biggest impact.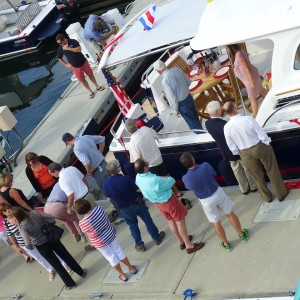 Dealer displays. When a builder does a good job showcasing options with a new model launch buyers will expect to see the same at their local dealer… particularly when there is a high adoption rate of the option. Having the latest and greatest on hand at your dealership will help create more buzz (and sales) at dealer events and in your showroom. It also helps drive aftermarket upgrade sales.
Website features. Your website is one of your best sales tools. Today's buyers spend more time researching features and options online before taking the next step toward a purchase. Websites should feature a robust photo and video gallery, in addition to thorough features and options listings.
Content sharing. Creating and curating new and valuable content is a goal for many brands. There are numerous content marketing ideas for marine businesses where you can take advantage of articles, photos, videos and more to showcase options and features. For example, we create new content for our blog and produce video demos that we openly offer dealers to share with their boat clients. Sharing content on your website, blog or social media helps feed your content pipeline with valuable resources… with the added bonus of showcasing innovative features your customers will want.
---
The following two tabs change content below.

As the Business Leader and Co-Founder at SureShade - The Shady Side of Boating, Dana is responsible for all business development with boat builders and dealers. Installed on over 35 different boat brands globally and available as a factory-install feature or aftermarket upgrade,
SureShade
is the new standard for shade in the marine industry.

Latest posts by Dana Russikoff (see all)