---
Marine suppliers and vendors need to get out from behind the table and get "on board" at dealer meeting events
As boat manufacturers prepare to debut new models and outline sales plans for the coming year, dealer meeting season is in high gear. And it's an opportunity for vendors and partners to showcase their products and services to some our best boater liaisons.
Dealer meeting events can be a great networking and sales relationship opportunity for vendors… but only if we get out from behind that exhibit table.
Sure those dealer meeting cocktail hours can be fun, and we may even be able to engage in a few good conversations as the dealers unwind. But sitting behind an exhibit table for 8 hours hoping for a dealer to cruise on by you is a major missed opportunity.
---
---
Getting On-Board with Boat Dealers
We have been to many dealer meeting events over the past few years as boat builders debut our shade on new models, and one of the biggest lessons we have learned is you gotta get out on the dock where the boats are to truly connect… because that's where the serious conversations are happening.
Climbing on board or going for a cruise is one of the best ways to interact with potentially your biggest sales advocate and showcase what your marine business has to offer them and their boating clients.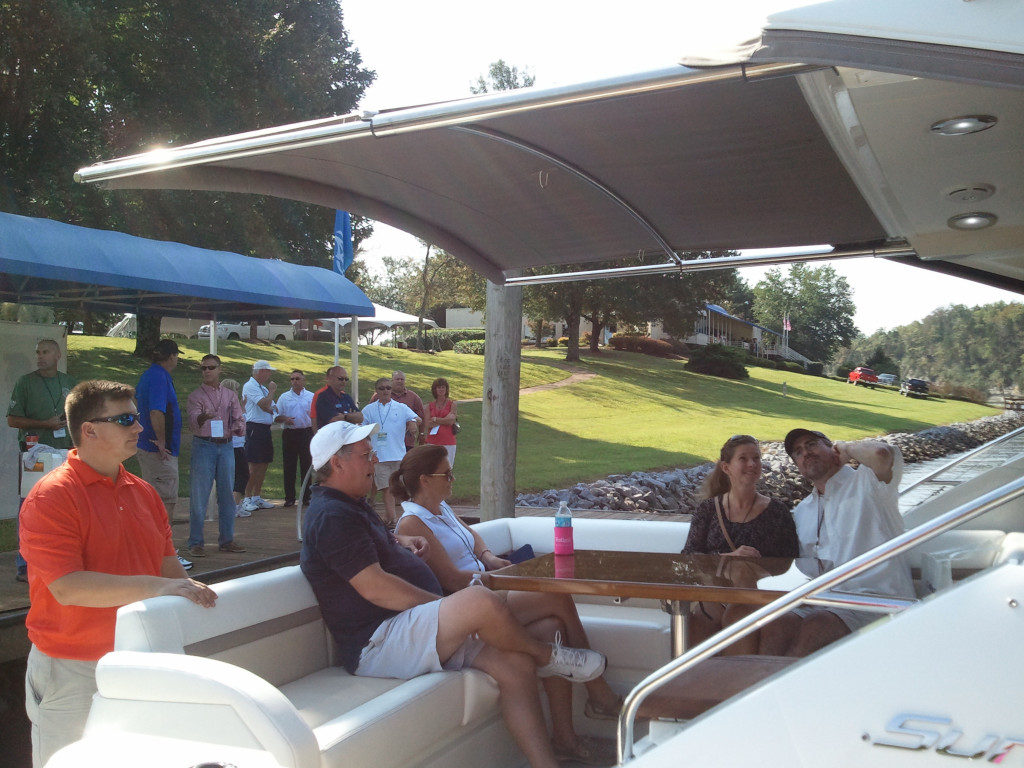 As the builder showcases their latest boat model, you should be in with the action to showcase your product or service at the same time. Go on a boat ride and help them experience first-hand what unique advantages your product brings to boating or to that particular boat model.
If the boat builder has chosen to offer your product as an option, make sure the dealers know why your product was selected by the builder and why they should offer the option to customers.
If your product can be an aftermarket installation or boat upgrade, dealers need to understand how easy it is to sell and install your product for clients. Make sure they understand both the value-add product and service department revenue opportunity.
Dealer Meeting Follow-up
Make sure that you have a good follow-up process to continue to showcase your business after the dealer meeting event.
Here are a few post-event follow-up ideas to build on dealer meetings:
Follow-up personally with immediate sales opportunities
Sign up new contacts for your company e-newsletter
Connect with new dealer contacts on LinkedIn
Follow all new dealer contacts on social media sites (Twitter, LinkedIn, Google+, Facebook)
Offer content for dealers to market your product or services (such as a blog post, newsletter content, or links to existing resources)
Share any promotional communications from event to co-promote (like our recent recap of a Sabre and Back Cove customer event)
The important thing is to make the most of meeting with a group of boat dealers that are dedicated to selling a boat line that you have a vested interest in supporting. You'll make lasting connections that will make your marine business, products or services more visible and top of mind.
---
The following two tabs change content below.

As the Business Leader and Co-Founder at SureShade - The Shady Side of Boating, Dana is responsible for all business development with boat builders and dealers. Installed on over 35 different boat brands globally and available as a factory-install feature or aftermarket upgrade,
SureShade
is the new standard for shade in the marine industry.

Latest posts by Dana Russikoff (see all)