---

Hold appreciation events at your marina to demonstrate a commitment to providing great service, build loyalty with boaters and attract new clients to your marina
Hosting events at your marina creates a sense of community, helping to make home port marinas a true home away from home. Boaters have many choices with marinas, so marina owners should consider these small investments in events a big investment in maintaining their client base.
A slip holder appreciation event can become an annual tradition for your marina that boaters will look forward to every year. It's also marketing opportunity for marinas to demonstrate their commitment to customer service for boaters, while showcasing all that they have to offer for new boating clientele.
---
---
Ideas for Slip Holder Appreciation Day Events
A slip holder appreciation day or event can happen any time for any reason you chose. Some of the most common times for holding an event include:
Boating season kick-off
Mid-season celebration
End of boating season wrap-up
Each year we look forward to the start of boating season which kicks off with an annual slip holder appreciation event at our marina. For boaters, it's a bit of a reunion with friends we haven't seen friends from the marina over the long winter break. We catch up with how everyone is doing since the fall, who's stepping up to a new boat, what cruises are planned and more.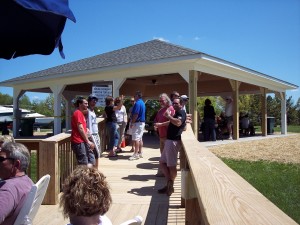 The slip holder appreciation day at our marina typically includes a free spread of food and drinks on the deck of the marina restaurant that overlooks the marina and river. The bonus is a raffle for prizes like 50 or 100 gallons of fuel, free services or the coveted "free winter storage".
Our marina does a pretty good job at this event, but as a marketer I can't help but think there are some other things they could do to boost their efforts. From marketing ideas that create buzz or more sales opportunities, to simply making the day more memorable, there are lots of ways to make the most of the event.
Here are some ideas to take your slip holder appreciation events to the next level:
Showcase boat lines. If your marina is also a boat dealer, give your slip holders a first-hand look at new boat models with a mini boat show. Or better yet, offer free boat rides during your appreciation event. The buzz will quickly build about the great new boat models your marina offers, and boaters will appreciate the VIP cruises.
Giveaways. Small promotional items are an inexpensive way for everyone to get something with your marina name on it – and boaters will proudly showcase your branded boating promo items everywhere they go. Take it as step further by giving away coffee cups that they can refill at the ship's store for free each morning.
Raffles. Nothing shows appreciation more than giving away something for free. Boaters will appreciate things like free or discounted fuel, free mobile pump-outs, winter storage, gift certificates for marina restaurants or other services like a free oil change or mid-season power wash.
Pot Luck. A fun way to make it more of a community event is making your event pot luck. The marina can take care of the main course and ask boaters to come with their favorite side dish or desert. You can even have people vote on the best dish for a prize, or ask boaters to share recipes.
Entertainment. Keep the party going with live music or other forms of entertainment. Rent a moon bounce for the kids or hire a DJ to entertain the crowd with games and activities.
Photos. Be sure someone is dedicated to capturing photos of the event to share on social media – this helps spread the word even more about how your marina appreciates boaters.
Marina Directory. If your event is kicking off the season, consider sharing a marina slip holder directory with everyone. Include boater names, boat names and slip numbers. It's a great way for everyone to get to know each other and further create a sense of community at your marina.
Encourage Guests. Depending on the size of your event and your slip availability, you may want to encourage boaters to invite guests. Offer an extra incentive for new slip rental referrals (giving a discount to both the new and current slip holders). If you sell boats, inviting guests is a good way to showcase new or used boats to potential new boaters.
What are your ideas for holding a successful slip holder appreciation event? Share ideas about your successful events in the comments below!
---
The following two tabs change content below.

Diane is a marketer, avid boater and author of the award-winning book
PR Tools to Toot Your Own Horn
. In addition to being founder of MarineMarketingTools.com, Diane runs the small business site
SBMarketingTools.com
and the boating lifestyle sites
MyBoatLife.com
and
BoaterKids.com
.

Latest posts by Diane Seltzer (see all)