---
Get creative and engage boaters with hands-on activities that lure them into the boating lifestyle, creating memorable experiences with new and existing customers
Boating is all about experiences… from the joy of cruising on the water with the wind in your hair, to memories created with friends and families on the dock or anchored out.
As marine industry professionals, it is our job to sell the boating lifestyle. And there is nothing more powerful than an event to give people a chance to connect with boating – to create a new fan of the industry or to celebrate the lifestyle they love (and keep them addicted to it).
Whether it is National Marina Day, an annual Slip Holder Appreciation event or a local boat show, make the most of these events with interactive, hands-on activities that showcase the industry and get boaters involved.
When it comes to boating events, too many marine businesses just set up a table under a tent, tie a banner to it and hope people will "stop by" to learn what you have to offer. There is so much more you can do – with little investment or effort – to create a more engaging and memorable exhibit at a boating event. I noticed this first-hand at a recent National Marina Day for the Discover Boating on the Delaware initiative – people spent far more time at interactive exhibits that gave them a hands-on experience.
Here are some simple ideas to add more interactive elements to your next boating event.
---
---
Boating How-to Demos
People love to learn something new – or show how much they already know. Create hands-on demos that showcase fun aspects of boating and teach people how to do something new… or an opportunity to showcase their boating know-how.
Demo how to make different nautical knots
Lure them in with fishing activities and demos, like casting a line
Teach boaters the proper way to wax a boat (ask a local detailer to do the demo – they'll appreciate the extra exposure at the event!)
The U.S. Coast Guard Auxiliary is also a great resource for demos and free vessel safety checks, offering a valuable service to boaters.
Boat Displays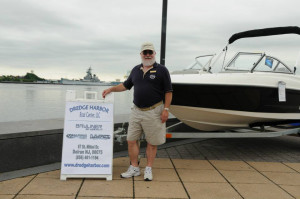 Whenever possible, have boats on site at your event – either in the water or on a trailer – so new and existing boaters can view them and climb on board for a taste of the boating lifestyle first-hand.
Showcase the latest boat models in the line you carry giving boaters an "exclusive" tour
Encourage clubs for a boat brand you carry to bring their boats – giving current owners to share experiences and stories about why they love the boat brand (also gives boaters a chance to view their next potential upgrade models)
For the ultimate hands-on boating experience offer free boat rides
Photo Prop Display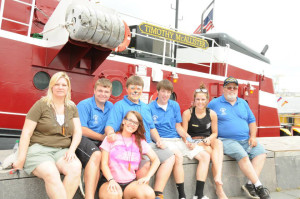 Taking photos of people having fun at your boating event makes great content for social media. And most people will enjoy having their photo taken next to something interesting and out of the ordinary.
Set up a fun boating back drop or props to have pictures taken. An easy back-drop is using one of the boats on display at the event. Special vessels such as a fired department marine boat or tug boat also make great keepsake photos.
Ask for email addresses to email pictures to people (and also generate leads!), or have them LIKE your Facebook page to see pictures (and share with more friends on Facebook for a viral marketing effect). BONUS: these photos will help build your own photo gallery of event pictures with customers and visitors for use on social media, your website and company blog.
Games and Challenges
Create some friendly competition with attention grabbing games and challenges.
Lasso a boat cleat challenge
Boat dock challenge with remote boats in a water table
Have a casting challenge, giving kids a chance to demonstrate newly learned fishing skills
Life Jacket Display
Promote boating safety and entice people to "try it on for size". This may be the first opportunity for new boaters to try out life jackets and see all the options for boating safety.
Get kids fitted for their perfect first life jacket with a display of various sizes and styles.
Showcase the latest styles and features like new inflatable life jackets.
Have a marine supplier bring life jackets to your event to have a bigger variety. They can also have them available for sale so they can try it and buy it on the spot.
Raffles
Showcase products and services and give people more incentive to attend your event by offering raffles.
Get marine suppliers and exhibitors to donate items for a free raffle. You can raffle off a boat tote of smaller items or individual bigger items. Raffles can be boating products or gift cards for free or discounted services that boaters would value.
Kids Fun
Set up a station for free face painting and or free temporary tattoos. Have a variety of nautical inspired choices for kids like fish, crabs, mermaids, dolphins, sharks… and of course boats! Other fun giveaways like whistles
The ideas for making your boating exhibit an event to remember are practically endless. The trick is to get creative and focus on getting people actively involved. You'll have a lot more fun manning your table or booth and boaters will walk away with a more memorable experience.
What are your best practice ideas for interactive boating event activities or exhibits? Share them in the comments below!
photos courtesy of Candyce Holmstrup
---
The following two tabs change content below.

Diane is a marketer, avid boater and author of the award-winning book
PR Tools to Toot Your Own Horn
. In addition to being founder of MarineMarketingTools.com, Diane runs the small business site
SBMarketingTools.com
and the boating lifestyle sites
MyBoatLife.com
and
BoaterKids.com
.

Latest posts by Diane Seltzer (see all)