---
NautiGirl Brands trademark battle with Nautica demonstrates importance of a strong brand and trademark strategy for small businesses
As a marketer, I know that a strong brand is one of the most valuable assets of a business. We carve out a unique niche in the market, develop a brand identity, grow a brand presence and then we must protect it.
A strong branding strategy is important for all businesses – big and small – but it can be especially valuable for a growing small business that has created a unique product line. You don't want competition to impede on your brand, so trademarks matter.
trade·mark /ˈtrādˌmärk/
a symbol, word, or words legally registered or established by use as representing a company or product.
---
---
The NautiGirl Trademark Battle with Nautica
Recently, an epic trademark battle between a small boating apparel & accessory company and a retail giant caught my attention.
NautiGirl Brands, run by Christine Palmerton in Bellingham, WA, was being challenged by worldwide brand Nautica resulting in nearly three years of litigation.
Nautica argued that her logo and company name — NautiGirl, with the tagline "Dare to be naughty" — were too similar to the Nautica brand and would create consumer confusion. Nautica's logo is the outline of a spinnaker sailboat, while Nautigirl's cartoon logo has a woman holding a martini while standing behind a ship's wheel.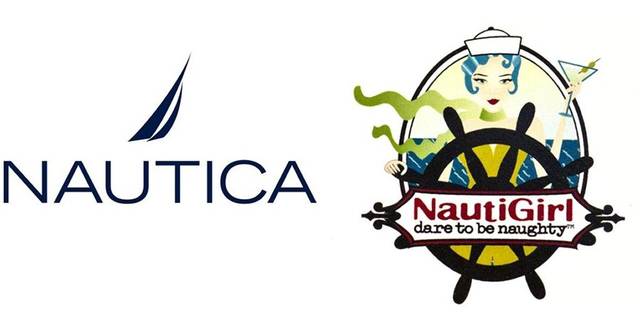 The NautiGirl brand was trademarked in 2008 – a process which entails the U.S. Patent and Trademark office researches all applications to make sure there isn't a similar name that could lead to brand confusion.
Then why the trademark infringement case? Nautica is a large company with deep pockets that is aggressive when it comes to defending its brand… but also known for being a "trademark bully" when it comes to small businesses – with more than 50 instances of Nautica challenging a business name or logo since 1995.
But in this case, the small business won.
In late October 2015, the U.S. Trademark Trial and Appeal Board ruled that Christine Palmerton's company logo and name, Nautigirl Brands LLC, was not similar enough to those of Nautica Apparel and refused to cancel NautiGirl's trademark.
(Video announcement courtesy of The Bellingham Herald)
The NautiGirl Brands Story
As a marketer responsible for growing a brand for a small business in the boating industry, SureShade, I was particularly interested in hearing the story behind NautiGirl's brand and how they won the trademark case. Before the launch of SureShade we established our own trademark strategy for our company and products (along with a strong global patent strategy to protect our shade designs). We are passionate about protecting our intellectual property rights granted under U.S. Patent and Trademark Law.
So I asked Christine from NautiGirl to share more details…
What is the Nautigirl brand & niche you have created?
The NautiGirl Brand was created for the many women like myself I had met while operating my Yacht rental company in 2008.
Women with a love of the sea and adventure, that were confident in steering their own destiny towards success but having fun along the way. I had searched for a brand that I wanted to sport that represented us and found a niche that was missing.  The brand because of the message has resonated with non boaters as well. I believe that inside every woman is a NautiGirl or one waiting to emerge.
How long has NautiGirl been in business with the brand name?
I launched NautiGirl at the Seattle Boat Show in 2008. I launched NautiBoy in 2009 at the request of our men in the industry. The NautiBoy brand is designed to acknowledge a love of the water and wanting to take risks to make a mark in the world but not forgetting to play and be that little boy within.
Why did Nautica file a trademark infringement suit?
Nautica has had a long history of filing petitions to cancel trademarks beginning with "Nauti". They claimed my "NautiGirl….dare to be naughty" design mark was causing confusion in the marketplace and I needed to cease and desist immediately, turn over my domain names and product.
What was unique about the approach you took in fighting this suit?
At first I consulted my local trademark attorney who informed me I did not have enough money to fight Nautica even though he believed I would win. I was told I should just consider giving up my Trademark, because going bankrupt was not a good business plan.
I did not believe letting myself be bullied and giving up something I already owned was a good business plan nor representative of the Strong Female Brand I was building so I set out to find pro-bono help online. I found Julia Matheson at Finnegan Law in D.C who was sympathetic and although couldn't help me for free, told me about law clinics that were starting up around the country to help small businesses. She ultimately helped me find Eve Brown at Suffolk Law University in Boston and her Students who took on my case. I rallied the NautiGirls and we won!
Why do you feel this was an important win – for NautiGirl and other small businesses?
Large corporations have gotten away with trademark bullying for decades and only because of financial resources. It sends a message that this is not OK and there are other ways to fight for your rights. Don't give up. Small businesses are important to our economy. Trademarks are important and companies must defend them, but it should not take nearly three years and hundreds of thousands of dollars to get your day in court.
It was important for me to win, because ironically, while Nautica claimed I was copying them, I've had to use my trademark to defend against blatant infringement of my design by others.
What's next for the NautiGirl brand?
Now that my Trademark is not under the threat of cancellation, I can go back to seeking further investment to launch a bigger national campaign through advertising, trade shows, stocking inventory to support demand. I've just launched a new retail website and I am working on a wholesale retail plan as we have had many other marina retailers requesting to carry the brand. We had also launched NautiBaby and NautiDog prior to petition. However, the focus is back to original NautiGirl Brand development for the moment.
There's an important lesson here about the importance of trademarks – whether you are a small business defending your brand against a big global corporation or another small business attempting to infringe on your brand.
---
The following two tabs change content below.

Diane is a marketer, avid boater and author of the award-winning book
PR Tools to Toot Your Own Horn
. In addition to being founder of MarineMarketingTools.com, Diane runs the small business site
SBMarketingTools.com
and the boating lifestyle sites
MyBoatLife.com
and
BoaterKids.com
.

Latest posts by Diane Seltzer (see all)