---
How a strong brand and a strong patent on an innovative boat feature can give you distinct market advantage
These days the boating industry buzz word is undeniably "innovation".
Boaters are demanding innovative features or services. Boat builders are responding to the demand by continually raising the bar with design features. And new ways of doing the business of boating are beginning to pop up everywhere – from peer-to-peer rentals to mobile service apps promising to improve the boating experience.
At the heart of this innovation trend is an entrepreneurial spirit that is driving the boating industry forward.
If you are an entrepreneur like me, or perhaps someone who has an interest in new and innovative ideas, then you are most likely a fan of Shark Tank. Determined entrepreneurs and inventors showcase their ideas in hopes of gaining a monetary and business investment.
And if you watch as often as I do (admittedly somewhat addicted to the entrepreneurial spirit from each episode), then you know the first question Mr. Wonderful usually asks after the business pitch:
Do you have a patent on this idea?
Then, the follow-up question usually revolves around what kind of sales have been generated or what brand building efforts have been developed.
The reality is that for a startup to build something of value it usually involves both a patent and a brand strategy.
The "sharks" know that in order for a startup to be successful in this competitive business world, entrepreneurs need to work hard at developing a successful combination of patent & brand strategies.
---
---
Why Patent Protection Matters
Patent protection means that no other business can offer the same type of product or service. If your business creates something truly unique and innovative, patent protection will help you lock in the market.
A strong patent on an innovative boat feature can give you distinct market advantage. Protecting these patents ensures your market position – as witnessed by some patent infringement cases we've been seeing in the news lately for the boating industry.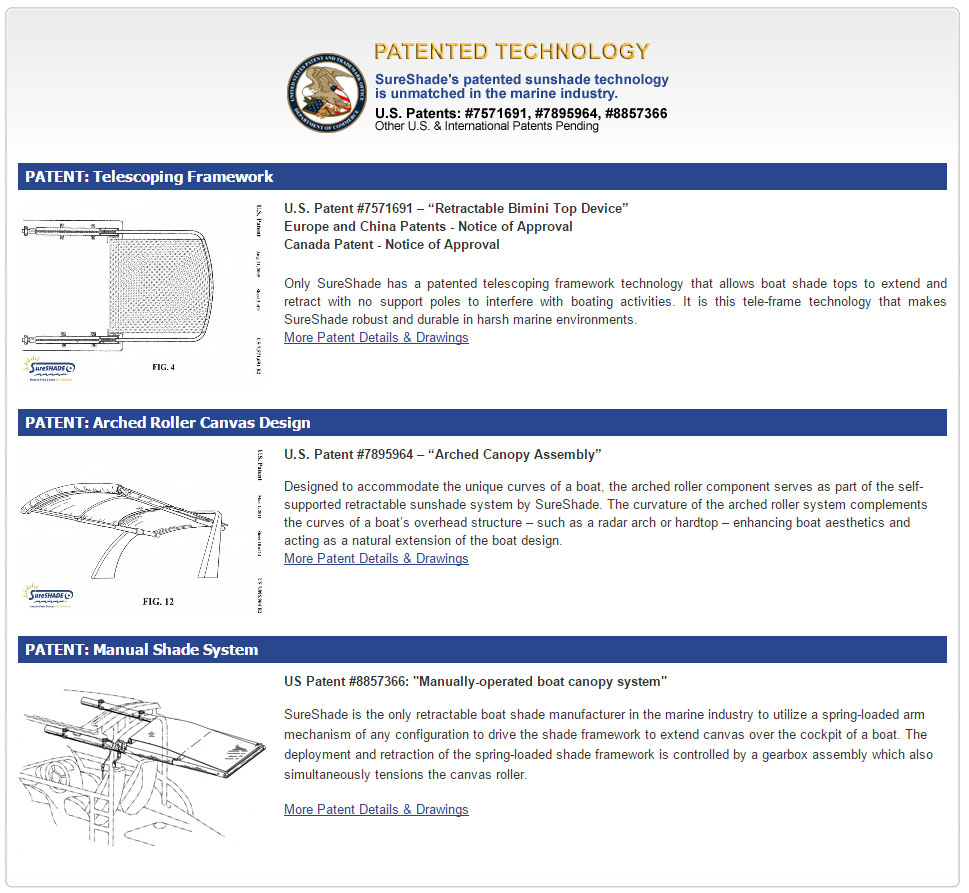 When we invented the SureShade telescoping sunshade system we knew we had something unique and entirely new to boat design. The first thing we did was file for patent protection. As a newcomer to the industry, and as a startup business, we knew that patent protection on our invention would be a key element of our growth.
The product patent ensured that no other business could try to develop or bring to market the same type of telescoping sunshade system. If you wanted a telescoping shade system you had to get it from SureShade.
We knew our invention would be filling a specific and important niche in boating, so securing patents for the technology was important to protect the brand. SureShade went on to secure patents or patent approvals for every major component of the shade – telescoping framework, cambered roller, canvas control and mid-cross bar support. In addition to U.S. patents, SureShade has since received approval for marine sunshade patents in Europe, China and Canada to maintain a competitive position abroad.
Why Branding Matters
Building a strong brand as a startup is just as important as the patent strategy… it's the core of your business.
According to Branding Magazine's view on why entrepreneurs should care about branding:
"Relationships are the most beneficial advantage an entrepreneur can own and branding is the conduit to building those relationships. Establishing authentic relationships with your audience matters because void of relationship, you merely have a neat gizmo, idea or gadget…not a business."
They go on to explain that branding is hard work, but that "your brand is the single most valuable asset you can cultivate in your business."
At SureShade, we worked hard to build a brand that would be identified as "the new standard for boat shade". Building a strong brand was a necessary and important part of SureShade's growth strategy from the start. An investment in marketing – from PR to social media to online marketing – was made to create awareness and generate demand from both trade and private boat owners.
Building trust in the industry with builders, dealers, suppliers and private boat owners also played a big part in building our brand.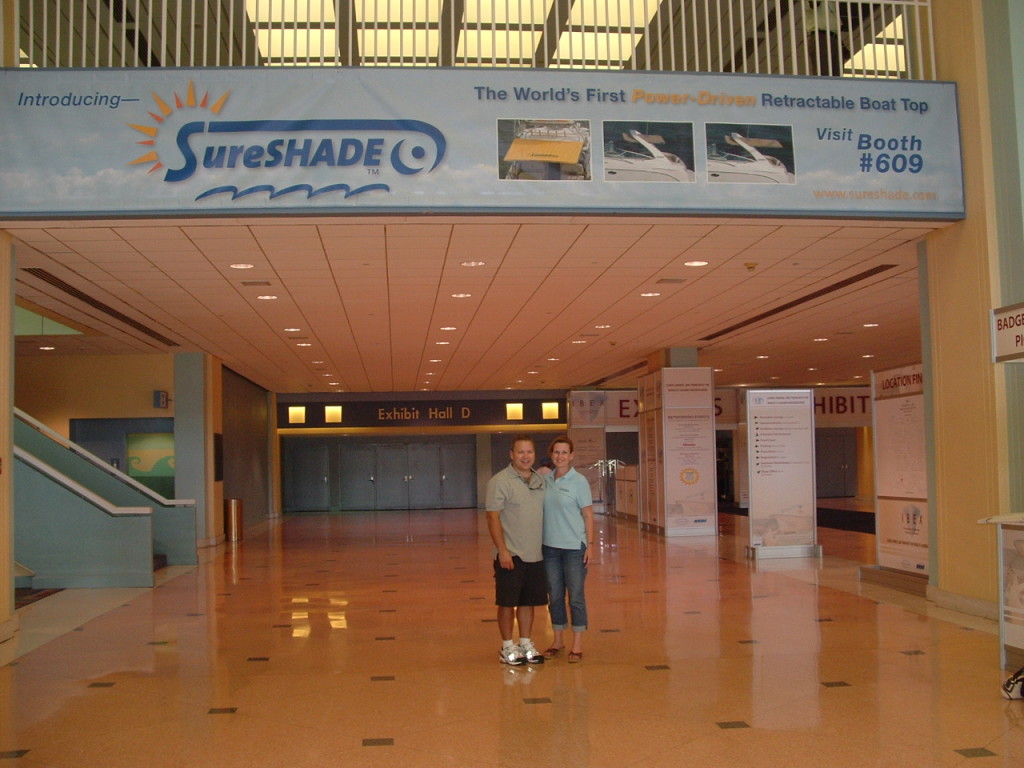 Patents and Brands Working Together
Patents can be an important tool to protect the brand you are building as a startup – and vice versa, building a strong brand can help create market demand and carve out your niche in the boating industry for the patented you hold on products or services.
I believe that it was SureShade's brand, strong messaging and aggressive PR push that positioned us in a way that no one could try to stake a claim in our product niche. The combination of our branding and patent protection secured our position during our launch at IBEX 2007.
As consumers see new innovations come on the market they are demanding them… and even expecting them. Boat builders, dealers and other marine businesses are continually seeking differentiating value-added options that build customer and brand loyalty, and ultimately, increase revenue.
It's exciting to see innovation alive and growing in the boating industry. And it's exciting to see how the industry is embracing the future of boating.
---
The following two tabs change content below.

As the Business Leader and Co-Founder at SureShade - The Shady Side of Boating, Dana is responsible for all business development with boat builders and dealers. Installed on over 35 different boat brands globally and available as a factory-install feature or aftermarket upgrade,
SureShade
is the new standard for shade in the marine industry.

Latest posts by Dana Russikoff (see all)