---
The selfie photo craze can generate mobile brand impressions and viral buzz, making it the perfect on the water promotional idea for marine businesses
The enormous growth of using smartphones to take photos on the go, combined with popular social media sites like Facebook and Instagram, has resulted in the selfie trend becoming a mainstream act.
Selfie photos of boaters enjoying themselves on the water are showing up all over social media – giving marine businesses an opportunity to get valuable brand impressions and viral reach – all generated by some of their most loyal customers.
A "selfie" is a self-portrait taken with a mobile phone that is typically shared on social media. The self-portrait idea has been around for a long time, but the idea of a "selfie" has become more commonplace in recent years. In fact, by the end of 2012 Time magazine considered selfie one of the "top 10 buzzwords" of the year.
The selfie phenomenon seems to encompass all ages, genders and cultures. And the much sought after millennials demographic (with a reported self-centered attitude) seems to be a prime user of the selfie.
---
---
Selfie Promotions in the Boating Industry
When boaters are out on the water enjoying the boating lifestyle, they are often snapping away pictures with their smartphones. And soon after they are often sharing them on social media sites like Facebook, Instagram, Twitter and Tumblr.
Smart marine businesses are realizing that this is the perfect promotional opportunity for their brands. User generated content can be a great way to increase brand exposure – all on a minimal marketing budget.
From simply promoting the boating lifestyle to friends and followers, to showcasing how loyal they are to a specific boat brand or boating destination, the selfie can be a powerful tool for marine marketers.
MarineMax Selfie Contest
MarineMax is holding a Facebook "Show us Your Selfie" contest where boaters must submit a selfie with their boat on their Facebook app for a chance to win a $100 gift card from MarineMax.
Show us your selfie! Take a picture with your old boat and show us why you are ready to trade in and trade up! Winners will receive $100 in MarineMax Gift Cards to spend on your boating fun this season! 
Sea Ray Social
Sea Ray has an ongoing Sea Ray Social initiative encouraging fans to "Share your best selfies, candids and panoramas with the Sea Ray Social Community" through their many social media accounts on Facebook, Instagram, Twitter, YouTube and Google+.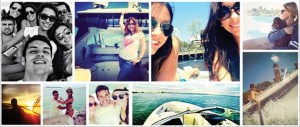 Life on the water is best when shared: Here are some of our favorite fan photos from Instagram. Want to make our wall? Use the #SeaRay tag for a chance to make it among next week's Best in Show. #LiveSeaRay
Fan photos in the "Best of Instagram Gallery" are showcased on Facebook and updated frequently.
Benefits of Marketing the Selfie
The benefits of implementing a selfie promotion are plentiful:
Selfies are user generated content and require less marketing effort
Your best brand advocates work on behalf of your brand
Selfies are inherently viral because they are shared on social media
Promotions can be low to no cost to implement
Images generated can be used for other promotions
Selfie promotions can be easily created by asking boaters to use a particular #hashtag using your brand name or another designated term.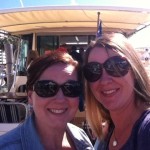 For example, SureShade created the hashtag #shadyselfie when snapping photos in front of boats offering our retractable shade at the 2014 Miami Boat Show. Since boat models offering our shade appear at many local and regional boat shows (as well as out on the water) we plan to continue promoting the use of the #shadyselfie hashtag throughout the year.
From boat shows to marina events and everyday boating excursions, there are many opportunities to create a selfie promotion and generate buzz for your marine business. Most boaters love to share pictures of them out on the water and are ready to snap away!
---
The following two tabs change content below.

Diane is a marketer, avid boater and author of the award-winning book
PR Tools to Toot Your Own Horn
. In addition to being founder of MarineMarketingTools.com, Diane runs the small business site
SBMarketingTools.com
and the boating lifestyle sites
MyBoatLife.com
and
BoaterKids.com
.

Latest posts by Diane Seltzer (see all)