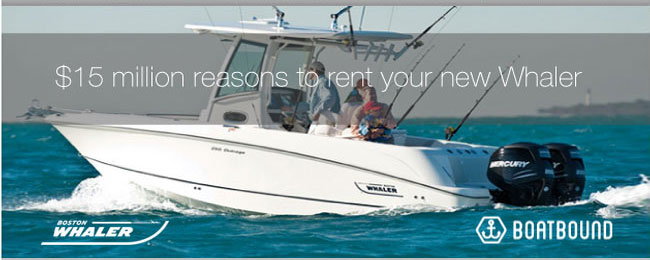 ---
Brunswick Boat brands launch co-marketing campaigns with Boatbound aimed at driving boat sales through rental values
Brunswick Boat brands are using an impressive new marketing message in conjunction with their new strategic partnership with Boatbound that demonstrates the payback for boat owners when they tap into Boatbound's peer-to-peer boat rentals.
The partnership with Boatbound and Brunswick was announced in 2014 and this is the one of the first major consumer-facing campaigns I have seen since the partnership began. It's quite impressive to see how they are jointly promoting the benefits of renting your boat through Boatbound to offset the purchase of a boat from one of the Brunswick boat brands.
---
---
The Marketing Message
Both Sea Ray and Boston Whaler recently sent promotional emails to subscribers explaining the value of listing a boat with Boatbound to offset the cost of ownership.
$15 million reasons to rent your new Whaler [Sea Ray]

With over $15 million in rental inquiries in 2014 on Boatbound, boat owners from all over the US not only offset the costs of their boat, but made money. With even more demand in 2015, Boatbound owners can earn enough to offset their boat storage, maintenance and even have some left over!
Then, using examples of real-life boat owners who rent their boat through Boatbound were given for each brand. Showcasing photos of the boat and boat owner along with the actual daily rental rate received on the boat created a powerful testimonial for the program.

The Campaign Value
The campaign promotes a very strong value proposition for boaters – particularly for potential boat owners that may be uncertain they can afford to buy a boat. It's a real eye-opener when boaters see other boaters like them who may own a similar boat model and size (or similar to the boat they are considering to purchase) making money from renting their boats.
For the Brunswick brands and Boatbound, the campaign promises to encourage more boat purchases AND more boat rentals – creating a Win-Win opportunity for both companies involved. It addresses the issue of affordability head-on – offering a clear path for boat buyers showing them how you can purchase a boat and be able to afford it.
This type of co-marketing partnership is certainly a potential game-changer for the boating industry. It's begs the question… why aren't we doing more campaigns like this one? We need to look for more opportunities where we can partner with other marine businesses to jointly reach our goals of growth – particularly when we are able to create value for boaters.
---
The following two tabs change content below.

Diane is a marketer, avid boater and author of the award-winning book
PR Tools to Toot Your Own Horn
. In addition to being founder of MarineMarketingTools.com, Diane runs the small business site
SBMarketingTools.com
and the boating lifestyle sites
MyBoatLife.com
and
BoaterKids.com
.

Latest posts by Diane Seltzer (see all)