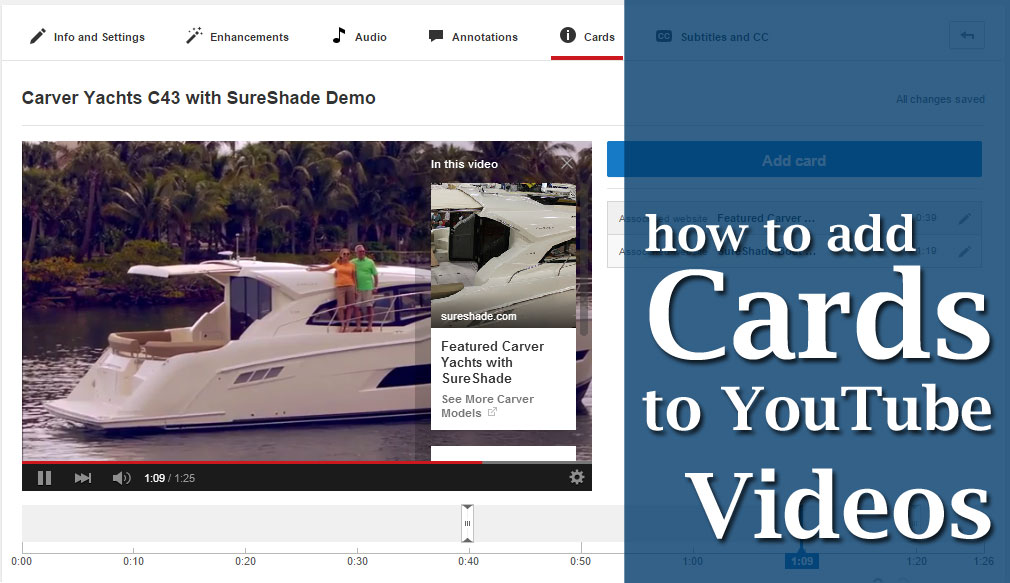 ---
New interactive cards improve on annotations, providing additional in-video promotional opportunities on desktop or mobile
YouTube has proven to be a valuable marketing tool for the boating industry…  and continued improvements in functionality only add to its appeal as a marketing platform.
YouTube is the perfect way for dealers to showcase new boats, for marinas to highlight their facilities or for marine businesses to demonstrate product and services.
But if you are uploading videos and not taking advantage of all the new bells and whistles – like channel branding, video annotations or new "cards" – then you are just scratching the surface of its potential for your marine business.
---
---
YouTube Cards
The latest in-video promotional tool developed by YouTube is the Card.
What are Cards? According to YouTube:
"Cards allow you to add a new layer of interactivity to your videos. They are applied on a per video basis and are rendered on desktop and mobile devices. You can provide a destination URL from a list of eligible sites and, depending on the card type, customize an image, title, and call-to-action text."
So basically at any point in your video you can add a high-impact card to improve video interaction and promote certain actions – like visiting your website for more info or promote specific merchandise. The ideas are almost limitless.
How YouTube Cards Work
Cards are introduced at a designated point in your video with a "teaser" line that then turns into an information icon. They work on both desktop and mobile views of videos.
(note that if you are using the branding watermark they have now moved it to the lower right corner of the video to make room for cards)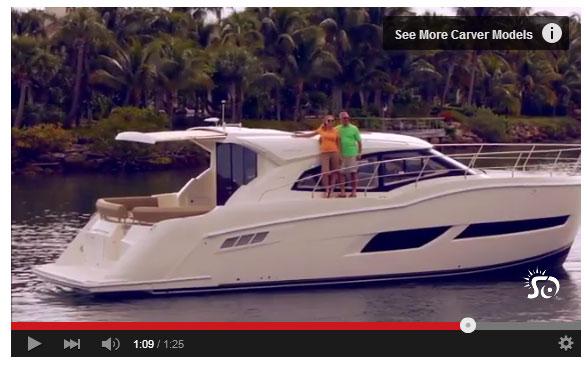 When clicked on a full promotional box will then appear. If you uploaded more than one card to your video then a user can scroll down to see them all. Each one acts independently (i.e. links to your intended destination).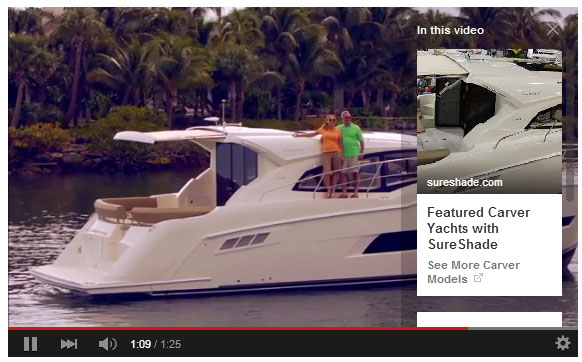 In these examples for SureShade, we chose to showcase the Carver Yachts brand gallery page in one card and then the full SureShade gallery page on a later card. You can see the full video with cards here.
How to Set up Cards
To set up cards go to the Video Manager of your YouTube channel and select the video you want to edit. Click on the Cards option.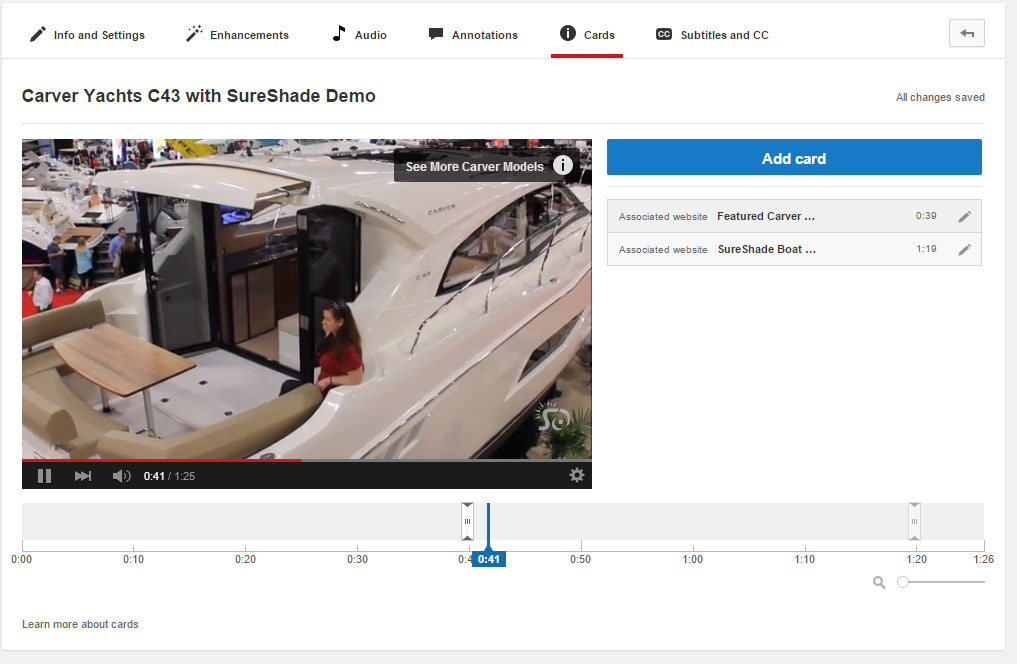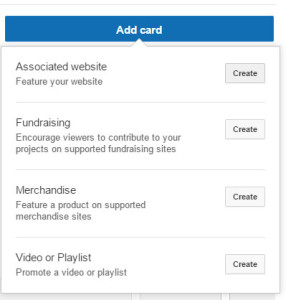 Just like with YouTube annotations, you'll want to select the desired time within your video to insert the promotion.
When you select Add Card you'll have options to create different types of cards.
To select an associated website option you'll need to have an associated website with your YouTube account to link externally – you can then link to any page within that domain. Note that this is also a requirement with YouTube annotations and external links.
Other card options include Merchandise to link to approved merchandise URL (like iTunes or Google Play for an app you are promoting), Fundraising to link to an approved fundraising URL (like Kickstarter for a startup effort), or video/playlist to promote other videos from your channel on YouTube.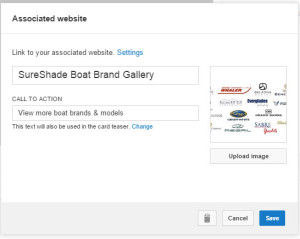 When you select to link to an associated site you can customize the teaser line, description and call to action (with character limits of course). You can even choose the image that appears with the designated URL – or upload a different image option.
YouTube says you can have up to 5 cards in one video and they "work best spaced out" in different points of your video because a teaser line will appear each time a new card is introduced.
Performance reporting for cards can be viewed in YouTube Analytics so you can decide which type of cards work best for engaging and driving action with your videos.
---
The following two tabs change content below.

Diane is a marketer, avid boater and author of the award-winning book
PR Tools to Toot Your Own Horn
. In addition to being founder of MarineMarketingTools.com, Diane runs the small business site
SBMarketingTools.com
and the boating lifestyle sites
MyBoatLife.com
and
BoaterKids.com
.

Latest posts by Diane Seltzer (see all)