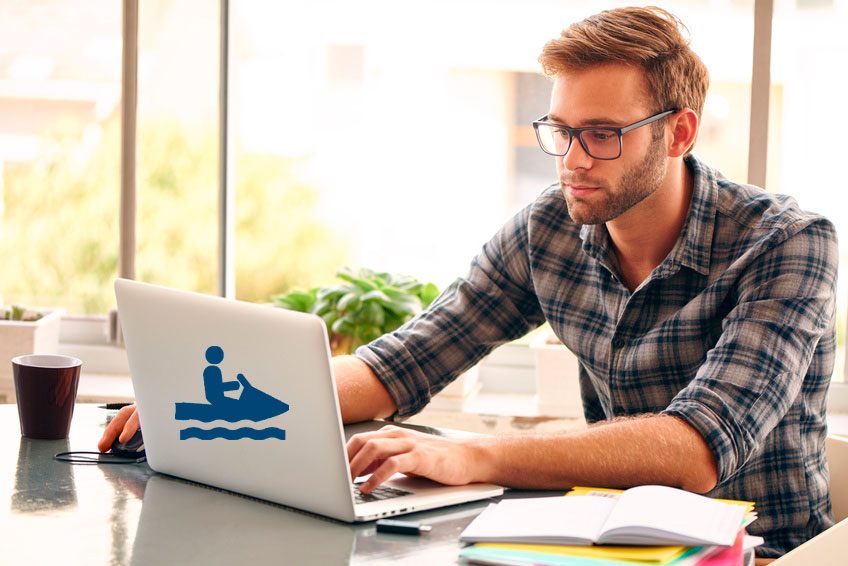 ---
How to grow your new water sports business with digital marketing strategies that attracts the right customers for your boating business
You have been an avid boater, jet skier, or wake boarder for years, and now you've turned your love for water sports into a business. While this path is a total dream for any avid water goer, this dream will only be sustainable if the business draws in customers.
So, how can you attract and retain customers?
Your business's success starts with digital marketing. Remember that you are likely not the only company in your area that is offering your service, so you need to fine tune your marketing until you are able to compete.
"To truly set yourself apart, you need an effective marketing strategy that is well thought out, has practical and actionable steps, reaches your target audience and ultimately gets you more bookings," Nicole Kow writes in the Trekk Soft blog.
---
---
Getting Started with a Water Sports Digital Marketing Strategy
The following are some tips to get you started with your revamped digital marketing strategy.
Build A Social Media Brand: Well crafted, focused social media is one of the most important aspects of your online identity. Keep your social profiles clean and focused, while engaging users with engaging content. Be sure that your logo is used as your profile photo and that your images are professional. Post often and consistently to keep your followers interested.
Encourage Online Reviews: People trust recommendations, so many of your potential customers will be more inclined to book with your business if they see customer reviews on Google, Yelp, Facebook, and other pages. The effectiveness of this strategy has been proven, as 80% to 90% of customers check online reviews before making a purchase. Just remember to manage the reviews and respond to negative comments.
Make Your Content Visual: Your business is visually interesting by nature. By adding quality photos and videos to your pages, you can show people how fun your rental service is. Investing in a professional photography service is the best way to really achieve this, since it will make your content both sharp and authentic.
Target An Active Demographic: Remember who you are trying to reach while posting on social media. For example, adolescents who play sports are eight to nine times more likely to be active at age 24 as adolescents who do not play a sport. So, knowing this, you have a prime opportunity to capture the attention of a specific demographic, potentially retaining their interest in water sports. How? Try including #sports and #athlete in your posts. Also, consider how guest blogging may be able to attract a refreshed audience.
Prioritize User Engagement: While you are working to make your strategy as effective as possible, it's essential to also make it interactive. People love sharing their own experiences, so encourage them to share photos at your business using a geotag and hashtag. This will mean that your pages will not only get more traffic, but your website might too.
Remember that the world of marketing can be tricky, as it is so competitive. But it is also highly interactive. Users are already online — you just need to find them there.
"The challenging (but also rewarding) part about social media is that it doesn't sit neatly in one place of your visitor's journey," James Mulvey writes on the Hootsuite blog. "Instagram might be where visitors first get inspired to learn more about your venue or destination. But it's also where they learn about a local hike or decide to visit your wine region while visiting."
And the same goes for search engines and other social media sites. Your job is to make your business stand out through the best digital marketing strategy that you can find. The rest will be smooth sailing.
---
The following two tabs change content below.

Valerie M. is a writer from Upstate New York where she enjoys camping, boating, nature, and traveling. She received her Bachelor's degree in Journalism from The State University of New York at Fredonia in 2016 and is currently working at a digital marketing agency where she writes blog posts for a variety of small businesses all over the country. Valerie enjoys writing about music, animals, nature, outdoors, environmental issues and traveling.

Latest posts by Valerie M. (see all)