Why marine businesses need to focus less on social media and more on an internal email marketing strategy
The tide is changing for social media. And if you are focusing solely on social media marketing and not working on your own internal database of contacts, it could sink your direct marketing efforts.
Many marine businesses have been relying a lot on social media to communicate with boaters… with Facebook as their number one choice. The problem is that while we have been engaging boaters and enticing them to "like" our brand, we haven't really been doing much to make their valuable data our own.
With social media we don't own their email address. We don't own contact-specific insights to behavior and interests. We have built our dock on someone else's waterway… and now the tide is changing.
This is why we are seeing big brands like Sea Ray and Boston Whaler devote a lot of effort to building internal email databases… making noticeable moves to attract more boaters in-house.
---
---
Renting vs Owning Boater Contacts
Social media has long been considered a free, easy way to communicate with your customers and prospects, but now it is becoming more of a "pay to play" medium for marketers. As the organic reach of your posts plummets due to clutter and changing algorithms, just about every social media site is now offering businesses an option to pay to "boost or promote" updates and posts.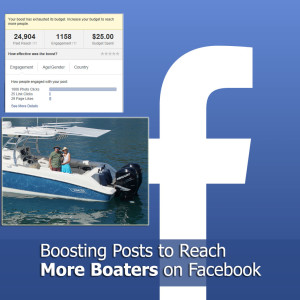 A prime example of this shift is Facebook. Many marine businesses have invested a lot of time and money in a Facebook marketing strategy only to have less than 1% of their posts reach customers and prospects organically. Facebook is now forcing businesses to boost posts to reach more boaters. While it's pretty cost-effective now, there's no telling when that could change too.
The shift with Facebook organic reach is really frustrating for businesses that felt like they worked hard to build up their database of fans (some even investing a lot of money in Facebook ads or promotions) and now their fans don't even see posts unless they pay.
The other issue is that you have no contact-specific data with contacts on Facebook. All campaign tracking data, responses/actions and audience target data (interests, geography, etc.) is consolidated. If someone likes or comments on your post, there is no way to transfer that contact into your database and retain their actions for follow-up communications or lead nurturing.
But these are YOUR fans, right?? Wrong. They do not belong to your business – they belong to Facebook (or Twitter, or Instagram, etc.)
With social media marketing you do not own the contacts/connections/fans/followers. You may have built up a nice presence on Facebook, Instagram or Twitter, but the contacts and their activity belongs to the social media site. You are simply renting the use of their database every time you want to communicate with your target audience.
Getting On Board with Email Marketing
The changing landscape of social media is a big reason why popular boat brands like Sea Ray and Boston Whaler have started to make an aggressive push to grow their email databases for e-newsletter campaigns and other email marketing efforts.
Why email? Because email marketing is still one of the most cost-effective ways to communicate with customers and prospects. And with email marketing you own your database of contacts, along with incredible insights into individual contact behavior (opens, clicks) so that you can continually improve on your campaign efforts (segmenting lists, personalizing messages, creating autoresponders, etc.)
Here are some examples of what I am seeing Sea Ray and Boston Whaler do in their email database growth efforts:
Sea Ray
Sea Ray's biggest move toward growing their email marketing database is their attempt to convert website visitors to email subscribers. Every visitor to their website is immediately met with a pop-up box inviting them to sign up for their Launch Pad email newsletter.
Although some may not like website pop-ups they are actually very effective in gaining email subscribers if done well.
Boston Whaler
Boston Whaler seems to be aggressively promoting their email opt-in throughout their marketing efforts… particularly on social.
Boston Whaler is promoting email newsletter sign-ups from all their social media accounts with a direct link to their opt-in form. I have seen promotions on Facebook, Twitter and LinkedIn (using promoted posts). Their opt-in form is very detailed too – capturing initial information like how the person likes to boat and whether or not they currently own a Boston Whaler (although I personally think its a bit too detailed – could turn some people off from signing up).
There are many other ways you can build your email database, such as:
Prominent positioning of your opt-in form on your website (home page, sidebar, footer)
Offering incentives to sign-up or subscribe with an immediate offer (downloadable resource or freebie) or access to special offers/discounts
Using website pop-ups to encourage sign-ups (make them friendly, inviting or even humorous)
Running special promotions or drawings to gain email subscribers
Promoted posts on social media sites (Twitter lead generation cards can be a great way to build an email list)
Contact forms and inquiry form sign-ups (adding a box to sign-up for future communications)
The important thing to note is as you make a move to build your own email marketing database you should not abandon social media. Email marketing does not replace social media – it should be an important complement to your efforts. I see social media as an effective tool to build your own internal database… using their sophisticated targeting capabilities to find new contacts you may want to pull into your database.
Getting Started with Email Marketing
If you don't have an email marketing program set-up yet, the best way to start is with a simple monthly newsletter. Check out our directory of email service providers to choose a email marketing platform that is right for your business size and budget.
If you don't have experience with them (or you are thinking about trying out a new one) I recommend signing up for at least 1 free trial – each email services offers a free trial period of at least 30 days so you can test out the functionality.
More Marine Marketing: Make sure to also sign up for the Marine Marketing Tools monthly newsletter for more best practice ideas in marine marketing!
---
The following two tabs change content below.

Diane is a marketer, avid boater and author of the award-winning book
PR Tools to Toot Your Own Horn
. In addition to being founder of MarineMarketingTools.com, Diane runs the small business site
SBMarketingTools.com
and the boating lifestyle sites
MyBoatLife.com
and
BoaterKids.com
.

Latest posts by Diane Seltzer (see all)