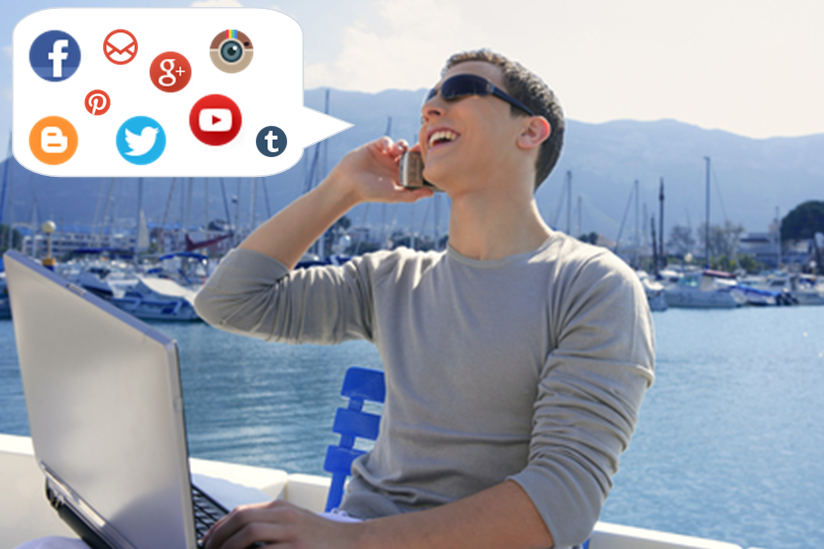 Make your boating business stand out from the crowd by SOCIALLY caring for your customers.
Years ago, if you offered support to customers through social media, they were pleasantly surprised. Now, if you don't respond to customers where THEY are, you receive a "black mark" in their eyes. Don't be afraid, customer service on social media is easy… stick with me and I'll show you how.
Have you heard of Facebook, Google + or even Twitter? Unless you've been under a rock, of course you have!  Social Media continues to rise in popularity, which means your customers can now be heard beyond market research or focus groups.  They don't even need to pick up the telephone to let you know how happy (or unhappy) they are with your business.
Because using social media in your customer service is no longer an option, here are few reasons why you should make that move.
---
---
PERSONALIZATION
Your customers can now take that personalized service and care they receive in your business and be able to receive that same attention via social media.  How, you might ask? When a customer contacts you through a social media channel, their personal information is readily available. Use that information to make their interaction with you unique, because everyone wants to feel SPECIAL.
RELATIONSHIPS
Your customers are on various social media channels whether you are or not.  Being where they are and assisting them quickly and with ease builds great relationships with your customers.  You might be surprised, but you'll find there are quite a few cheerleaders out there that have your back because of it.
KNOWLEDGE
Let's face it; people are quite candid on social media.  There are things that I have posted on the Facebook wall of a business that I would've never said had I called them up… most likely because the wait on the phone would've made me cool off!  The point is that you get to know the REAL perception of your business.  Perception is reality and the more you know the further you can go.
Spend time getting to know those that drive your business.  Where else would you be able to spot an unhappy customer, listen to their problems, directly address their needs and turn that dissatisfaction into an incredibly positive experience? That's right… No Where.
Offering great Customer Service on Social Media can provide you with customer loyalty like you've never seen before.  Your customers will be there talking about the good, the bad and the ugly. Don't you want to be able to swoop in (wearing a cape, of course) and save the day?
---
The following two tabs change content below.

Jennifer is the Internet Marketing Coordinator for
SeaStar Solutions
, the steering and boating parts leader in the recreational marine industry. SeaStar Solutions is on Facebook - facebook.com/SeaStarSolutions - as well as Twitter -
@SeaStarSolution
.

Latest posts by Jennifer Reid (see all)