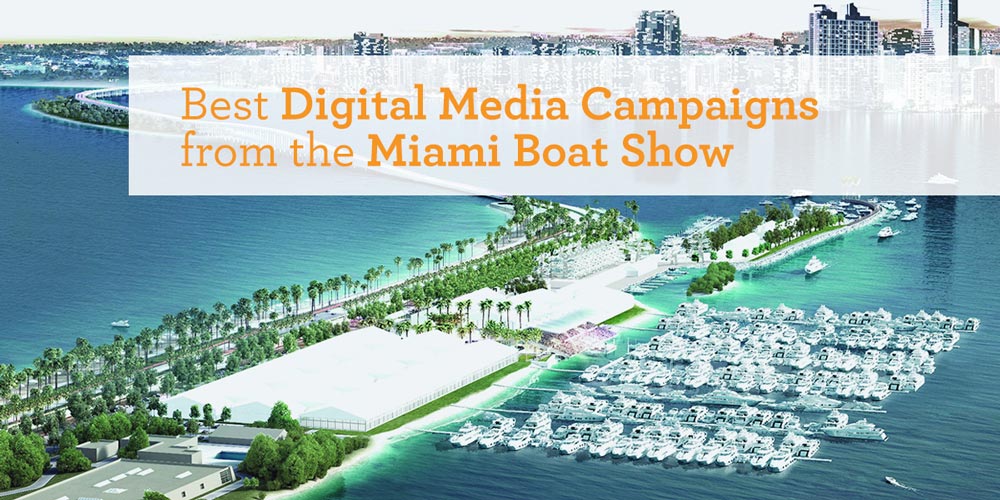 Over the past week, you've likely encountered countless social media posts, press releases and website updates from the Miami Boat Show. All of this sharing and posting has been great, however there have been a few that stood out from the others.
Coming up with ideas for making an attention grabbing digital media campaign can be difficult, but we picked out a few of the examples that received the highest attention during this year's show.
Pre-Show & Post-Show Videos
To give your online visitors the best sample of what's in store at the boat show, create a short video that outlines exactly what boats will be on display and the exciting announcements or events that you will be hosting during the show.
For a great example from this year's show, check out the video that Denison Yacht Sales put together to get their fans and customers excited:
[youtube https://www.youtube.com/watch?v=rOlt42OB7j0]
After the horn blows and the show wraps-up, release another video that highlights some of the highlights from the past week. Likely, not all of your customers were able to make it to the boat show to witness the amount of work you put into your presence, so this video will show them the effort you give to offer a great boat show experience.
Again, Denison Yacht Sales did just that. This video might even outshine those done from the official Miami Boat Show team… As the co-founder of an agency that provides video production, this might just be the best video that I've seen produced for a show.
[youtube https://www.youtube.com/watch?v=nXgqkHupsSw]
Live Streaming from the boat show
If you haven't heard of "live streaming" you're probably not alone.  It's a relatively new and powerful media type.   Live streaming gives anyone the ability to share live video in real time over the Internet to the entire world.  It made its marine debut at the 2016 Miami International Boat Show when Yachting Magazine used it for a behind-the-scenes look at an 860 Deluxbridge built by Outer Reef Yachts.  They got over 1k in likes and 197 shares from the live stream, which is great exposure for both companies.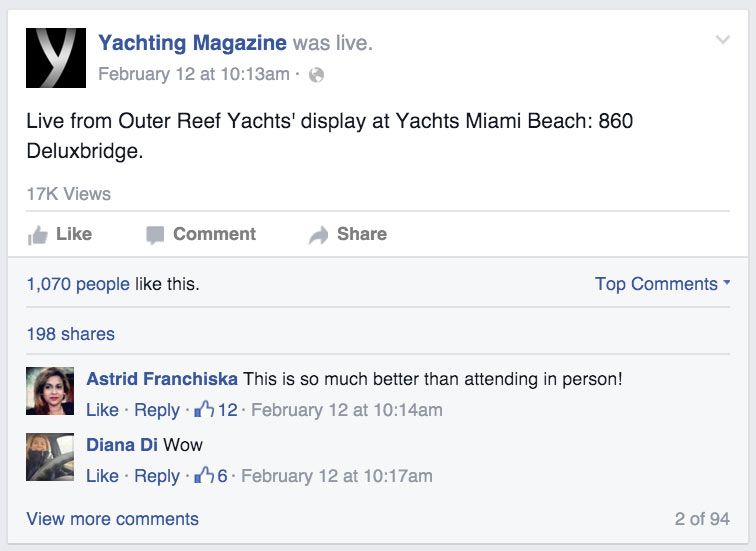 There are several live streaming apps, but the most powerful one for your brokerage at the boat show is the newly built Facebook Live.  It's great because many yacht brokerages already have a presence on Facebook that they can tap into when it's time to stream live video.  Not everyone can tap into Facebook Live just yet though.  You must have a page/brand that is "verified" by Facebook to use the live stream capabilities. Other live streaming apps include Ustream, LiveStream, and Periscope, which was used by MarineMax at the boat show.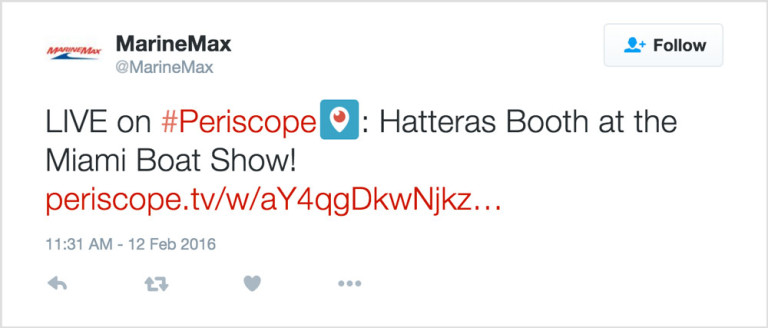 Photo Gallery Recap
This is perhaps one of the easiest ways to capture the attention and excitement around a boat show. Make sure to snap a few photos from each day of the show and either release a photo gallery each day or simply one big gallery at the end of the show.
Much like the Post-Show Videos, this gallery will offer a glimpse into all the work that you put in and the fun you had during the show.
To see a great example of this, check out this post by Denison Yacht Sales.
Announce betrothal aboard a boat
When all else fails to garner attention to your booth, just have a couple get engaged on one of your brokerage's finest yachts and tweet about it.  
This might have been a first for any boat show but one man did get on bended knee to pronounce his love to a blushing bride, aboard a bristol 50' Azimut Atlantis.  Not sure if the boat was included in the engagement, but if it was, that's a great way to start a marriage!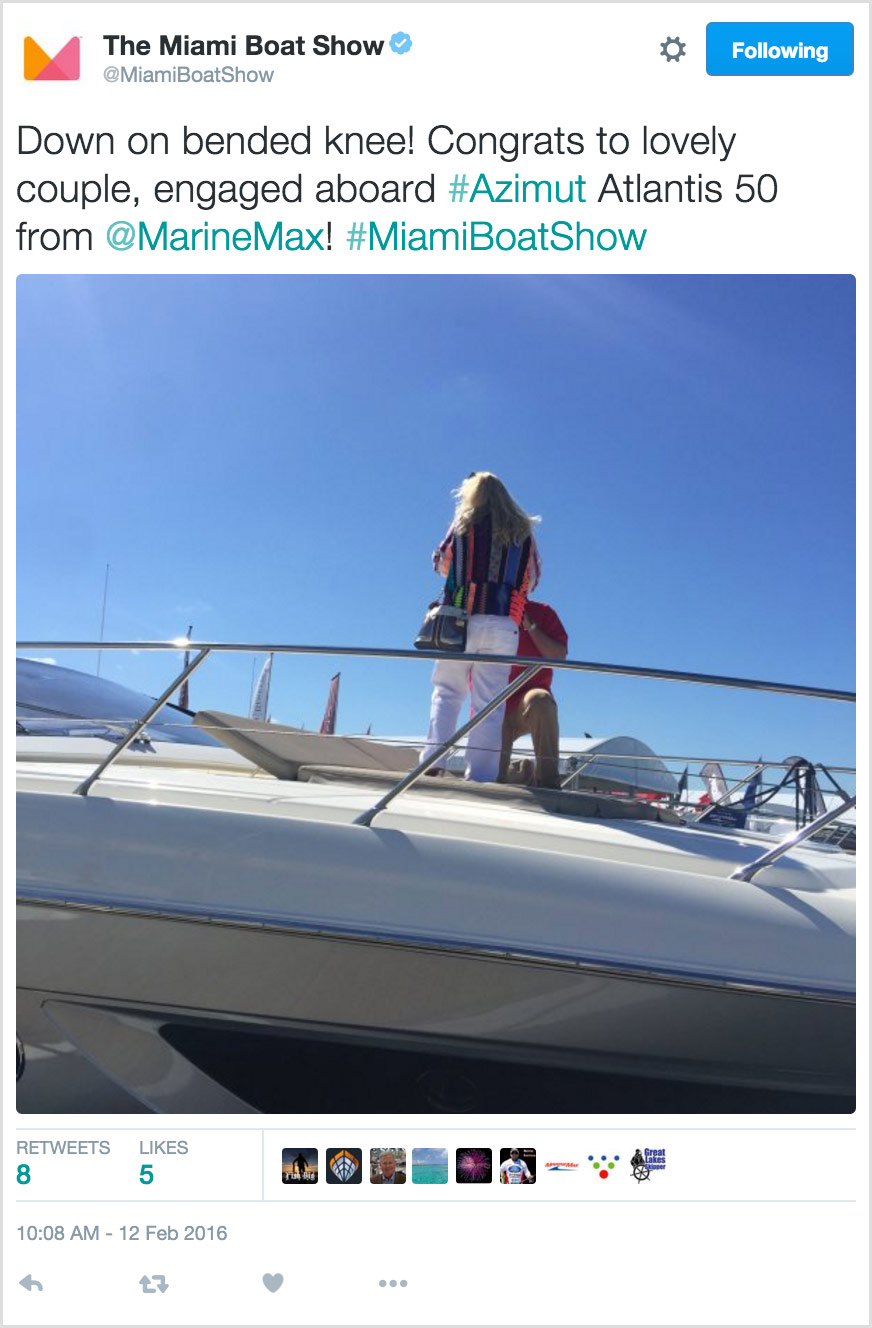 The following two tabs change content below.
Tyler is the creative and technical mind behind
COASTAL
, a full service digital agency serving the marine industry helping brokerages big and small bring ideas to life. He has a wealth of experience working with the marine industry, including over two years of experience working for a leading marine MLS provider.
Latest posts by Tyler Dow (see all)