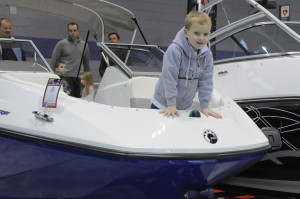 Interactive, hands-on features and special events attract more boat show attendees and help to highlight the boating lifestyle during off-season winter months
There's a trend of adding interactive features at boat shows, and winter boat shows are no exception. In fact, the idea of experiencing the boating lifestyle in an indoor maritime oasis is an especially big draw when most boats are shrink wrapped and dry docked for the winter.
Builders and dealers know that winter international and regional boat shows are extremely important to the industry. New model year releases debut, innovative features and options are displayed and sales momentum begins. It's a great opportunity to entice new buyers with deals on the boat of their dreams so that they can ready for the season ahead.
But boat shows are about more than the vessel itself. They are about showcasing the boating lifestyle by demonstrating all that boating can bring them and their family. They are about getting kids excited to boat, fish and explore everything nautical. They are about convincing spouses that the investment in a relatively expensive leisure activity is a worthwhile investment.
---
---
Creating Boating Experiences at Shows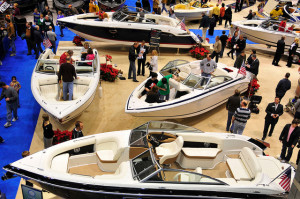 Lately boat shows are becoming much more of a boating experience event than simply an outlet to sell boats. Of course the end goal is to sell more boats, but you have to get the buyers there and hooked to make that sale. Winter boat shows are packed with interactive and hands-on activities that create the ideal outing for families to check out the boating lifestyle and get hooked.
The 2014 season kicks off with several well-known boat shows promoting a variety of special events for new and existing boaters.
The Progressive Insurance New York Boat Show, produced by NMMA, runs January 1-5 and is the first show of the year – helping to set the tone for the coming season. Special attractions at the NY Boat show include an appearance by Captain Dave Carraro from National Geographic Channel's Wicked Tuna, a Swampmaster Gator Show, an interactive boating simulator and a variety of boating hands-on demos.
Addressing the concern of boating affordability, Discover Boating will host a showcase of boats you can finance for less than $250 per month at the NY Boat Show.
The Progressive Insurance Baltimore Boat Show, also produced by NMMA, is January 23-26 in 2014 and features many of the same interactive features. In addition, the Baltimore Boat Show will have appearances by R.J. and Jay Paul Molinere from the History Channel's hit TV show Swamp People, along a 50-foot by 50-foot indoor pond where visitors can learn or practice fly fishing, kayaking, stand-up paddle boarding and other in-water activities.
Keeping the kids entertained and interested in boating is also very important… when the kids are happy the parents are happy and in a much better buying mode. Both the New York and Baltimore shows will have special activities for kids like toy boat building and pirate-inspired activities from the award-winning author of the book Blackbear the Pirate.
Boat show activity heats up even more in February as visitors travel to the warm state of Florida for the Miami International Boat Show managed by NMMA. In addition to the usual hands-on educational seminars, the 2014 Miami show will feature a new attraction called Superyacht Lifestyle Miami that will be an experiential exhibit of some of the world's most beautiful yachts and luxury products. (Update: NMMA announced on Jan. 7, 2014 that they will postpone the Superyacht Lifestyle Miami attraction until 2015 to better accommodate exhibitors.)
All of these interactive activities and special features are designed to "warm up" boat buyers and entice them to join the boating lifestyle.
The warming up of boat buyers continues throughout the winter with a worldwide list of boat shows, with events in Houston, London, Toronto, Chicago, Louisville, Kansas City, Minneapolis, Atlantic City, Los Angeles, New England and more.
It seems that every year boat shows are upping the ante in creating interesting and alluring boating experiences for attendees. But why stop at larger winter boat shows? I say let's keep the momentum going year round with local and regional boating events, National Marina Days and even simple marina family fun day events.
What interactive activities do you find most appealing or effective at boat shows or boating events? Please share your experiences here!
---
The following two tabs change content below.

Diane is a marketer, avid boater and author of the award-winning book
PR Tools to Toot Your Own Horn
. In addition to being founder of MarineMarketingTools.com, Diane runs the small business site
SBMarketingTools.com
and the boating lifestyle sites
MyBoatLife.com
and
BoaterKids.com
.

Latest posts by Diane Seltzer (see all)