---

Resources for marine businesses to get on board with promoting safe boating week and throughout boating season – with links to share on social media (updated for 2016)
Every year the recreational boating industry joins forces to recognize and emphasize the importance of safe boating practices during National Safe Boating Week. The week-long promotion serves to remind people of boat safety just before the unofficial boating season start of Memorial Day weekend.
2016 National Boating Safety Week is May 21 – 27, 2016.
Whether you are a marina, boat dealer, marine supplier or service provider, your business should be committed to promoting actions and precautions that make boating a safe and enjoyable activity for everyone.
There are many boat safety resources available to marine businesses and boaters – most accessible free of charge. Promoting boating safety can be as simple as sharing something on social media (see our quick list below!), or as committed as holding dedicated boat safety events.
Understanding boat safety helps to encourage boaters and potential boaters to get out on the water with peace of mind. And your efforts will show your dedication to boat safety, care for your community and safe enjoyment of recreational boating.
Here is a round-up of some great tools available to help you spread the message of safe and responsible boating to your clientele during National Safe Boating Week and throughout the boating season.
---
---
National Safe Boating Council
The National Safe Boating Council (NSBC) is a non-profit organization with a mission to advance and promote a safer recreational boating experience through education, outreach and training.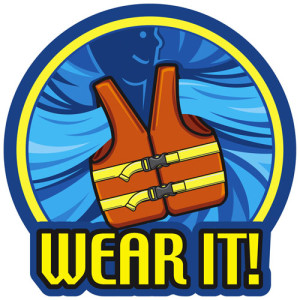 Wear It! Safe Boating Campaign
The National Safe Boating Council is a lead organization for the Wear It! campaign, produced under a grant from the Sports Fish Restoration and Boating Trust Fund, administered by the U.S. Coast Guard. The Wear It! campaign promotes always wearing a life jacket.
Wear It! is a year-long campaign, with particular emphasis during National Safe Boating Week.
The SafeBoatingCampaign.com website is the go-to resource for information, resources and tools to use in support of the Wear It! Campaign.
Wear It! Tools:
Communication Tools: Graphics and Media to share, such as a Photo Library with great photos of kids and adults wearing life jackets, Animated Life Jacket images, Website banners, Life Jacket Infographic and more
Educational Resources: Boating Sidekicks for kid's information and safety learning resources
Showcase: Get more ideas in their Wear It! Showcase
Video PSA: A new public service announcement video for 2014 "Love the Life… Wear It!" showing how you can still have fun on the water while choosing to always wear a life jacket and boating responsibly.
Link to share PSA video: http://youtu.be/3RQ4QNT1a40
Additional 2016 Campaign Resources: For more resources, such as customizable media advisories or press releases, visit 2016 Wear It Campaign Resources from NSBC.
Boat Pro Point of Sale Training
The Boat Pro Point of Sale Training program is designed to educate boat sales professionals on how they can assist recreational boaters when it comes to making the right decisions about buying safety equipment and the contents of a U.S. Coast Guard safety kit. The knowledge and insight provided by the Boat Pro Point of Sale trained professionals will not only create greater boating enjoyment for the consumer, but will also provide numerous up-sell opportunities for the sales professionals and their businesses. This program is in collaboration with the Marine Retailers Associations of the Americas and the Association of Marina Industries.
BoatOnCourse.com
BoatOnCourse.com is an awareness campaign of the National Safe Boating Council to teach boaters about The Navigation Rules by educating the boating public on six areas: Overtaking a Vessel, Vessels Crossing Paths, Vessels Meeting Head-On and the Responsibility Between Vessels which includes Safe Speed and Maintaining a Proper Lookout.
BoatUS / BoatUS Foundation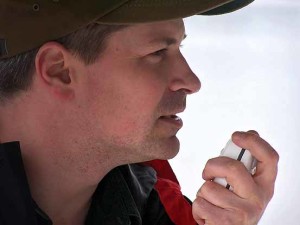 Boat Owners Association of The United States (BoatUS) is the nation's leading advocate for recreational boaters providing it's over half-million members with recreational boating programs. Its member-funded BoatUS Foundation is a national leader promoting safe, clean and responsible boating. BoatUS has on-going programs that marine related businesses can promote locally with customers to potentially use as tools to improve their community image or simply be a good citizen.
Available Tools:
American Boat and Yacht Council (ABYC)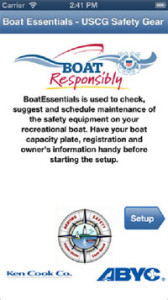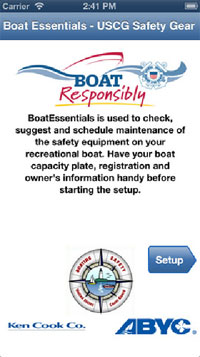 The American Boat & Yacht Council (ABYC) is a non-profit organization that develops safety standards for the design, construction, equipage, repair and maintenance of boats.
Free Boat System Checks
To help launch National Safe Boating Week and educate boaters on safety standards, the American Boat & Yacht Council (ABYC) is hosting free boat system checks at Tidewater Yacht Service in Baltimore on Saturday, May 17.
ABYC is also offering boat system checks and safety clinics "event packaged" for marine businesses that want to lead it locally.
Boating Safety Checklist App
Boat Essentials-USCG Safety Gear is a simple checklist app to help you identify the safety items you are required to have onboard your boat and make suggestions on other items that will make your boat safer and more comfortable.
Personal Watercraft Industry Association (PWIA)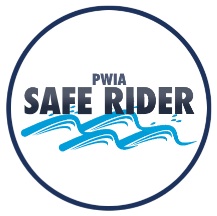 Personal Watercraft Industry Association (PWIA) represents U.S. personal watercraft manufacturers and was created to promote the safe and responsible operation of personal watercraft.
Safe Rider Pledge
PWIA has launched its second annual Safe Rider Program kicking off Memorial Day weekend where they encourage PWC owners or renters to sign a Safe Rider Pledge. They also offer a brief handbook titled Riding Rules for Personal Watercraft and PWC Orientation Checklist can also be found at www.pwia.org.
Sea Tow Foundation
Sea Tow Foundation runs BoatingSafety.com, a non-commercial site run by Sea Tow devoted to promoting boating safety. They have a full page of boating safety resources that include aids to navigation, a safety checklist, float plans and more.
Sun Safe Boating
Sun Safe Boating is a new industry collaboration, presented by SureShade, with a mission to raise awareness for the important issue of sun safety in boating.
The campaign features Hall of Famer and sun safety advocate Mike Schmidt, and offers many promotional tools that you can easily share on social media to help spread the word about sun safe boating. The campaign officially launches during the 2016 National Safe Boating Week, but you can get access to the promotional tools now.
Learn more about the sun safety campaign at www.SunSafeBoating.com and download promotional tools at www.SunSafeBoating.com/promotional-tools
Content Articles to Share on Social Media
One of the easiest ways to get involved during National Boating Safety Week is simply sharing boat safety content on social media.
While any of the above resources can and should be shared on social media, sharing informative articles on Facebook, Twitter or other social media sites is also a great way to offer your followers valuable and timely content.
Here are some great boating safety articles worth sharing:


Boating Safety Tips: Boater Education and Resources for Safe Family Fun – Familiarize yourself with these 10 basic boating safety tips
http://www.discoverboating.com/beginner/safety/tips.aspx

I'm Your Life Jacket, But You Don't Know Me – Where are Your Boat's Life Jackets?
http://www.boatus.com/pressroom/release.asp?id=997#.U2ExH61OVQI

How More Shade is Essential for Boat Safety – Protecting your crew from the sun's dangerous UV rays with proper sunshade is an important safe boating practice
http://blog.sureshade.com/2012/05/how-more-shade-coverage-is-essential.html

Is it Safe to Bring a Baby or Infant on a Boat? – How to make sure a baby or infant is safe boarding and cruising on a boat
http://www.boaterkids.com/is-it-safe-to-bring-a-baby-or-infant-on-a-boat/

Docking a Boat Safely with Kids on Board – Handling a boat in and out of a slip while ensuring safety of kids on your boat
http://www.boaterkids.com/docking-a-boat-safely-with-kids-on-board/

Personal Watercraft, Safety and You – Before you launch, here are a few things you'll need to know to have a safe and hassle-free day on the water
http://www.discoverboating.com/resources/article.aspx?id=577

Have more content, resources or tools ideas to promote National Boat Safety Week?
Please share in the comments below. Safe Boating!
---
The following two tabs change content below.

Diane is a marketer, avid boater and author of the award-winning book
PR Tools to Toot Your Own Horn
. In addition to being founder of MarineMarketingTools.com, Diane runs the small business site
SBMarketingTools.com
and the boating lifestyle sites
MyBoatLife.com
and
BoaterKids.com
.

Latest posts by Diane Seltzer (see all)