MarineMax partners with Azimut Yachts to host 2013 Newport Azimut Gala attracting over 150 boat owners
MarineMax, the world's largest recreational boat and yacht dealer, has announced on August 30, 2013 the successful completion of the 2013 Newport Azimut Gala to celebrate Azimut Yacht owners in the Newport, RI area.
The customer event was attended by over 150 Azimut Yacht owners, made up mostly of MarineMax boating customers. The customer gala event was held at Newport Harbor Hotel, where boaters lined up their Azimut Yachts along the docks for their weekend stay.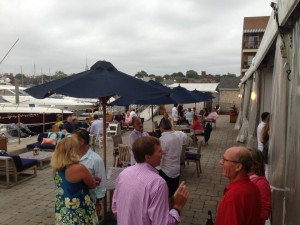 Designed to showcase MarineMax's high level of customer service and devotion to the boating experience, the Newport Azimut Gala included cocktail parties, celebrity chef cooking lessons, a scenic lobster bake, dinghy poker run, and a luxurious gala.
MarineMax and Azimut Yachts also chose this customer event to make a private debut the new U.S. version of the Azimut 84 Flybridge. The two companies partnered together to redesign the flybridge, main deck and lower deck to provide maximum comfort, style, and versatility. A public launch of the 84 Flybridge is expected in Fall 2013.
MarineMax has made photos of the 2013 Newport Azimut Gala on the MarineMax Facebook page.
---
---
Marine Marketing Best Practices
This customer event is another great example of a boat dealer teaming up with a boat manufacturer to create lasting memories associated with a boat brand. Much like the recent DiMillo's LobsterPalooza event with Sabre and Back Cove, the powerful gathering of numerous boats of the same brand for a celebration of the boats they love helps build customer loyalty for the boat brand as well as the dealer that provides a high level of service.
Also known for their Getaways(R) trips and educational programs, MarineMax continues to prove to their customer base that they are more than just a boat dealer.
---
The following two tabs change content below.

MarineMarketingTools.com
provides occasional coverage on marine marketing newsworthy events and other updates that offer marine marketing opportunities to grow businesses in boating. If you are interested in a profile, please see our
sponsored post opportunities
.

Latest posts by News Editor (see all)