---
DiMillo's Yacht Sales hosts LobsterPalooza customer event featuring a 50 boat parade and the launch of the new Back Cove Downeast 37
Sabre and Back Cove Yacht owners joined together for the first ever "LobsterPalooza" event in Portland, Maine July 12-14, 2013, hosted by the DiMillo's Yacht Sales team, for a unique customer appreciation event unlike any other in the boating industry.
The LobsterPalooza event was created by DiMillo's Yacht Sales as a way to say thank you to Sabre and Back Cove Yacht owners and celebrate with other boat owners. Customers were invited to the VIP event with unique "Save the Date" buoys and formal invitations inviting them back to Maine where their boats were built.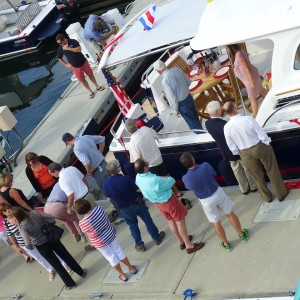 The event was scheduled to follow the official launch of the new Downeast 37 which made it's debut by Back Cove Yachts the evening before.
The new Downeast 37 was on site for the event, showcasing the  striking and sleek design features – such as the largest cockpit ever on a Back Cove at 12 x 12 feet, and the SureShade cockpit shade available for the first time on a Back Cove as a standard feature.
Far exceeding original estimates, over 200 people attended (including invited customers, vendors and partners) along with 50 Sabre and Back Cove boats that gathered to meet other owners, cruise and eat lobster.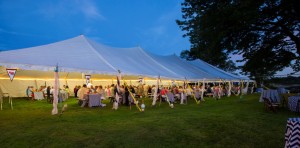 Festivities kicked off with a Friday night cocktail party aboard DiMillo's On the Water Restaurant overlooking the marina.  Saturday morning a blueberry pancake breakfast was prepared and served by the management team of Sabre and Back Cove Yachts.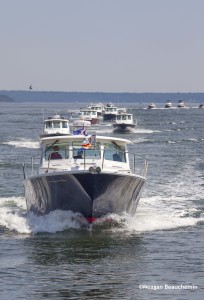 One of the most memorable event highlights included a 50 boat parade of Sabre and Back Cove Yachts led by the new Back Cove Downeast 37.  The unusual display of such a large number of Sabre and Back Cove Yachts was followed by Boatpix.com and photographer Billy Black flying overhead the parade in a helicopter.
Event festivities wrapped up on Saturday with a traditional Maine lobster dinner on House Island, a private island in Portland Harbor, along with a tour of its Fort Scammel. The event ended with DiMillo's serving guests with breakfast on board vessels.
According to Chris DiMillio, president of DiMillo's Yacht Sales, "We were delighted to be able to have this event in honor of our customers. The overwhelming response speaks to the relationship that we have developed with our customers."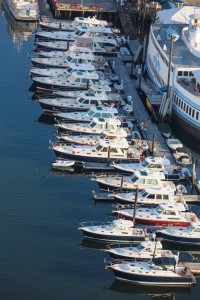 On the marketing success of the event, sales & marketing manager Hilary Pesarik adds, "LobsterPalooza was derived as a way to say thank you to our amazing Back Cove and Sabre owners. Once the event developed it turned into something much greater; friends were made, old friends reconnected and boating stories were shared. Isn't that what it is all about?"
The LobsterPalooza event is also credited for giving a boost to businesses in Portland by local TV news coverage by drawing hundreds of attendees into town for a longer stay in the area.
DiMillo's Yacht Sales represents Maine-built Sabre and Back Cove Yachts and is the 2012 Sabre Yachts Dealership of the Year for the sixth consecutive year and Back Cove Yacht's Dealership of the Year from 2006 through 2011.
In addition to being hosted by DiMillo's, the LobsterPalooza event was made possible through the collaboration and sponsorship of partners including: Back Cove Yachts, Sabre Yachts, SureShade, Navtronics, Cummings, Bourgeois Sign & Design, Freedom Lift, Canvas Tek, Accutek, Maine Yacht Center, Portland Mattress Makers and PowerProducts.
---
---
Marine Marketing Best Practices
This customer appreciation event was clearly unique and unlike most customer events in the boating industry. It demonstrates a successful collaborative effort among a boat dealer, boat manufacturer and vendors to create a memorable customer experience. DiMillo's created an event that was fun, memorable and truly engaging for customers. The Maine lobster theme further helped customers connect with the origin of the boats they own and love, encouraging long time customer loyalty.
More Information
For more information on DiMillo's Yacht Sales visit www.dimillos.com. Also visit Back Cove Yachts for more on the new Downeast 37.
---
The following two tabs change content below.

MarineMarketingTools.com
provides occasional coverage on marine marketing newsworthy events and other updates that offer marine marketing opportunities to grow businesses in boating. If you are interested in a profile, please see our
sponsored post opportunities
.

Latest posts by News Editor (see all)