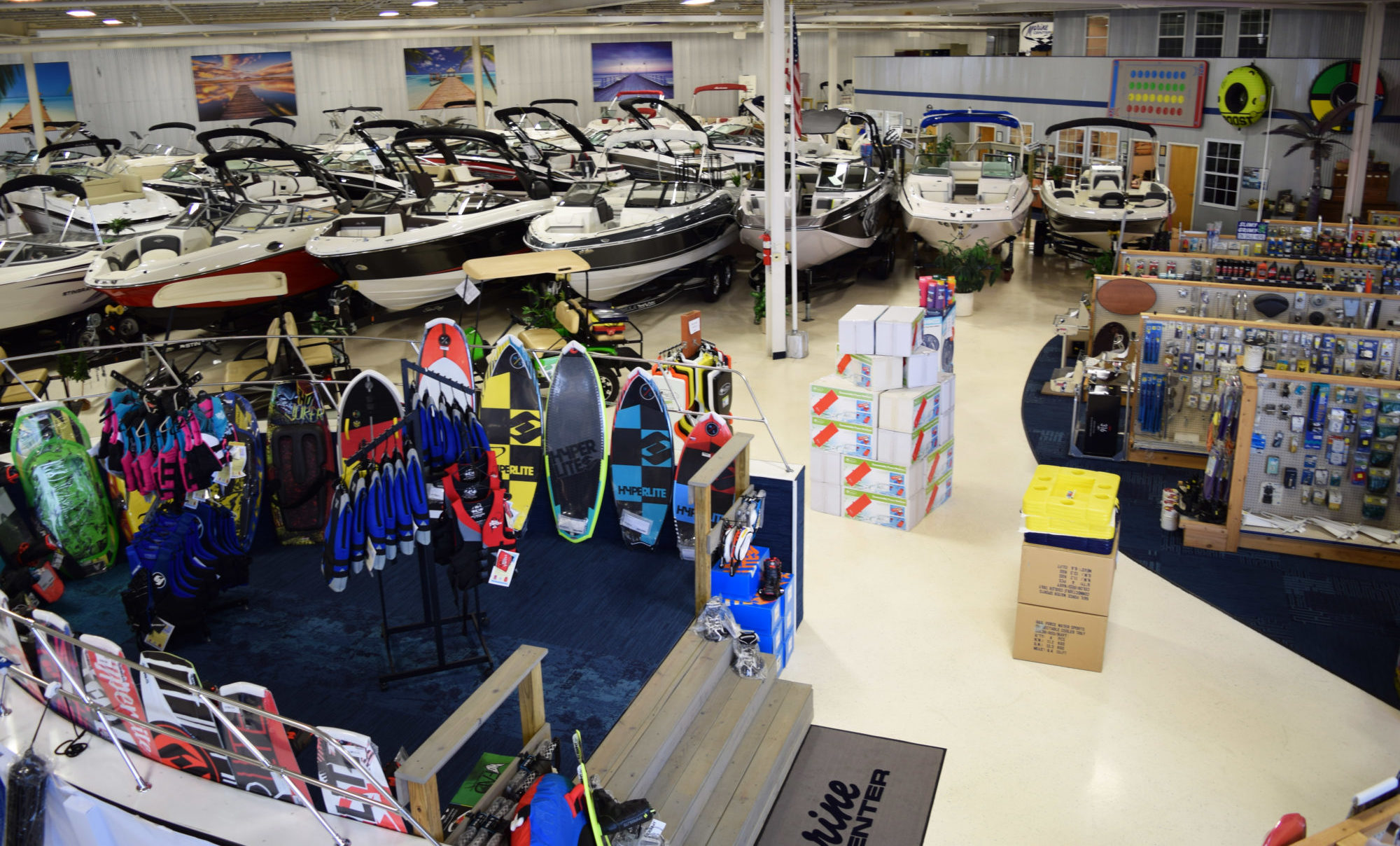 ---
Indianapolis boat dealer expands boat showroom and local marketing to grow marine dealership
These days boat dealers need to differentiate themselves in their product offering and marketing for their dealership to stand out in their local markets. Finding a successful niche can include everything from how you present your showroom to boaters to how you market your dealership locally.
Marine Center of Indiana has carved out a niche in their market by creating a "one stop shop" for everything boaters are looking for – from their expansive inventory of boats to their all encompassing line of marine accessories.
They built a showroom that truly captures the boating experience, showcasing many types of boats and all things boating that will enhance the lifestyle. With the addition of an in-house marketing team dedicated to getting the word out, they are growing their local market presence with a mix of traditional and digital marketing strategies.
We asked the digital media coordinator with Marine Center of Indianapolis, Kimber Stancato, to share some of their growth story.
---
---
What makes Marine Center Unique in Your Market?
We are a one-stop shop for all things boating. We have a large inventory of new and pre-owned boats and pontoons.
We carry Sea Ray, an exclusive line to the area, as well as Formula, Berkshire, Regal, Rinker, and Stingray boats. Trades are an option, and not just boat-for-boat. We have SUVs, Trucks, ATVs, and even a motorcycle on our floor now.
We are also the only dealer in the state that is a [Boating Industry] Top 100 dealer, a Brunswick Master Dealer, a Marine Industry Certified Dealer, and a retail member of the MRAA.
Our service bay can house 50 boats comfortably at one time, making it the largest (at least) in the state of Indiana. Our service area is open 6 days a week and we offer fiberglass repair, winter inside storage, and a slew of services from upholstery repair to motor work. We pride ourselves on our "In by Monday, out by Friday" policy.

Our showroom is one of the few that has air conditioning and houses over 100 boats at one time. We recently revamped our showroom to include three main docks where many of our boats are showcased. Getting on one dock gives clients access to over a dozen boats at one time instead of going up and down various small staircases.
What Type of Local Marketing are You Doing?
Our company has dived back into the world of TV commercials. Partnering with FOX 59 and Comcast Spotlight, we were able to shoot a commercial for our in-house boat show back in January. We want to make that show a yearly event from now on.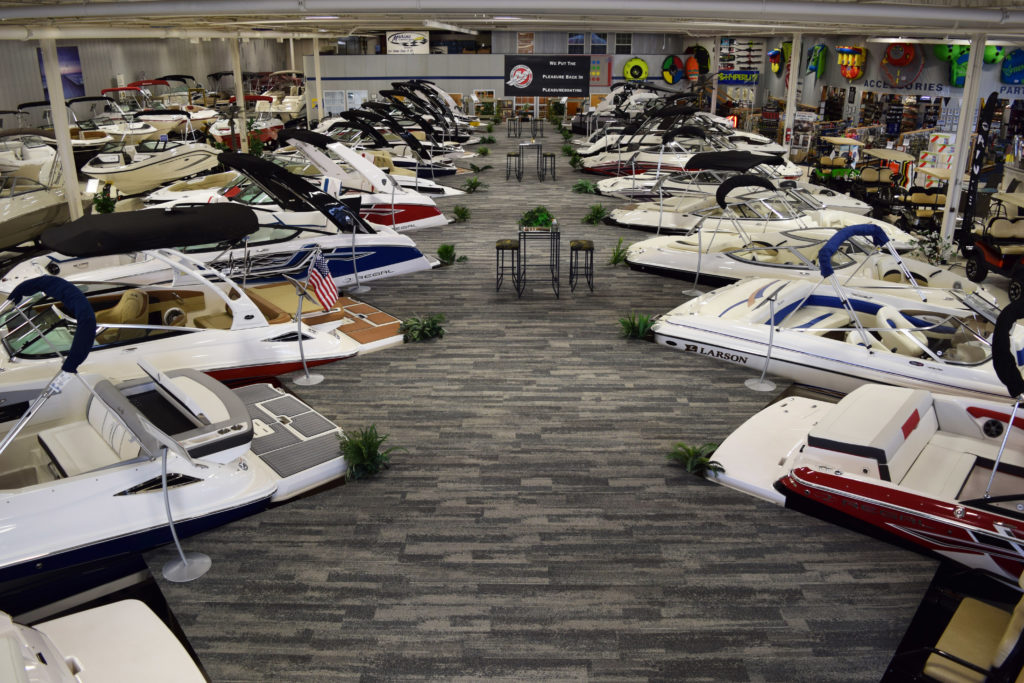 We are also prepping to advertise during a show on the Travel Channel called Boat Buyers. We had seen the show appear, but noticed that no boat companies were advertising during its commercial breaks, so this is a unique opportunity that we picked up on.
Going back to our in-house boat show, we also used other traditional advertising tactics to promote the event.
One day, a couple of us went out and placed printed out flyers at places of boating interest along with other locations. One client even said they saw our flyer at their doctor's office and came out because of that. Sometimes traditional tactics work best.
At boat shows, in-house or otherwise, we are able to send out emails immediately thanking clients for their time and giving them our contact information in case they have other questions before they even leave the show, something we don't believe any other dealerships around us are doing.
How are Your Managing Your Marketing?
We recently added our own Digital Media department, which consists of myself (Kimber Stancato) and Olivia McFadden, two recent college grads. Through this, the company has managed to target a younger audience, grow across all of its digital media channels while adding more, and start a weekly email newsletter. In house, we are able to take photos and video, edit said content, and are helping to upgrade our company website.
Share Your Marine Growth Story
Do you have a story to share about how you developed your marine business and continue to grow today? Contact us to Submit a Marine Growth Story Request and we may profile your marine business on Marine Marketing Tools.
---
The following two tabs change content below.

Diane is a marketer, avid boater and author of the award-winning book
PR Tools to Toot Your Own Horn
. In addition to being founder of MarineMarketingTools.com, Diane runs the small business site
SBMarketingTools.com
and the boating lifestyle sites
MyBoatLife.com
and
BoaterKids.com
.

Latest posts by Diane Seltzer (see all)