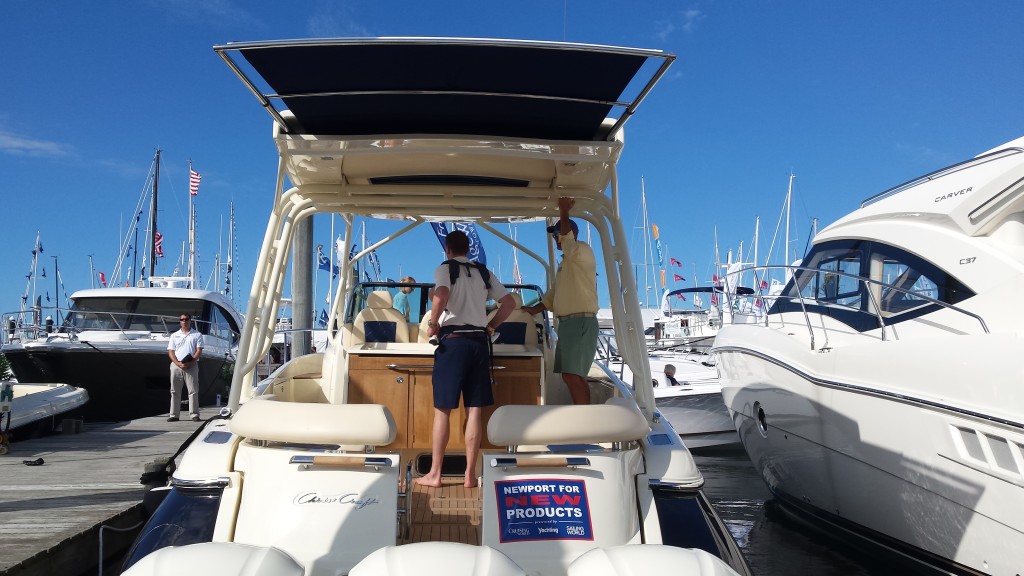 ---
More boat builders are offering "sneak peeks" with regional boat shows & social media to move up the timeline for sales & marketing of new boats
Debuting new innovative boat models is big business in the boating industry. New boat designs are often years in the making and builders have a lot riding on a successful launch of a new boat model.
Once reserved for the major international boat shows, we have been seeing a gradual shift in the timing of the official debut of a new boat model over recent years. And in many cases the "official launch" has become a series of "sneak peeks" that are actually thoughtful moves toward generating market buzz in anticipation of full commercial launch and availability.
This new trend in releasing next year boat models gives the builders and dealers an opportunity to generate interest in the market with early marketing and sales efforts ahead of new model year launches.
---
---
Moving up the Timing of Boat Debuts
Remember when the Miami International Boat Show in February was the major show for debuting new model year boats?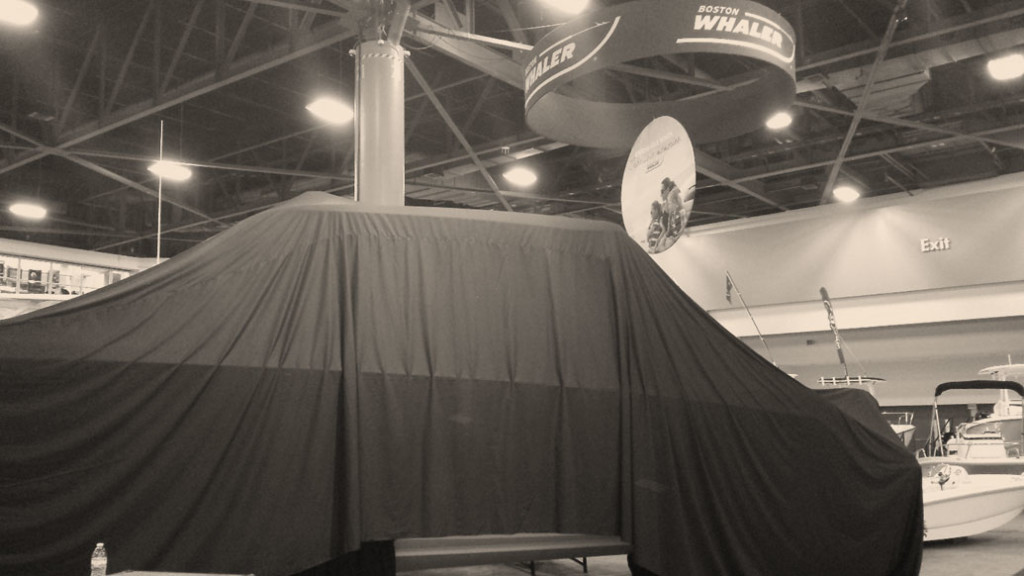 Builders would build anticipation for a dramatic debut at Miami – even draping the boat at the show with a massive cover until a physical unveiling was held with a press event. No one saw any actual pictures of the boat until the big black drape was pulled away in dramatic fashion.
Both industry media and consumers would get their first look at a new boat model… and then it was off to the races for dealers to sell, sell, sell!
We then began to see a timeline shift with some builders choosing to launch in late October at the Lauderdale International Boat Show. The Lauderdale Boat Show benefited boat builders with an earlier time frame, giving dealers a head start on the upcoming new model year.
As direct suppliers to OEMs with our sunshade systems, we are very aware of when new boats are debuting because we are involved in the design and commercial launch timeline. Over the past two years we have seen many more new boats debut at Lauderdale as opposed to Miami, with builders moving up their engineering timelines to accommodate a Lauderdale commercial launch.
Boat debuts at Lauderdale (and early fall regional boat shows) also provide the opportunity for early customer feedback that can be taken into consideration prior to going into full model year production.
Regional Boat Show & Dealer Meeting Debuts
The international boat shows are certainly still a very important venue for new boat models to be seen by buyers because they draw the biggest crowds and the most media attention, but regional debuts are growing in popularity.
There are several major regional boat shows in the U.S. that take place in late summer/early fall that have become popular venues to make a "soft launch" of a new boat model. Newport, Annapolis, Tampa and Michigan City are all great regional shows that can help build momentum toward the end of the year leading up to Lauderdale and Miami and then the remainder of the busy winter boat show season.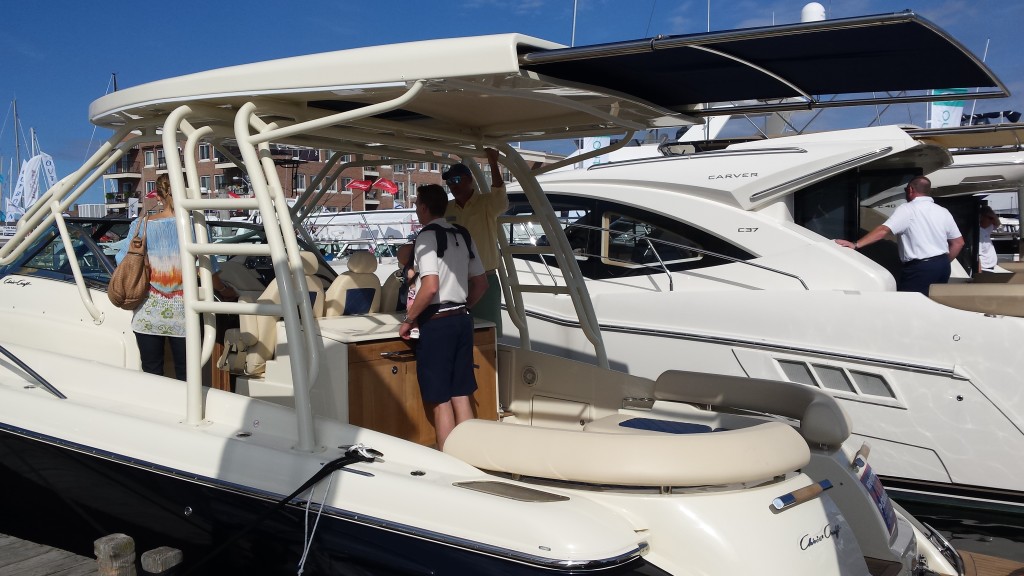 We saw many first appearances at the September 2015 Newport International Boat Show – like the 2016 Chris-Craft Launch 36 with our automated retractable shade.
Dealer meetings continue to be a popular venue to introduce new models to a builder's dealer network to give them adequate time to prepare for sales and marketing. Suppliers, like SureShade, are also often in attendance to educate dealers on important new model features. The media is also often invited to report on unveilings or conduct boat test reviews.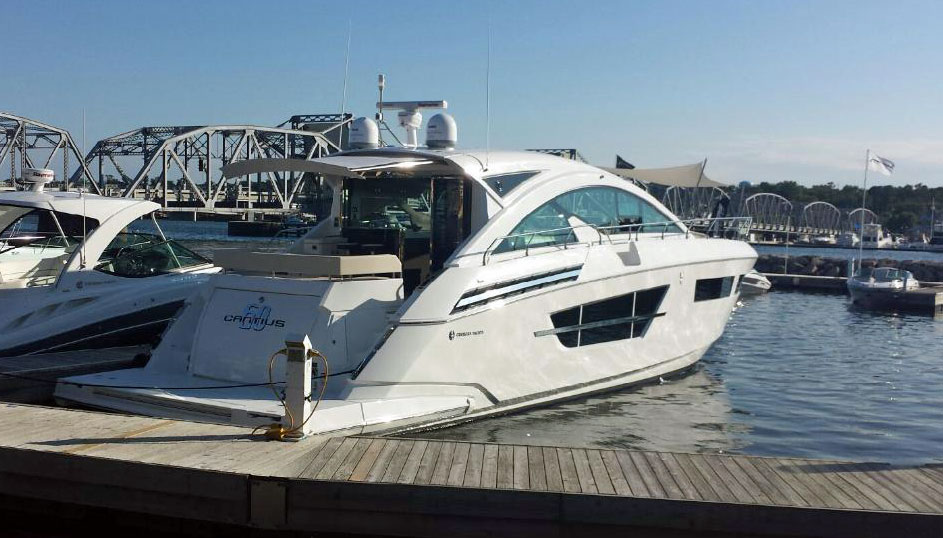 Formerly "private debuts", new model unveilings at dealer meetings are now becoming an opportunity for additional first-look sneak peeks to emerge as photos get shared on social media… from builders, dealers, media and suppliers.
Using Social Media for Early Market Buzz
In my opinion, one of the biggest drivers in moving up the debut timeline is social media.
Builders are realizing that revealing sneak peeks on social media – using Facebook, Instagram and YouTube in particular – generates significant early market buzz for their new boats models.
Social media promotions can be seen from a variety of sources – each contributing to generating buzz in the market for new models.

Fast-Tracking Sales for New Models
One of the builders making a big splash this season with early debuts is Sea Ray.
Of course we couldn't be happier to see Sea Ray reveal new model sneak peeks with our shade on it – like the new 2016 350 Sundancer or 400 Sundancer. It's truly a win-win for us both because we are eager to help co-promote models with our shade (the more boats they sell, the more shades we sell).
The early debuts gives us a chance to share on social media, update our website brand gallery and even do some first-look blog posts.
Many other leading boat brands are taking the same approach – using social media or industry trade media to offer sneak peeks and build up interest ahead of a model year launch.
All these efforts – whether you are a builder, dealer or supplier – help contribute to the bigger picture for the boating industry – generating PR buzz, interest and ultimately more sales.
---
The following two tabs change content below.

As the Business Leader and Co-Founder at SureShade - The Shady Side of Boating, Dana is responsible for all business development with boat builders and dealers. Installed on over 35 different boat brands globally and available as a factory-install feature or aftermarket upgrade,
SureShade
is the new standard for shade in the marine industry.

Latest posts by Dana Russikoff (see all)