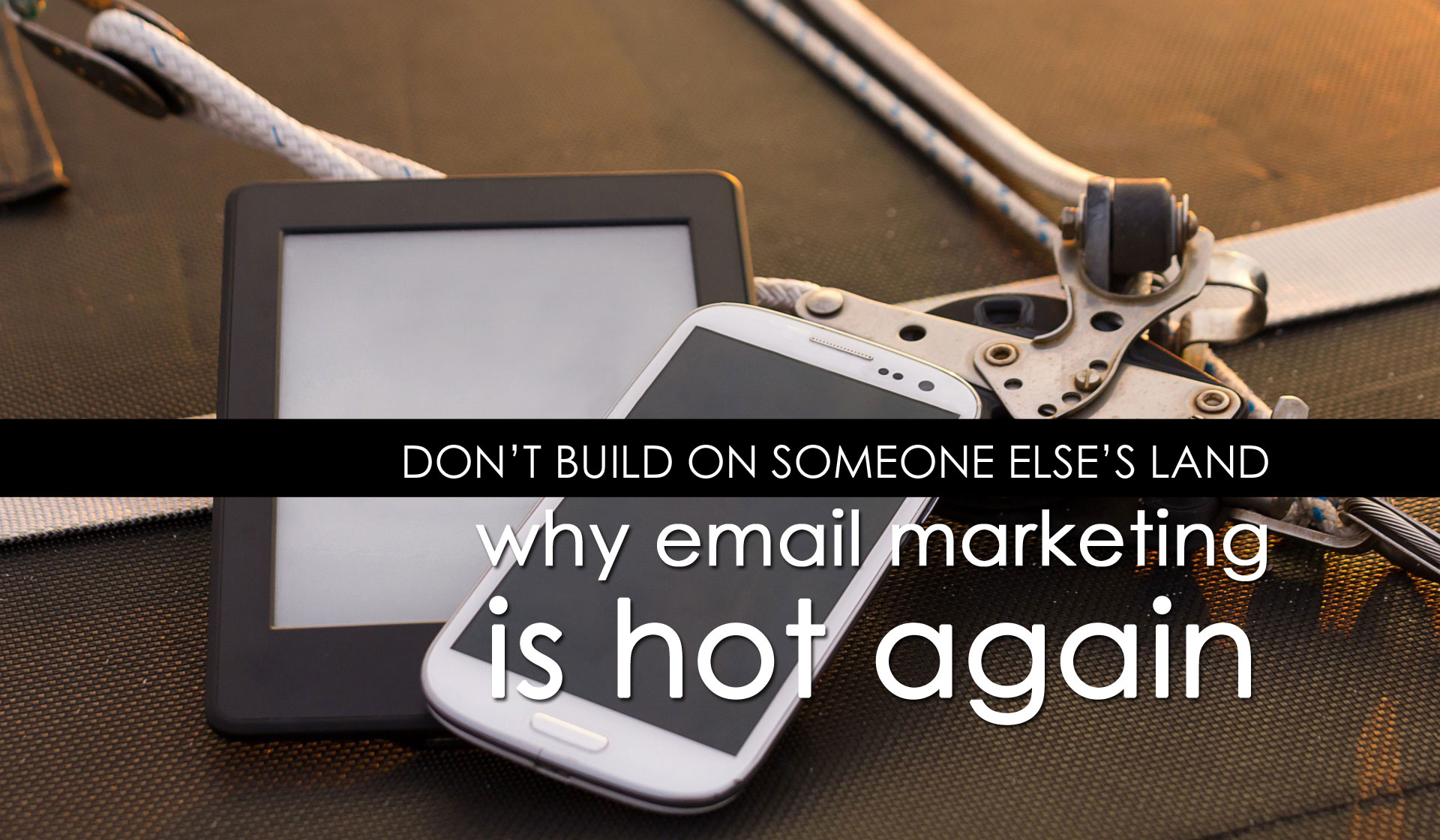 How social media pay to play is driving more businesses back to email marketing
A version of this article originally appeared on Small Business Marketing Tools
Businesses large and small quickly jumped on the social media bandwagon over the last few years to take advantage of so-called free marketing opportunities on social media sites like Facebook and Twitter.
Many businesses simply abandoned developing an email marketing strategy in favor of contacting customers and prospects directly on social media.
The problem is that businesses spent a lot of time and energy building up their presence on these social media sites that they do not own or control. And as luck would have it, the rules have changed on them.
Facebook, in particular, has been a big eye-opener over the last year by greatly limiting the visibility of brand's posts in the news feed. So much so that an estimated 1% of posts actually show up in the news feed of people that said they liked your business page and wanted to see your status updates.
Businesses thought they "owned" all the fans that they acquired on their Facebook business pages (by spending money on Facebook promotions and paid like campaigns), feeling good about the large number of fans acquired. But then Facebook changed their algorithms so that these fans now do not see status updates, posts and business promotions unless the business pays to boost them. What used to be a free marketing tool has turned into a pay to play opportunity.
---
---
Email Marketing – What's Old is New Again
Paying to boost posts on Facebook is one way to reach customers and prospects, but you are still playing under someone else's rules and in a sense "renting" those customers and prospects. As a marketer, you are always better off investing in building your own database of contacts that you own in-house.
Enter email marketing again. Smart marketers are realizing very quickly that email marketing is still the best way to continually communicate with customers and prospects in the long-term. With email marketing you own the customer data and actions associated with each contact (clicks on links, etc.).
Email marketing has been around for a long time – it may not seem "new and exciting" like social media – but it's still one of the most cost-effective ways to communicate messages, engage customers and drive sales. And email marketing has evolved over the years to be more socially engaging, mobile friendly and sales-oriented… so in a sense it is "new" again for many businesses.
Building an Email Database You Own
An email marketing strategy starts with a good permission-based database that takes time to build and cannot (and should not) be bought. There are many simple actions that you can put in place now to start building your own database of contacts that you own… on your own turf.
Simple ways to build your database include:
Promote sign-ups on social media – encourage Facebook, Twitter and Google + fans to sign up for your email for more regular updates
Add prominent sign-up form to your website – rather than just a small link to sign up, try a pop-up window that greets website visitors
Add links to sign up on inquiry website pages – ask prospects leave leads or inquiries, add a check box for email sign-ups
Add existing customers to your email database (with an option to opt out of course)
In all cases, having an incentive for them to sign-up – like a free ebook, special discounts, inside scoop on new products/services/events – will help encourage people to sign up for your email.
The first step in an email marketing strategy is starting a simple email newsletter. Your newsletter should highlight special deals, news, articles, products or other company information. When you ask for email sign-ups be sure to manage expectations on frequency upfront. If your email will be weekly rather than monthly be upfront. The fastest way to lose email subscribers is to email too frequently than they expected.
Choose an Email Marketing Provider
Most email marketing services cater to small businesses that need a self-marketing tool to manage their email marketing.
See a listing of the leading email providers to choose from in our Email Marketing Tools Directory.
Most services will offer a free trial of at least 30 days to check them out. I recommend signing up for at least 2 trials to compare functionality side-by-side and choose the best program for you. And best of all, if you are looking to switch plans, most offer an easy way to export / import existing contacts and move to a new service.
How does the cost compare to social media? You can expect to spend much less with a monthly email marketing plan than you will end up spending boosting posts on Facebook throughout the month. Most plans will allow you to send unlimited email campaigns for one monthly fee (your monthly charge will likely vary based on your total number of contacts).
Once you get started with your email marketing you should work to integrate your social media activities with your email. Share emails on social, get social contacts to sign up for email and cross-promote as much as possible so that you are not reliant on just one or the other.
In the end you'll be building something of value in-house that you will be able to control… no matter what social media changes come your way.
---
The following two tabs change content below.

Diane is a marketer, avid boater and author of the award-winning book
PR Tools to Toot Your Own Horn
. In addition to being founder of MarineMarketingTools.com, Diane runs the small business site
SBMarketingTools.com
and the boating lifestyle sites
MyBoatLife.com
and
BoaterKids.com
.

Latest posts by Diane Seltzer (see all)