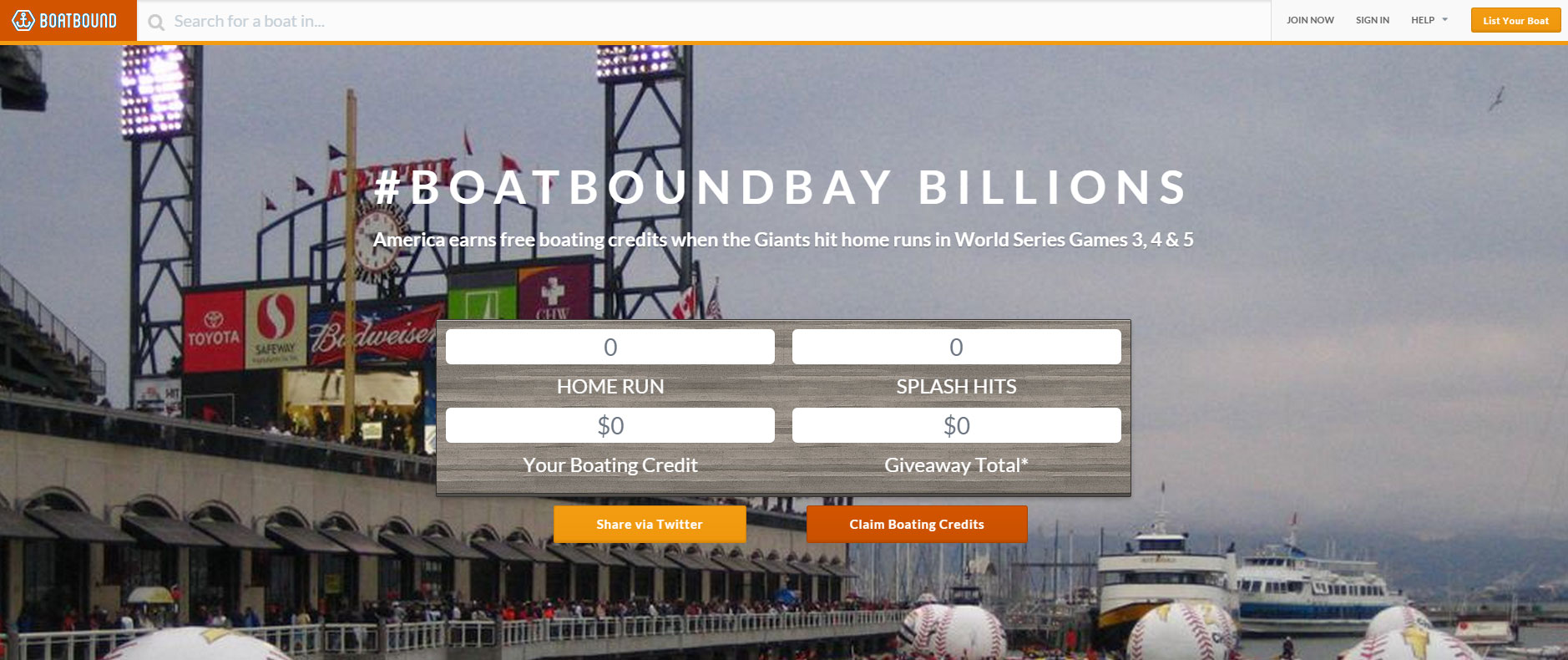 ---
McCovey Cove in San Francisco Bay to be named #BoatboundBay was actually a joke aimed at creating publicity for #Boatboundbay Billions Promotion
Boatbound, the San Francisco based peer-to-peer boat rental marketplace, recently announced that they have acquired the naming rights to a historic section of the San Francisco Bay. Previously known as McCovey Cove, named after legendary San Francisco Giants Hall of Famer Willie McCovey, the company announced the inlet will now be officially named #Boatboundbay.
Boatbound announced that the cove will now be known as #BoatboundBay (located adjacent to San Francisco's AT&T Park) and will play host to a large crowd of boats, kayaks, and other vessels. The location is one of the most unique places in America to enjoy a baseball game from a boat, and the renaming comes just in time for Games 3, 4, and 5 of the World Series in San Francisco.
The company CEO even issued a quote on the naming rights:
"The official renaming of this historic local landmark during the World Series will help to bring visibility and awareness to our maritime roots, strong local boating culture, and the many exciting facets of our home waterfront," commented Boatbound founder and CEO Aaron Hall.
After much local and national news covered (followed by some angry fans) it was later found that the renaming was actually a hoax. 
Aaron Hall, CEO of Boatbound, tells The Chronicle that he didn't mean any harm by the stunt. He and his colleagues, he said, were merely trying to have some fun with a new promotion for their company, which, incidentally, hosts a platform where people rent out boats — think Airbnb, but with yachts. "It was meant to be a light-hearted joke," Hall said.
---
---
#BoatboundBay Billions Promotion
To encourage more people to enjoy future events at AT&T Park from the water, and promote boating across the US, Boatbound launched the #BoatboundBay Billions promotion to give away boating credits to the over 230 million adults across America during the World Series. The promotion will award $5.00 in credit for each home run hit by the Giants, and $15.00 for every "splash hit" home run by a Giants player during Games 3, 4, and 5. There is no cost to participate.
For details and official rules, go to: https://boatbound.co/giveaway.
Boatbound allows boat owners to offset the costs of boat ownership by renting to Boatbound's trusted community of qualified renters. With thousands of boats listed across the US, boating is now more accessible and affordable than ever. Every rental comes insured with up to $3 million in insurance protection and on-the-water support for a safe experience.
The Boatbound boat rental marketplace is gaining in popularity, in part due to a recent strategic partnership with Brunswick announced earlier this year.
---
The following two tabs change content below.

MarineMarketingTools.com
provides occasional coverage on marine marketing newsworthy events and other updates that offer marine marketing opportunities to grow businesses in boating. If you are interested in a profile, please see our
sponsored post opportunities
.

Latest posts by News Editor (see all)