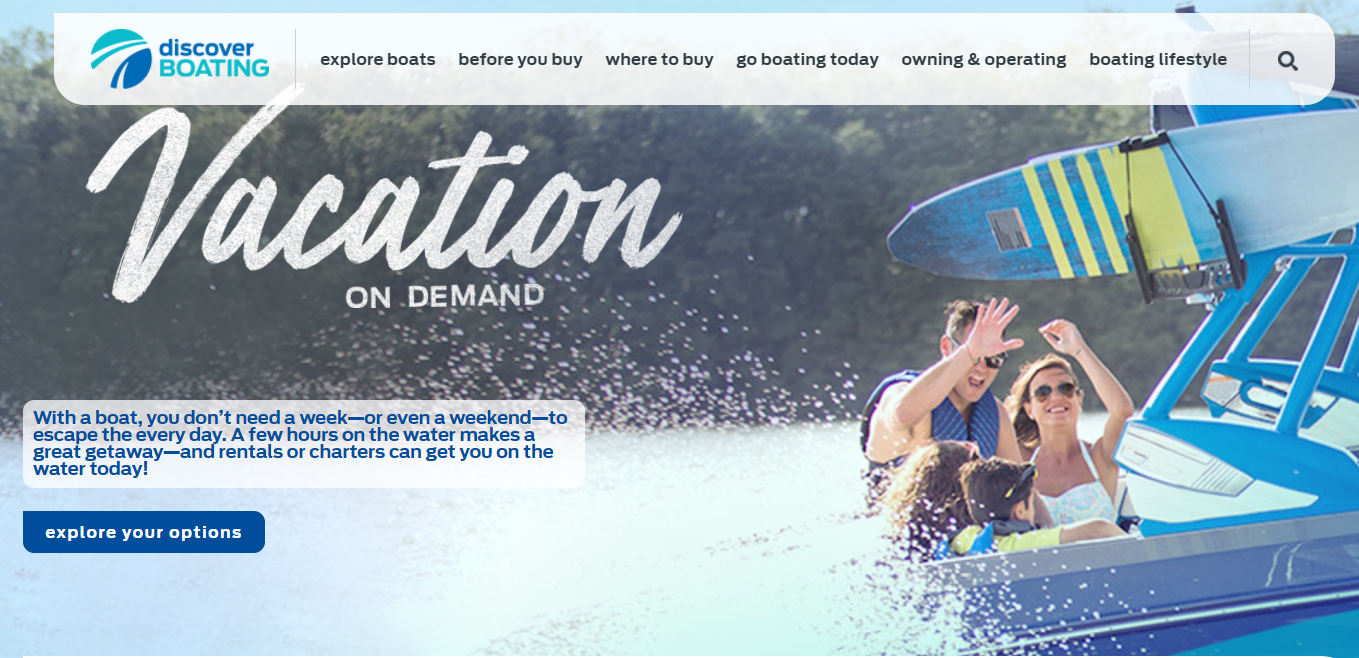 Discover Boating's "Vacation on Demand" campaign connects the kind of feelings and experiences that come with boating to feeling of being on vacation
Discover Boating – the recreational boating industry's effort to increase boating participation – is focusing its 2017 campaign on introducing people to boating and building a pipeline of first-time boat buyers.
The strategy behind its 2017 campaign is 'Vacation on Demand' – a campaign that connects the kind of feelings and experiences that come from boating with the feelings and experiences that come from something most people understand— being on vacation. Whether its relaxation, escape, fun, being outdoors, or connecting with family and friends, boating is the ultimate vacation on demand.
Coming out of the Grow Boating Summit in December, attendees spanning boat, engine and accessory manufacturers as well as dealers and key industry partners, outlined Discover Boating's critical role as the first marketing touchpoint for helping to attract the next generation of boat owners—those people who are first-time boat buyers.
To motivate people to consider boat ownership, the campaign shows people that owning a boat lets you take a "Vacation on Demand"– you can go where you want, when you want, on your own terms. This idea is integrated across all key Discover Boating marketing efforts this summer, including digital advertising, public relations, influencer engagement and social media, to help attract the next generation of boat owners.
---
---
Vacation on Demand Video
"You don't need to own a boat to experience what it's like to have a vacation at your fingertips. DiscoverBoating.com has an interactive Go Boating Today tool that generates local options for boat rentals, classes, charters and more, by simply entering a city or zip code."
Marine Marketing Tactics
To connect with potential boaters locally, there's a new geo-targeted Facebook ad that triggers when someone is near a body of water.
What does that mean exactly? It's an innovative way Discover Boating is able to connect with potential first-time buyers on a much more local level, in their backyard. The new ad provides a personalized recommendation for how, where, when and why that person can get on the water by connecting them with boating opportunities nearby, as well as photos, videos and updates from others in the area who are out on the water.
A crucial part of the campaign is how it connects these potential first-time buyers with brands. DiscoverBoating.com content is continually being updated to better serve the needs of first-time boat buyers as they move on the path to ownership and are beginning their boat-buying research.
The website remains a hub for those exploring boat ownership as it sends people off to boat brand websites to shop and explore, otherwise known as referrals. Brands are reporting that Discover Boating is often one of the top three sources of web traffic to their website. In fact, manufacturers that are tuned into the referrals coming from Discover Boating and then nurturing these referrals as part of a comprehensive marketing effort, are seeing tremendous results from the campaign.
To learn more about referrals click here for a quick video.
---
The following two tabs change content below.

MarineMarketingTools.com
provides occasional coverage on marine marketing newsworthy events and other updates that offer marine marketing opportunities to grow businesses in boating. If you are interested in a profile, please see our
sponsored post opportunities
.

Latest posts by News Editor (see all)