---
Custom dive tank brackets make storing SCUBA gear safe and easy on dive boats and yachts
UMT International, a leading manufacturers of finely crafted marine products based in Ft. Lauderdale, Florida,  announced on July 2, 2013 a new SCUBA storage product that responds to a need in the boating market for a safer and more convenient way to store diving tanks and equipment on a boat.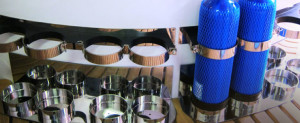 The new dive brackets by UMT meets a need in the market for a safe way to secure and store SCUBA equipment on a moving vessel.
Fabricated from custom templates, UMT dive brackets can be used on on diving boats or luxury yachts. They feature stainless steel or aluminum finishes and hold tanks vertically to prevent them from rolling while underway.
UMT International is known for other quality marine products such as yacht cranes & davits, boarding equipment, stainless steel fabrication and custom aluminum fabrication.
---
---
Marine Marketing Opportunity
Marine businesses in catering to the diving market can offer their clients another solution for SCUBA equipment storage with UMT dive tank brackets. These custom fabricated brackets may offer both aftermarket product and service revenue opportunities.
More Information
To learn more, view installations of UMT dive brackets on their company website.
---
The following two tabs change content below.

MarineMarketingTools.com
provides occasional coverage on marine marketing newsworthy events and other updates that offer marine marketing opportunities to grow businesses in boating. If you are interested in a profile, please see our
sponsored post opportunities
.

Latest posts by News Editor (see all)