---
Survey reinforces value of boating and fishing for couples to enjoy together [INFOGRAPHIC]
Recreational Boating & Fishing Foundation's (RBFF) Take Me Fishing campaign releases a new survey on September 25, 2013 that outdoor activities like fishing and boating are viewed favorably with couples.
The survey was conducted among men and women currently in relationships on behalf of the Recreational Boating & Fishing Foundation and revealed that two-thirds of couples have gone fishing or boating with their spouse or significant other at some point. Additionally, boating and fishing are among the top 5 outdoor activities on a date.
Key findings of the survey include:
38% of men are impressed by a woman who can bait a hook
One-third of people in a relationship prefer non-traditional dates such as hiking and fishing
60% of women and 58% of men would be game for going fishing on a date
70% of women and 68% of men would go on a boating date
The top five outdoor dates are boating, hiking, camping, fishing and biking
"We like to say that couples who fish and boat together stay together. The survey also confirmed what we have been taking note of — that women are more interested than ever in fishing and boating," said RBFF President and CEO Frank Peterson.
More results of the survey can be found in this Infographic compiled by TakeMeFishing.org.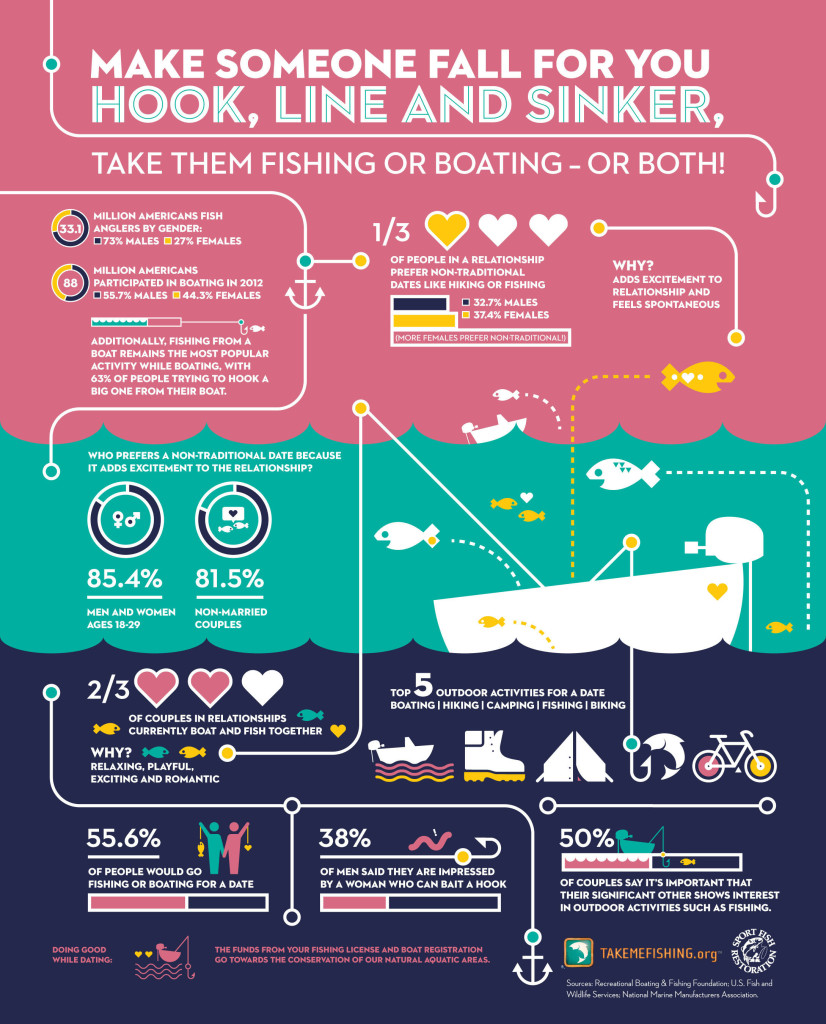 ---
---
Marine Marketing Opportunity
The results of this survey are very positive for the boating industry. Getting couples "hooked" on boating as a joint activity is a great way to encourage a boater to become a lifetime boater. As evidenced by the Discover Boating Spousal Conversion kit, getting your spouse on-board with boating is sometimes key to a boat purchase decision. Creating couple-friendly and/or family-friendly boating experiences is a good way for dealers, marinas or boat manufacturers to ensure boating is a lifelong commitment.
---
The following two tabs change content below.

MarineMarketingTools.com
provides occasional coverage on marine marketing newsworthy events and other updates that offer marine marketing opportunities to grow businesses in boating. If you are interested in a profile, please see our
sponsored post opportunities
.

Latest posts by News Editor (see all)