"From Start-up to Standard" story chronicles company's growth from product invention to market acceptance in the boating industry
SureShade, U.S.-based designer and manufacturer of marine sunshade systems, has released their company growth story in a new 5 page PDF entitled "From Start-up to Standard". The story gives a behind the scenes look at how a business in the boating industry got started and grew to become the new standard for boat shade in just five short years.
SureShade's industry growth story, From Start-up to Standard, is an inspiring story of an American made and manufactured boating invention that gained market acceptance and transformed an industry in just 5 short years.
The story gives an insider's view of the company's invention, patent strategy, commercial launch, early adopters and how they were able to quickly grow from a start-up in the boating industry amid challenging economic times. It also includes details from co-founders Dana Russikoff and Ron Russikoff (the product inventor) about business challenges and experiences as a start-up business in the boating industry, as well as some of their specific strategies for growth.
SureShade story includes details about their first commercial launch and early adopters.

"As a start-up and newcomer to the boating industry we faced many challenges growing our business and gaining market acceptance," said Dana Russikoff, co-founder and business leader at SureShade. "This year we celebrate our 5 year commercial anniversary and we felt it was the perfect time to share our growth story and, recognizing that it takes a team to change the game, give thanks to the many builders, dealers and industry players that have championed us along the way."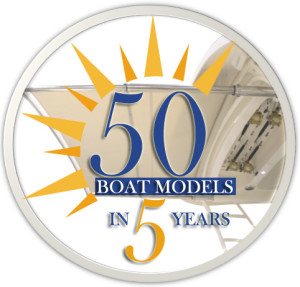 The story chronicles the journey SureShade has taken over the last 5 years – from coming up with the initial product invention to being featured as the shade of choice on major boat brands worldwide.
SureShade expects to reach a new company milestone by having their boat shade featured on 50 boat models within 5 years at the upcoming 2014 Fort Lauderdale International Boat Show.
SureShade is sharing their story with the boating industry as well as other small businesses interested in learning more about how they were able to accomplish their significant growth so quickly.
In the 5 page PDF entitled From Start-up to Standard, SureShade shares strategies, insights and details about:
the idea behind SureShade's invention
early adopters that embraced the product at the ground level
market growth – from introduction to being featured on 50 boat models in 5 years
what builders, dealers and boaters are now saying about the shade system
how SureShade has evolved to become the shade system builders prefer and boaters are demanding
The story is available for anyone to download for free at www.SureShade.com/story.
---
---
Marine Marketing Best Practices
The idea of "storytelling" is a growing trend with brands to connect with their customers. SureShade chose to share their company growth story to offer a behind the scenes look into the making of a great company – offering compelling insights for the industry, clients and end-users (boaters). As an American success story in the boating industry, the story is also inspiring to the many small businesses in the boating industry (or any other industry) looking for examples of successful growth.
Editor's note: The editor of Marine Marketing Tools is also the marketing director for SureShade.
---
The following two tabs change content below.

MarineMarketingTools.com
provides occasional coverage on marine marketing newsworthy events and other updates that offer marine marketing opportunities to grow businesses in boating. If you are interested in a profile, please see our
sponsored post opportunities
.

Latest posts by News Editor (see all)