---
New patents protect marine sunshade design in Europe and China boating markets, expanding patent protection globally
SureShade, the U.S. based designer and manufacturer of marine sunshade systems, has announced on August 12, 2013 that they have received  a Notice of Approval in both Europe and China for technology patents protecting their automated sunshade system designs.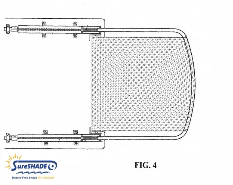 Patent protection in Europe and China enables SureShade to be the only marine supplier to offer a telescoping sunshade system to boat building operations in Europe and China markets. The China patent also includes coverage of Hong Kong.
The new patents in Europe and China add to current patents held in the U.S. for the same telescoping sunshade design, as well as other patents the company holds in the U.S. for their arched roller design and automated bimini product. SureShade also states that there are other pending U.S. and International patents for their marine sunshade designs.
"With patent protection in Europe and China SureShade is now poised to capture a significant share of the future global growth in the European and Asia Pacific boating markets," said Dana Russikoff, business leader and co-founder at SureShade. "Boat builders and dealers in these regions can easily add our sunshade systems to their lines as factory or aftermarket installations, giving clients worldwide a better boat shade solution."
SureShade notes that they are already working with many international boat builders, including Delta Powerboats, Sessa Marine and Galeon in Europe, and Grand Banks, Outer Reefs and Cheoy Lee in China. Their portfolio currently includes shades now installed on over 35 brands in 15 countries.
---
---
Marine Marketing Best Practice
The expanded patent coverage of SureShade's automated sunshade system into Europe and China boating markets demonstrates the potential growth for marine businesses globally. As market opportunities for boating products continue to grow worldwide, securing international patents will help ensure your business is also poised to benefit from that growth and compete globally – particularly for OEM relationships with operations abroad.
Disclaimer: The editor of Marine Marketing Tools also serves as the marketing director for SureShade.
---
The following two tabs change content below.

MarineMarketingTools.com
provides occasional coverage on marine marketing newsworthy events and other updates that offer marine marketing opportunities to grow businesses in boating. If you are interested in a profile, please see our
sponsored post opportunities
.

Latest posts by News Editor (see all)