---
Web-based design story series highlights versatility of product for design solutions at home, on the water and on an adventure
Sunbrella® fabrics, manufactured and marketed by North Carolina based company Glen Raven, has launched a new story-telling content initiative aimed at highlighting the versatility of their product for offering design solutions in different aspects of life.
Known as "Perspective", the fabric-inspired design series produced by Sunbrella is in its second year with the launch of Perspective New England that will focus on the versatility of the product. This new series follows last year's Perspective Atlanta that was aimed at growing people's understanding of Sunbrella fabric as an interior upholstery option that is chic, modern and beautiful.
Perspective New England will be a three-part design series exploring the design challenges of three projects—"The Rhode Yacht," a vintage revival of a 1977 Airstream Argosy Trailer; "The Real Yacht," an M36 daysailer luxury yacht by Morris Yachts; and "The Beach House," a family home in Narragansett, Rhode Island. All three projects look to accomplished designers to bring Sunbrella fabrics to life.
"This year, we wanted to expand the story to show the versatility of the fabric, from well-known applications, like awnings and marine tops, to its use in kid-friendly design and luxury marine interiors," said Gina Wicker, design and creative director for Sunbrella fabrics.
The fabric-inspired story of Perspective New England will be told digitally on a dedicated website and through additional online content including short videos on tough interior design challenges. The series also will educate consumers on Sunbrella fabrics available at the retail level and how to gain access to additional Sunbrella resources available to the trade by working with designers and fabricators.
The first series of videos will launch in mid June starting with the story of the The Rhode Yacht – a makeover of an Airstream Trailer. The trailer is owned by Greg Hall, who is also the owner of the beach house and Morris Yachts (builders of custom, luxury sailing yachts).  The Rhode Yacht will then set off on a mobile marketing tour along the New England coast, visiting regattas, boat shows and music festivals.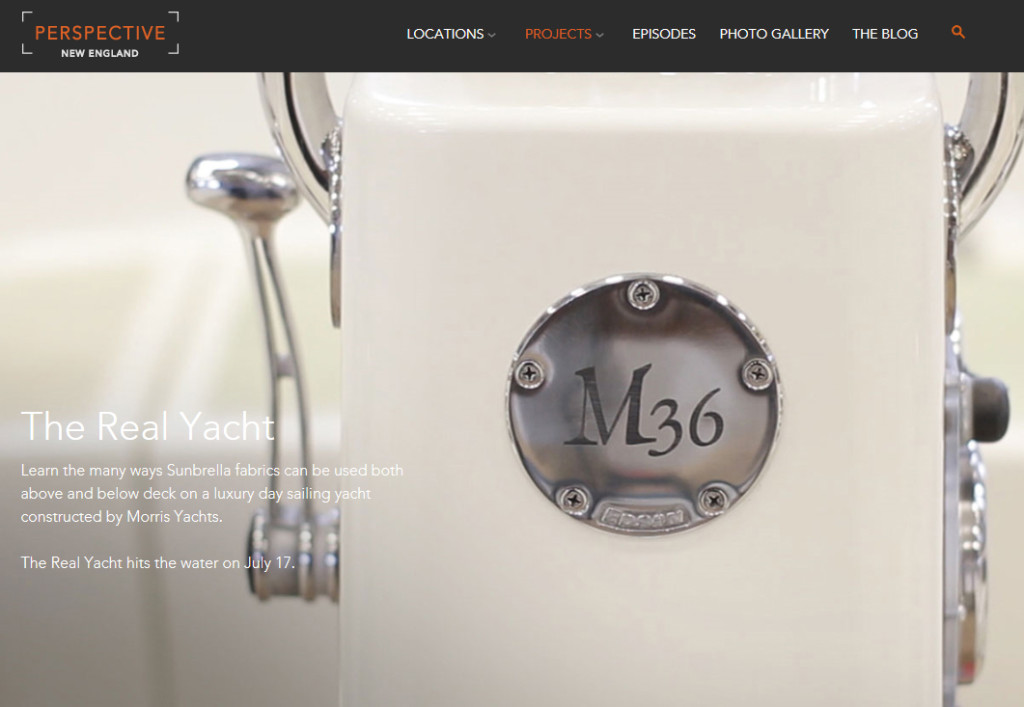 The second project in the design series will focus on The Real Yacht showcasing the many ways Sunbrella fabrics can be used both above and below deck on a new, special-edition Morris M36 that celebrates the tenth anniversary of the iconic daysailer. The design will feature high-end decorative fabrics by Richard Frinier for Sunbrella, with Kate Gable of Gable Design Group spearheading the design.
 "With The Real Yacht design, we're deliberately using high-end fabrics in the marine interior to show that Sunbrella fabrics are not just for above-deck applications like Biminis and enclosures," Gable said. "A daysailing yacht is really a home on the water. With Sunbrella fabrics, you can have the same comfort and style of home without compromising on performance."
Video and blog content is expected to launch on June 3 and continue through September 30. Sunbrella encourages consumers to follow The Rhode Yacht on its tour across New England by following the hashtag #RhodeYacht on social media. Consumers can also keep up with the full project by following @Sunbrella and #PerspectiveNE on Twitter and Instagram.
---
The following two tabs change content below.

MarineMarketingTools.com
provides occasional coverage on marine marketing newsworthy events and other updates that offer marine marketing opportunities to grow businesses in boating. If you are interested in a profile, please see our
sponsored post opportunities
.

Latest posts by News Editor (see all)