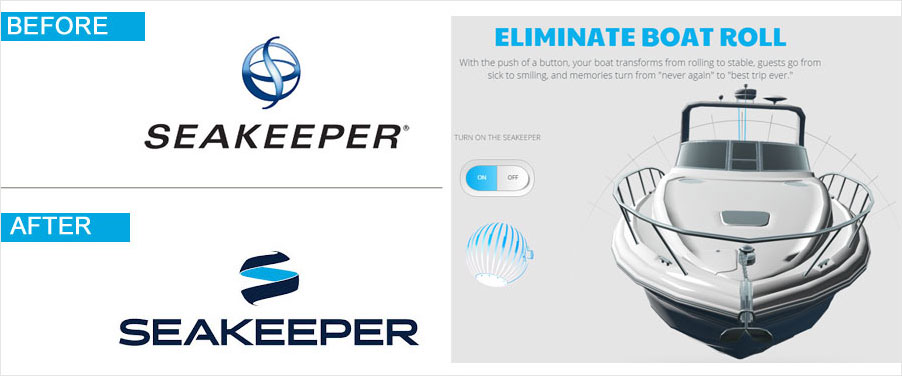 ---
Seakeeper re-branding includes new logo, website, marketing campaigns and digital marketing materials
Seakeeper, the manufacturer of marine gyro stabilizers for boats, has unveiled a new global brand identity that includes a "re-imagined combination mark" for its logo, website redesign and marketing campaign.
Aside from corporate stationery, boat wraps, seakeeper.com and other digital properties, consumers worldwide are seeing a new advertising campaign that departs from traditional, tech-heavy forms. The updated marketing signals a transformation in how the boating community now views Seakeeper stabilization as the minimum expectation. Comprehensive explanatory copy is no longer needed.
The newly branded website includes a fully responsive design that has several digital features such as the interactive "eliminate boat roll" visual that demonstrates how you can eliminate boat roll at the touch of a button.
"Seakeeper has built tremendous brand equity," said Maggie Meredith, Seakeeper marketing manager. "The fresh, new look reflects the cutting-edge technology we're continually developing and offers the flexibility needed to support new possibilities and corporate directions."
The combination mark, advertising, and print and digital marketing materials were developed by Philadelphia-based King Design.
This new branding follows a period of unprecedented corporate and market-share growth for Seakeeper as they introduced a new line of gyros, expanded its global sales and service network, and increased its engineering and manufacturing facilities to a total of 90,000 sq. ft.
---
---
Seakeeper Brand Video
A new Seakeeper brand video was also developed to highlight how the product works:
---
The following two tabs change content below.

MarineMarketingTools.com
provides occasional coverage on marine marketing newsworthy events and other updates that offer marine marketing opportunities to grow businesses in boating. If you are interested in a profile, please see our
sponsored post opportunities
.

Latest posts by News Editor (see all)