---
Campaign for Safe Rider Pledge promotes PWC safety with public service announcements and user submitted videos on social media
The Personal Watercraft Industry Association (PWIA), an association representing U.S. personal watercraft manufacturers, has announced the launch of a new campaign on July 3, 2013 aimed at growing the safe use of personal watercraft (PWC).
The campaign will be centered around a safety pledge for PWC users – the Safe Rider Pledge – where PWC users can formally sign a pledge to operate their personal watercraft according to safety guidelines.
According to a Washington DC Fox News interview with David Dickerson, executive director of Personal Watercraft Industry Association, "There has been a decrease over the years in the number of accidents but we started the safe rider campaign in order to keep that momentum going."  He also noted that they want people to emphasize a few simple rules as they go out on the water – use protective clothing and equipment, avoiding aggressive maneuvers, following local boating laws, operating sober and respecting the environment.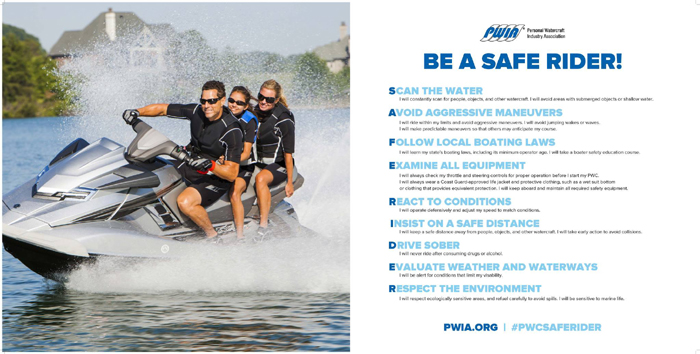 PWIA has produced a series of Public Service Announcement (PSA) videos focused on the Safe Rider Pledge campaign and will begin airing them on social media sites like Facebook (PWIA page), Twitter (@PWIA_NEWS) and YouTube. In addition to the PWIA produced PSA videos, the campaign is requesting users to submit their own videos on safe riding.
The campaign will run throughout the summer of 2013 with the goal of reaching the more than 1 million persoanl watercraft users on the water.
---
---
View the Safe Rider Pledge PSA video by PWIA:
Marine Marketing Opportunity
Campaigns like the Safe Rider Pledge are a great way to attract more people to the boating industry. The PWC is already a good entry level into boating because it is affordable and easily towed to various boating locations. The strategy of using social media to promote the Safe Rider Pledge (along with user submitted videos) will engage active PWC users and have a cost-effective viral effect to help quickly spread the campaign on social media.
More Information
For more information on PWC safety and the Safe Rider Pledge campaign, visit PWIA website or the PWIA Safe Rider page on Facebook. PWIA is also an affiliate of the National Marine Manufacturers Association (NMMA).
---
The following two tabs change content below.

MarineMarketingTools.com
provides occasional coverage on marine marketing newsworthy events and other updates that offer marine marketing opportunities to grow businesses in boating. If you are interested in a profile, please see our
sponsored post opportunities
.

Latest posts by News Editor (see all)