Website build a boat program lets boat buyers create and customize their ideal Monterey Boat
Monterey Boats, a leading independent boat manufacturer, has announced a newly redesigned web-based tool that lets boat buyers build a Monterey per their specifications.
The redesigned web tool functions much like similar tools found on car manufacturer websites. Buyers select a model and are then guided through a series of boat options and prices for their desired selections.
The Monterey build a boat tool starts with a model selection via a drop down of available models. Once the model is selected the main graphic automatically switches to the desired model.
Imagery is further enhanced with the selection of hull color via an enhanced hull color/graphic configurator that changes the boat image based on the selection .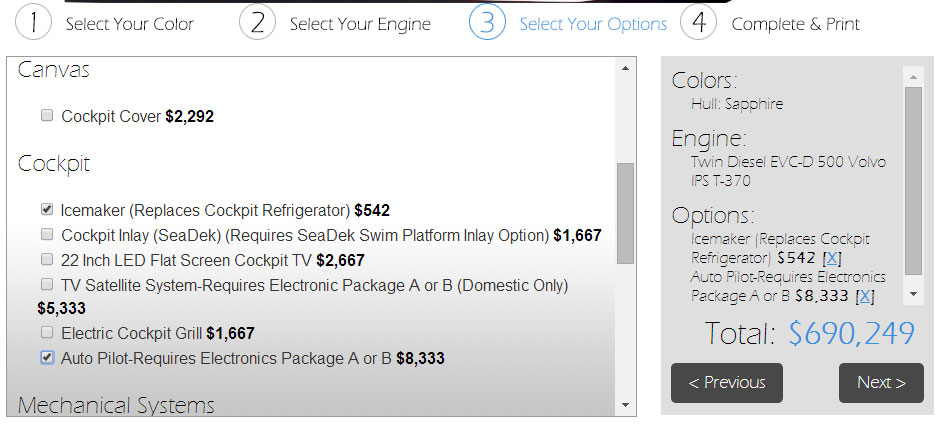 Buyers then select from available engine options and then navigate through other options like:
Hull / Deck Exterior
Canvas
Cockpit
Mechanical Systems
Video Packages
Helm Electronics
Waste Systems
Each individual option selection is clearly priced with check boxes – a format buyers are familiar with when shopping for vehicles online. The estimated price of the boat is also clearly available throughout the process, showing buyers costs upfront.
"This new program features a user friendly design, and a vast array of options; it is our hope this new tool will provide a way for our customers to experience Monterey at an entirely new level," said Kim Loenichen, Director of Sales at Monterey Boats.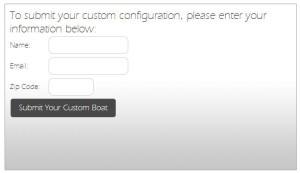 Once all selections are made, buyers will be able to continue on to either print or email the "Perfect Monterey" to themselves, or they will have the option of sending the custom designed Monterey boat to the dealer of their choice.
The build a boat website tool works as a lead generator for the Monterey Boats sales team by collecting names, email addresses and zip code for buyers creating custom boat configurations.
Monterey's current line features 26 boat models ranging from 18' to 41', including new outboard models. Monterey has a growing worldwide dealer/partner network, a dedicated staff of more than 500 skilled boat builders, and is an industry leader in designing and building superior stern-drive pleasure boats.
---
The following two tabs change content below.

MarineMarketingTools.com
provides occasional coverage on marine marketing newsworthy events and other updates that offer marine marketing opportunities to grow businesses in boating. If you are interested in a profile, please see our
sponsored post opportunities
.

Latest posts by News Editor (see all)