---
New consignment program gives marine businesses an opportunity to generate additional revenue with safety pocket checklist book
NauticalCheck, a publisher of safety checklist books, has announced on June 27, 2013 the roll-out of a new consignment program that will enable marine businesses such as boating supply vendors and safety organizations the ability to sell customized checklist books for boating.
Marine businesses have the opportunity to sell NauticalCheck safety books and have  their own custom book produced with a custom cover as well as inside back pages that can be used for revenue generation from advertising sales. The company notes that the books can also be used to generate revenue for fundraising.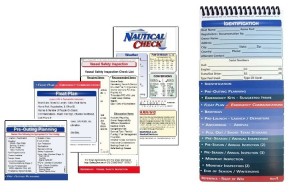 The unique safety checklist books provide boaters with an operational/safety/maintenance checklist that covers everything needed to make a boating experience as trouble free as possible. Books feature "stair-stepped", color-coded pages that are waterproof and tear-proof, making it easy for boaters to quickly reference valuable safety information. They can also use the checklist books to store vessel specific information. Books are available in a Power Boat and Sail Boat version.
The company's technical staff is headed up by Jim McCrae, a retired US Naval Officer with over 40 years of aviation and boating experience. They also produce similar safety checklist books for the aviation industry (winning the prestigious FAA Flight Safety Award) and a book for the scuba industry.
---
---
Marine Marketing Opportunity
NauticalCheck gives marine businesses – such as marine suppliers, marinas, yacht clubs or boating associations – an opportunity to create a custom published product with little to no upfront cost, while providing a valuable safety tool to boaters. For businesses with a large advertising base to tap into, the customized safety books can also become a revenue generator. Finally, with customized covers and content the books can help build your brand in the industry by using it as a promotional item and associating your business with marine safety.
More Information
The NauticalCheck website provides more information on their NauticalCheck checklist books as well as their new consignment program available to marine business.
---
The following two tabs change content below.

MarineMarketingTools.com
provides occasional coverage on marine marketing newsworthy events and other updates that offer marine marketing opportunities to grow businesses in boating. If you are interested in a profile, please see our
sponsored post opportunities
.

Latest posts by News Editor (see all)