---
Marine Retailers Association of the Americas (MRAA) launches video contest "I am MRAA" to marine retailers on Facebook
The Marine Retailers Association of the Americas (MRAA) has launched a members-only social media contest that encourages marine retailsers to create a short video about the impact of MRAA membership on their business  and post it on their respective Facebook pages. The winner of the social media video contest will receive two full-conference passes to the upcoming Marine Dealer Conference & Expo (MDCE), valued at approximately $850, scheduled for November 16-19 in Orlando.
Entitled "I am MRAA", members are encouraged to create a video no more than two minutes in length that addresses their return on investment in MRAA membership. Current MRAA membership must submit the short "I Am MRAA video" to Facebook by April 30th for a chance to win two registration tickets to the 2014 Marine Dealer Conference & Expo.
Specific Criteria for Video Contest Include: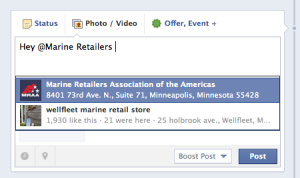 Must submit video between March 28th and April 30th.
Must be a current MRAA member in good standing.
Dealership must create a video that speaks to why they value / are proud of / what they get out of their MRAA membership.
The video must be less than two minutes long.
The video must conclude by saying, "I am _______ (example: Nick or Best Marine) and I am MRAA."
Videos must be uploaded to the dealership's company Facebook page.
The video post needs to "tag" the Marine Retailers Association of the Americas in the post.
For more instructions, MRAA produced a short video with instructions and an overview of the "I am MRAA" social media video contest:
MRAA has also provided more tips and guidance on producing a winning video posted on their Facebook I am MRAA contest app.
---
The following two tabs change content below.

MarineMarketingTools.com
provides occasional coverage on marine marketing newsworthy events and other updates that offer marine marketing opportunities to grow businesses in boating. If you are interested in a profile, please see our
sponsored post opportunities
.

Latest posts by News Editor (see all)