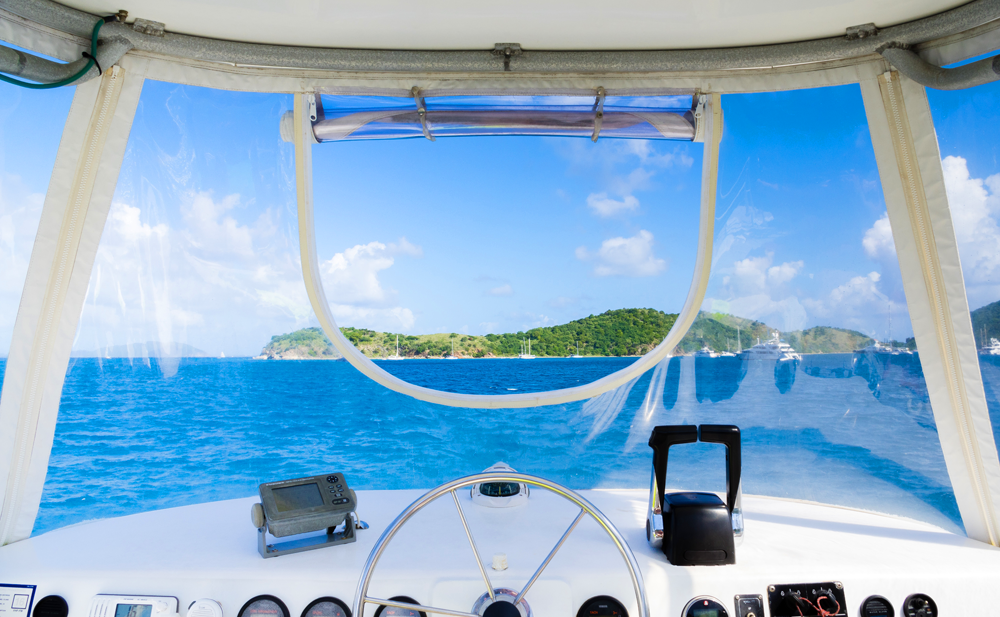 One of the hot topics of 2017 for businesses will be Inbound Marketing. The inbound philosophy is a strategy that earns and nurtures new customers by providing amazing user-generated content with a little side of strategy and technology.
Spoiler Alert: The marine dealers that become familiar with this concept will rocket past their competitors.
Let's start with the basics.
---
---
Inbound Marketing 101
The world has changed and so have your customers. Everyone can get the information they want in an instant. Great marketing, like inbound, gets in front of customers before, during, and after they buy, with the right messaging.
To understand inbound advertising, we must first explore traditional advertising. In the past, it was normal to cold call, send cold emails (SPAM), create business-centric advertising and create interruptive ads. This isn't the greatest experience for the customer yet many of us are still doing it. Why? Brands that don't listen to their consumers will ultimately fall off the face of the earth. The consumers are in the captain's chair now, and they know it.
In light of this, inbound marketing flips this conversation entirely. It's no longer about messaging the way the sales team or the marketer wants to promote. Inbound empowers potential customers by giving them a memorable experience that delights them throughout their shopping experience. If you have a delighted customer, you have your next referral.
Take a look at HubSpot's video on Inbound. It's worth a couple of minutes of your time and is pretty cool, too!
How Inbound Works
It starts with creating marketing that your customers will love. Nowadays, almost everything you buy, especially items like boats you research in-depth before you walk into a dealership.
How often do you see customers walk in with detailed information about a boat? Traditionally, your sales team would be educating them on the latest design changes or current promotions. Now, more often than not they know as much as your salespeople do.
What does this tell us?
Your Website is a Vital Component of Success
Your Content Needs to Be Engaging
The Business That Delights The Customer Wins the Customer for Life
If You Don't Have What They Need, They're Only a Couple Clicks Away From Finding It – With Someone Else…
Inbound in Action:
The inbound methodology in its simplest form attracts strangers and converts them into visitors, leads, customers and promoters. This marketing strategy knows what to serve these potential customers at what time during their shopping experience.
Great inbound marketing delivers the perfect message to the perfect customer at the perfect time.
This chart from HubSpot shows a brief overview of how the inbound methodology works and the marketing delivered at each stage.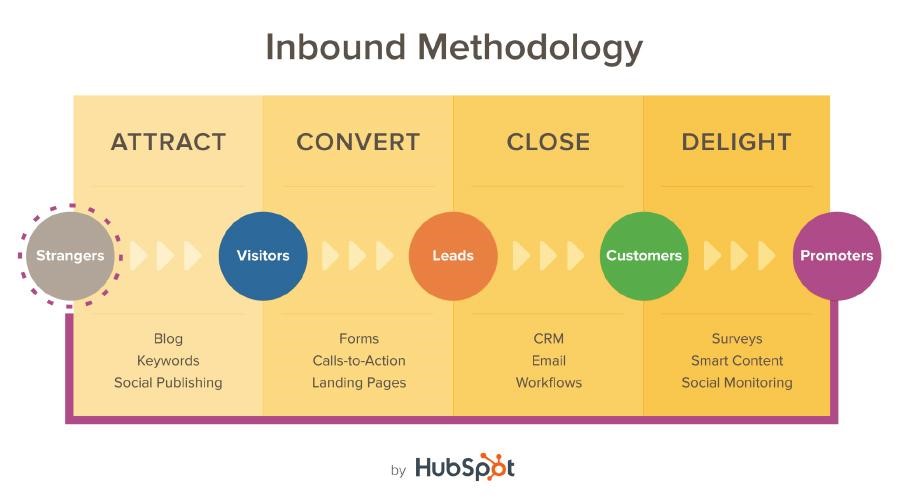 Without diving too far into this, try to think our your own journey when purchasing something.
Do you do research before buying?
Are you attracted to social media and articles before you are ready for an email from a salesperson?
Would you complete a survey before you even know what type of boat you want?
Serving your customers with the wrong messaging could push them away just as easily. However, if you attract and delight them through the process, you are likely to complete a sale and more importantly land a customer for life.
There is more to this process than just creating a blog, adding a call-to-action, emailing a customer and selling a boat. However, this article is intended to give you a surface level view of inbound marketing. If you want to see how a boat shopper could fit into this process, I invite you to meet Marine Mary and follow her journey. You will see how great inbound marketing begins from things known as Buyer Personas and the Buyer's Journey.
This article started with stating inbound is a "hot topic." One thing to note is that inbound marketing is not a trend. It's not going anywhere. Providing an amazing customer experience is no longer a luxury, it's a requirement. Some of the best brands in the world have been practicing inbound for years and, have been winning market share for years.
If you ask any marketer, the purpose of marketing is to earn and delight customers. Almost every business' best marketing comes from when their customers turn into brand advocates.
This is paramount in the marine industry. An industry based on a lifestyle choice where we wave to each other just passing by thrives on being part of something bigger. A community. Why not serve this community with an amazing, unforgettable, life-changing experience?
---
The following two tabs change content below.

Christopher is the founder of SIX Marketing, a boutique marketing agency that concentrates on the marine industry and providing epic solutions. SIX and Chris are leading the inbound movement for marine and the only HubSpot marine certified agency in North America. SIX promotes the love of boating as a lifestyle. We live the boating lifestyle every day and we understand who boaters are and what boaters want.

Latest posts by Christopher Ryan (see all)