Year one results show rapid growth in boater rentals and charters, positioning GetMyBoat as a leader in peer-to-peer boat rentals
GetMyBoat, a community-driven boat rental and charter marketplace, has released on December 12, 2013 first year results for the boater-boater rental marketplace start-up company since their initial launch in January 2013.
The 2013 year-end results include over 11,500 boat listings in 1,100+ cities, 80 countries, and 49 US states with an average 200 boat listings added each week worldwide. Boat listings on GetMyBoat reach a global marketplace, giving boat owners the opportunity to offset the cost of owning a boat and renters the opportunity to only use a boat when they need it.
Year one results for GetMyBoat rentals or charters (on an annualized basis from a 3-month sample) are 500 booked rentals and total reservations of $1,000,000. Noting that most boats in the U.S. alone are only used 8% of the time, GetMyBoat sees much growth potential in the marketplace space to increase use and accessibility of boats.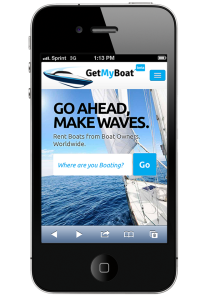 In 2013 the company also launched apps for both iPhone and Android devices that give boaters increased accessibility to the boater-to-boater rental marketplace. GetMyBoat has seen over 20% of their website traffic from mobile devices.
"GetMyBoat has far surpassed initial expectations for year one, making it the leader in the boat sharing space," said GetMyBoat Co-Founder and CEO Sascha Mornell. "As a comparison to the leader in the collaborative consumption space Airbnb, which had 4,000 listings in its first year, GetMyBoat already has over 11,500. We're incredibly grateful to all our users and customers that put their faith in our product, and we are anxious to continue expanding our international coverage and improve our mobile presence in 2014."
GetMyBoat charges no fees, commissions, or monthly membership dues. Everything from signing up on the site, listing watercraft, and completing reservations is completely free of charge. Boats can be rented by the day, hour or week, depending on the owner's preference. Renters have the option to rent or charter the boat with a captain or without (bareboat).
---
---
Marine Marketing Best Practices
GetMyBoat offers listings for both boat owners and rental companies free of charge, with opportunities for premium listings. The no-cost (or low-cost) pricing strategy has proved to be an important step in growing their number of boat listing in year one. They have also partnered with supporting companies to offer add-on services (like insurance) and promotions to help with their rapid expansion in the marketplace.
---
The following two tabs change content below.

MarineMarketingTools.com
provides occasional coverage on marine marketing newsworthy events and other updates that offer marine marketing opportunities to grow businesses in boating. If you are interested in a profile, please see our
sponsored post opportunities
.

Latest posts by News Editor (see all)