---
Web-based tracking tool gives customers real-time view of project status for yacht repair and restoration services
Foster's Yacht Services, a yacht repair and restoration provider located at one of the largest marine facilities in the U.S., has announced on July 30, 2013 that they are introducing a new online tool to help yacht clients track and monitor repair and retrofit projects.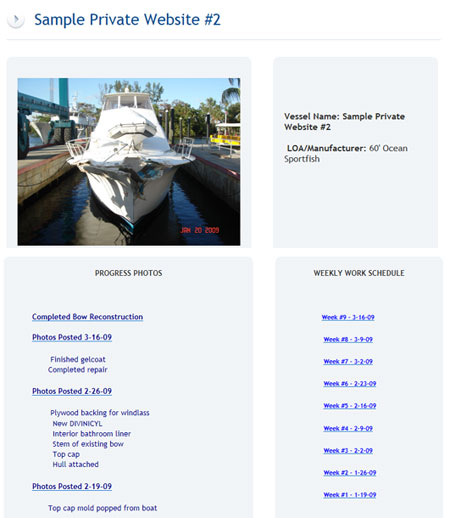 The new Project Tracking Tool by Foster's Yacht Services features web-based reporting on the status of projects for improved accountability and visibility for clients – no matter where they may be in the world.
Each client receives a private website portal to log into and review weekly project updates that includes tracking schedules, job status updates and progress photos. The tracking tool is designed to provide yacht services clients with a worry-free way to monitor projects and ease their minds about the timely progression of projects.
"Costs are very important right now to owners, captains and crew, so it's vital that they have a relationship with a service provider that is accountable for everything they do while providing superior service, quality work and competitive pricing," said Dennis Foster, founder and CEO of Foster's Yacht Services.
Sample Private Project Website Portals are available on the company's website to demonstrate the level of tracking and visibility available for projects.
---
---
Marine Marketing Best Practices
The new online tool from Foster's Yacht Services demonstrates how an improved level of customer service can be a real differentiated quality in your target market. They are offering a solution to a common customer pain point in the marine repair and retrofit industry – lack of accountability and timely completion of projects. By offering customers a transparent view of project progress they are addressing project status concerns head-on and give clients a higher level of customer service.
---
The following two tabs change content below.

MarineMarketingTools.com
provides occasional coverage on marine marketing newsworthy events and other updates that offer marine marketing opportunities to grow businesses in boating. If you are interested in a profile, please see our
sponsored post opportunities
.

Latest posts by News Editor (see all)