---
Game-changing software platform for marine dealer management will debut at 2013 Marine Dealer Conference & Expo
Dominion Marine Media, the division of Dominion Enterprises that operates recreational boating web portals Yachtworld.com,  Boattrader.com and Boats.com have announced on November 8, 2013 that they will be launching a new software platform that will be a game-changing solution for marine dealership management.
Dominion Marine Media (DMM) will introduce a new product called DX1 that promises to offer an end-to-end management that will save marine dealers time and money, helping to create better, stronger and more profitable businesses for marine dealers across the industry. This game-changing business management solution is intended to help dealers become more efficient, functional, flexible and better connected with their customers.
DX1 encompasses all aspects that your dealership needs to run efficiently, from inventory arrival to point of sale and everything in between. Yes, that includes accounting and your website management.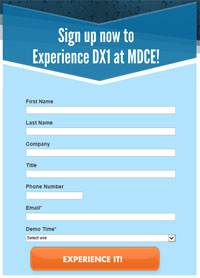 DMM will officially launch the new DX1 software platform at the 2013 Marine Dealers Conference & Expo November 17-20 in Orlando, FL where they encourage boat dealers to visit their exhibit and experience it first-hand. Marine dealerships are encouraged to sign up to experience Dx1 at MDCE by reserving a desired demonstration time at MDCE.
The Dx1 platform taps into capabilities of parent company Dominion Enterprises, a leading marketing services and publishing company experienced in providing comprehensive technology-based marketing solutions, as well as Dominion Marine Media expertise with the marine dealer industry.
"We have always had close relationships with marine retailers, providing dealers and OEMs alike with a range of data and services for more than 25 years," commented Ian Atkins, senior vice president and general manager of Dominion Marine Media. "This experience has given us a clear understanding of the market's real needs, and has led us to develop a new end-to-end software platform that brings together not just our complete product suite, but also a complete range of business management tools, all on one system."
---
---
Marine Marketing Opportunity
The new Dx1 software platform offered by Dominion Marine Media promises to give marine dealers tools to improve operational efficiency and create closer customer connections. Operating with a cloud-based platform, all representatives of a dealership – from office personnel to sales reps and service managers – will have a consolidated view of customer activity to create a more seamless customer experience.
---
The following two tabs change content below.

MarineMarketingTools.com
provides occasional coverage on marine marketing newsworthy events and other updates that offer marine marketing opportunities to grow businesses in boating. If you are interested in a profile, please see our
sponsored post opportunities
.

Latest posts by News Editor (see all)