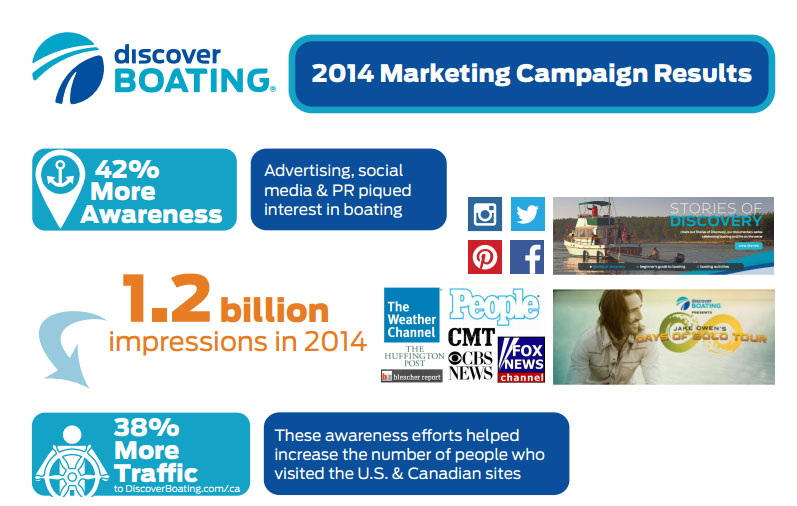 ---
Campaign grew boating awareness and interest in U.S. and Canada delivering 1.8 million visitors to boat manufacturers [INFOGRAPHIC]
Discover Boating, the  public awareness effort managed by the National Marine Manufacturers Association (NMMA) on behalf of the North American recreational boating industry, reports fiscal year 2014 (October 2013 – September 2014) campaign results grew both awareness and interest in boating for the U.S. and Canada markets supported by the campaign.
Much of the 2014 growth is attributed to a new documentary series, Stories of Discovery; a partnership with country star Jake Owen; social engagement on Facebook, Twitter, YouTube, Instagram and Pinterest; advertising; and, public relations.
The Discover Boating campaign aims to generate awareness for boating by leading people to DiscoverBoating.com or DiscoverBoating.ca to learn more about boating and becoming a boat owner. Once on the site, people can link directly to a boat manufacturer's site for more information on product specs and pricing.
---
---
Highlights of the 2014 Discover Boating campaign results include:
1.2 billion media impressions—a 42% increase over 2013
91% of people said they felt more positive about boat ownership after seeing the Stories of Discovery video series, a 10% increase over last year's campaign
3.4 million website visitors — up 38% over 2013
1.8 million people sent to manufacturer websites to shop in 2014 – an 83% increase over 2013
"When the industry agreed to develop Discover Boating in 2003 it recognized the need for a national marketing campaign to attract new boaters and that they could be far more cost effective utilizing Discover Boating instead of individual companies doing it on their own," said Carl Blackwell, Discover Boating president. "Seeing our awareness efforts driving more people to our stakeholders' websites is an invigorating reminder of our mission."
Results-at-a-Glance Infographic: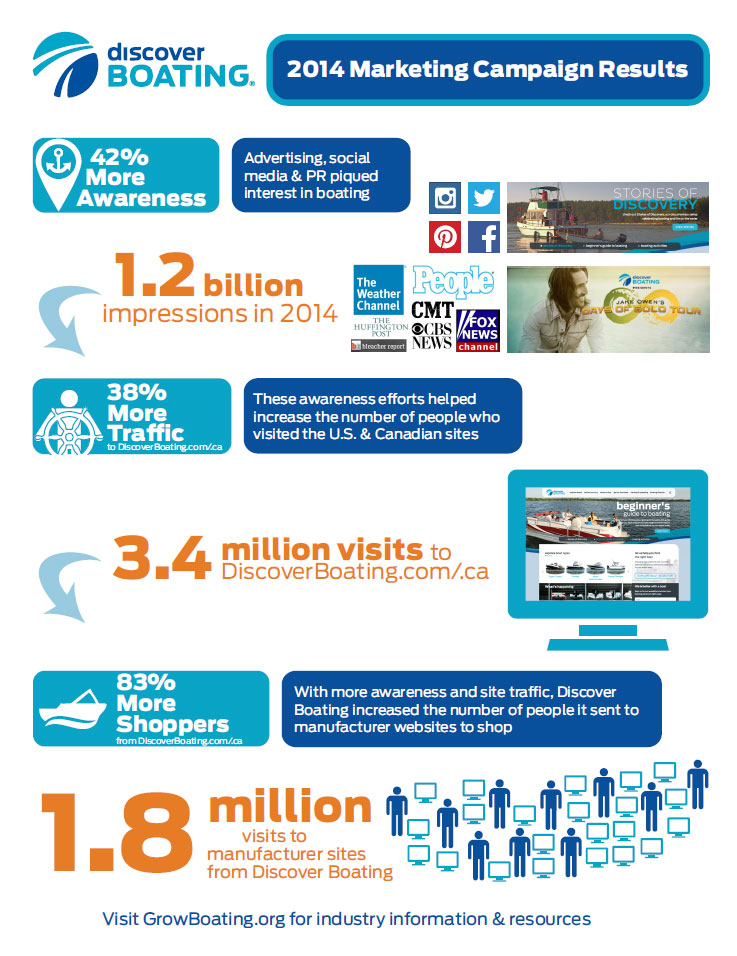 For a copy of the infographic to share it, click here.
Boat Manufacturer Results
Discover Boating encourages all boat manufacturers to check their website traffic using Google Analytics (or by contacting Discover Boating's Kathy Stensby (U.S.)/Tracey Hart (Canada) to learn more).
---
The following two tabs change content below.

MarineMarketingTools.com
provides occasional coverage on marine marketing newsworthy events and other updates that offer marine marketing opportunities to grow businesses in boating. If you are interested in a profile, please see our
sponsored post opportunities
.

Latest posts by News Editor (see all)