Website offers an interactive video community targeting boat owners and the boating industry
BoatersTube.com has announced their official launch on August 7, 2013 as the first website to offer a centralized platform specifically for boaters and the boating industry worldwide.
Built on the idea of becoming an interactive platform for the boating industry, BoatersTube intends to blend the video functionality of YouTube with the social functionality of Facebook to create a new destination for the boating segment.
The use of video marketing has grown tremendously across many industries, and it is an ideal interactive medium for boat builders, dealers, marinas and boating product suppliers and manufacturers to communicate and promote to their audiences. From how-to videos to new boat model showcases, videos are becoming a popular way for boating businesses to build a brand and generate leads for their products and services.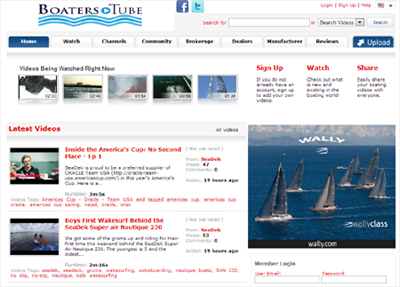 BoatersTube.com hopes to cut through the clutter of YouTube by creating a website platform that only showcases videos relevant to the boating industry that also creates a sense of community for recreational boaters worldwide.
With the use of with mini "channels", videos are categorized into channel topics like:  boat shows, charters, electronics, educational, fishing, manufacturer and safety equipment. There are even channels for boat types like center consoles, trawlers and yachts.
Much like YouTube, videos have descriptions, can be easily shared or embedded and can receive comments by users. Users must sign up to become a member of the site's community to comment.
Unlike YouTube, company's must pay a fee to post videos on BoatersTube (as much as $300 per video for a year, based on a recent quote), and videos do not get the expanded traffic from searches conducted within the larger traffic on YouTube.
To date, BoatersTube has a video library of about 350 videos, which together have been viewed over 70,000 times (averaging 200 views per video).
---
---
Marine Marketing Opportunity
For marine businesses looking to showcase products and services within a highly targeted space with video, BoatersTube offers a niche site that meets those needs. While the cost structure may not be suitable for start-ups with little to no budget, medium and larger marine industry businesses may find that a focused community will serve their growth needs well… particularly as the platform grows in popularity and overall traffic.
---
The following two tabs change content below.

MarineMarketingTools.com
provides occasional coverage on marine marketing newsworthy events and other updates that offer marine marketing opportunities to grow businesses in boating. If you are interested in a profile, please see our
sponsored post opportunities
.

Latest posts by News Editor (see all)