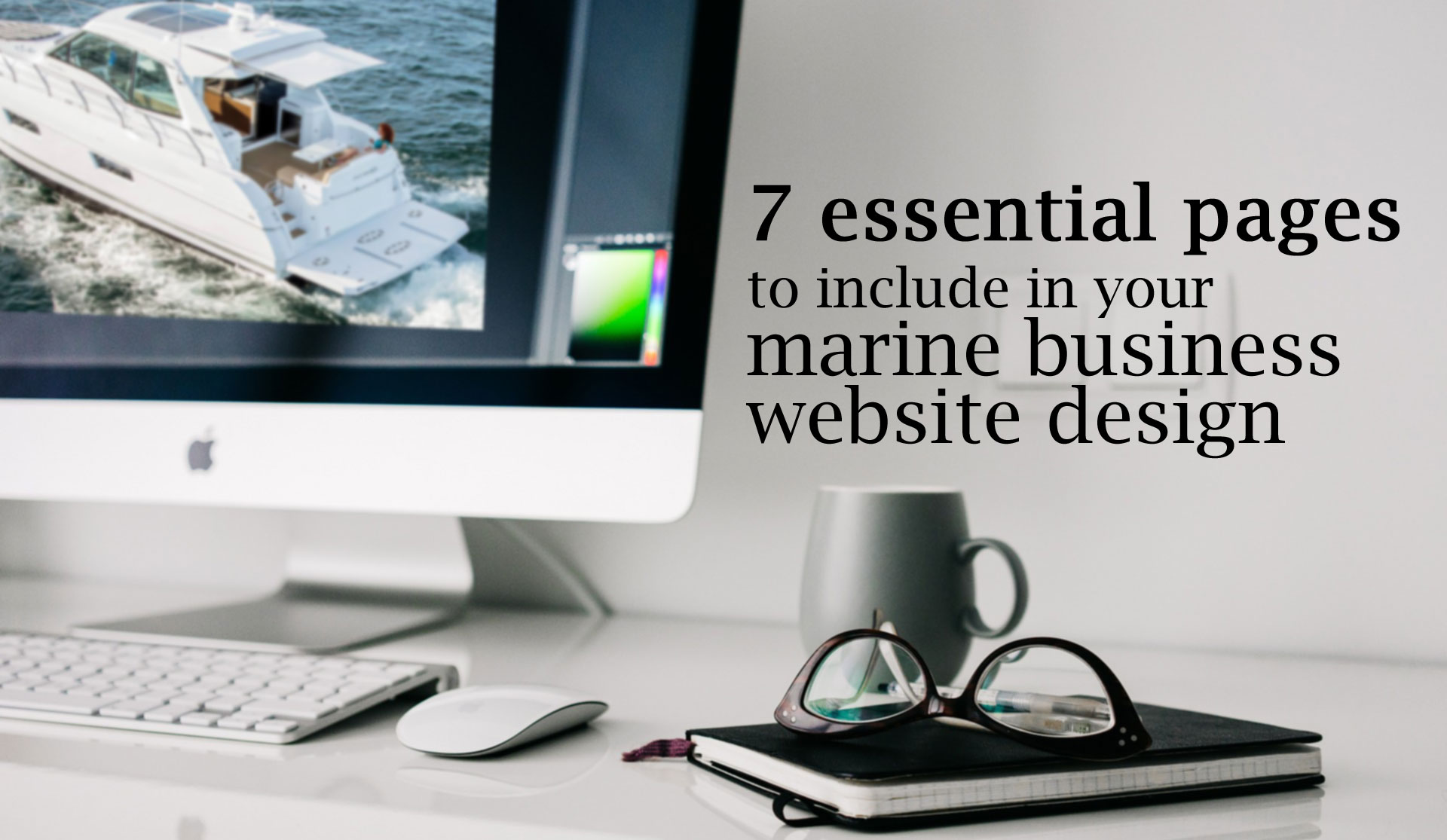 Whether you're creating your first business website to target the marine industry, or redesigning your website to achieve new goals, there are some essential web pages to include in your new marine website design that will ensure your target audience in the marine industry (primarily boaters) is getting exactly what they need from their online queries.
---
7 Web Pages to Include in Your New Marine Website
With ample marine businesses catering to the many different needs and aspects of the marine industry – from boat dealers to marinas or boating products –  the design brief and marketing objectives will of course vary greatly from business to business. Whatever the aim, there are seven essential pages that must be included in any website's design:
---
---
1. Home page
Your shop window and your chance to make a lasting first impression, leaving users wanting (and able) to find out more. Your home page should clearly display your business logo and branding, along with basic contact details and a succinct overview of your products, services and offerings. Menus should be easy to spot and simple to navigate.
2. About us
Your chance to communicate who you are and what you do. This page is often much more popular than you may first think; it should establish your unique selling points (USPs) making you stand out above your competitors, and should establish a 'personality' for your business or brand. You should consider including photographs of your business employees in action, allowing people to put faces to names.
3. Products and services
The 'bread and butter' of your business website, and most likely the reason that people are here at all. Users will want to know exactly what it is that your business offers, and preferably how much it will cost them (approximately). Think clear, concise and creative – a short product/service summary can lead to more information elsewhere.
4. Blog, news and/or articles
Your chance to create fresh and interesting content for your website, giving users (and search engines) a reason to come back to your site. Not only is content essential for communicating business developments and achievements, it also has outstanding ranking and SEO benefits. It presents users with a chance to learn, to share and to engage, and search engines with more information to return for user queries.
5. Contact us
Perhaps your main goal and point of conversion. Your contact details should be displayed in more than one place across your website, but there should always be a dedicated contact page which displays full contact details for your business, and perhaps even the people working within it. Here, you should also display opening hours and a contact form for quick enquiries.
6. Testimonials / reviews
For those in doubt, this is your chance to really secure the deal. The difference between a client conversion could be as simple as a little positive feedback; your website should therefore include a testimonials or review page so that your happy customers can vouch for your services and lend a little swaying power to new users. Online reviews are also great for your SEO strategy.
7. FAQ
Doing exactly what it says, a frequently asked questions (FAQs) page will not only save your employees time in answering common questions, but it will save your potential customers frustration in contacting you to ask. An easy user experience is key to the buyer journey after all.
Depending on the nature of your business model – product, service or e-commerce – other web pages to consider may include terms and conditions, privacy policies and information about any warranties or guarantees.
Beyond these seven or so pages, there are also simple design features to consider to make the user journey much more enjoyable, and to provide marine marketers with insight into their users and their requirements.
Find out more in 12 Essential Elements to Include in your Marine Business Website Design or read the Web Design and Usability Checklist at Yachtingpages.com.
---
The following two tabs change content below.

Sarah works as part of an established marketing team at the
Yachting Pages Media Group
. Present aboard 97% of superyachts globally, Yachting Pages is the world's leading superyacht directory, available in print and online, offering marine businesses help with their marketing and advertising strategies by putting them directly in front of key decision-makers in the industry.

Latest posts by Sarah Rowland (see all)