---
Video promotional offer to showcase motoryachts from 70 to 140 feet while growing broker's digital assets
Fort Lauderdale FL based 26 North Yachts announced on October 7, 2013 that are launching a free hi-definition video promotion to motoryacht owners. The boutique brokerage house specializes in the 70 to 140 foot niche segment and hopes to use videos as a marketing showcase for both clients and the brokerage group.
26 North Yachts is offering to plan, shoot, edit and publish hi-definition videos that showcase a motoryacht. Videos will be posted to the 26 North Yachts YouTube and Vimeo video marketing channels so that boat owners can easily share the video and showcase their yacht to friends, family or co-workers.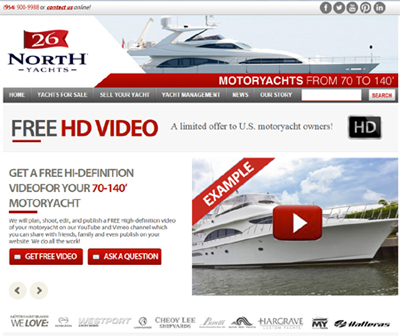 A special page for requesting a free HD video from 26 North Yachts has been created on their website. Owners fill in some basic information to start the video production process for their yacht. Sample videos are also available to demonstrate the final HD video product motoryacht owners may receive.
For motoryacht owners, the HD video offers an excellent way to increase resale value when the time comes to sell, especially as buyers and sellers gear up for the annual Fort Lauderdale International Boat Show.
For 26 North Yachts, the free video promotion allows them to showcase yachts to their international client base and highlight key construction, design and sailing features that may interest buyers looking for a similar boat.
"We continue to see ourselves as a disruptive marketing force in the luxury yacht sales sector, and this free promotion is just the beginning of the powerful selling platform we intend to build over the next several years," said Nicholas Scherb, co-owner, 26 North Yachts.
---
---
Marine Marketing Best Practices
The free HD video promotion is a great way to offer customers a value-add while producing valuable content for the dealership. The videos will showcase the motoryacht brands 26 North Yachts sells and serve as a promotional piece for them. Encouraging sharing of the videos will also help extend their market reach. When it comes time to sell, these motoryacht owners are also more likely to use 26 North Yachts based on their expertise in marketing their yacht.
Finally, growing your digital content library with showcase videos is a worthwhile investment in such a visually appealing industry like boating. Videos make great digital content that you can use throughout your marketing and sales efforts.
---
The following two tabs change content below.

MarineMarketingTools.com
provides occasional coverage on marine marketing newsworthy events and other updates that offer marine marketing opportunities to grow businesses in boating. If you are interested in a profile, please see our
sponsored post opportunities
.

Latest posts by News Editor (see all)