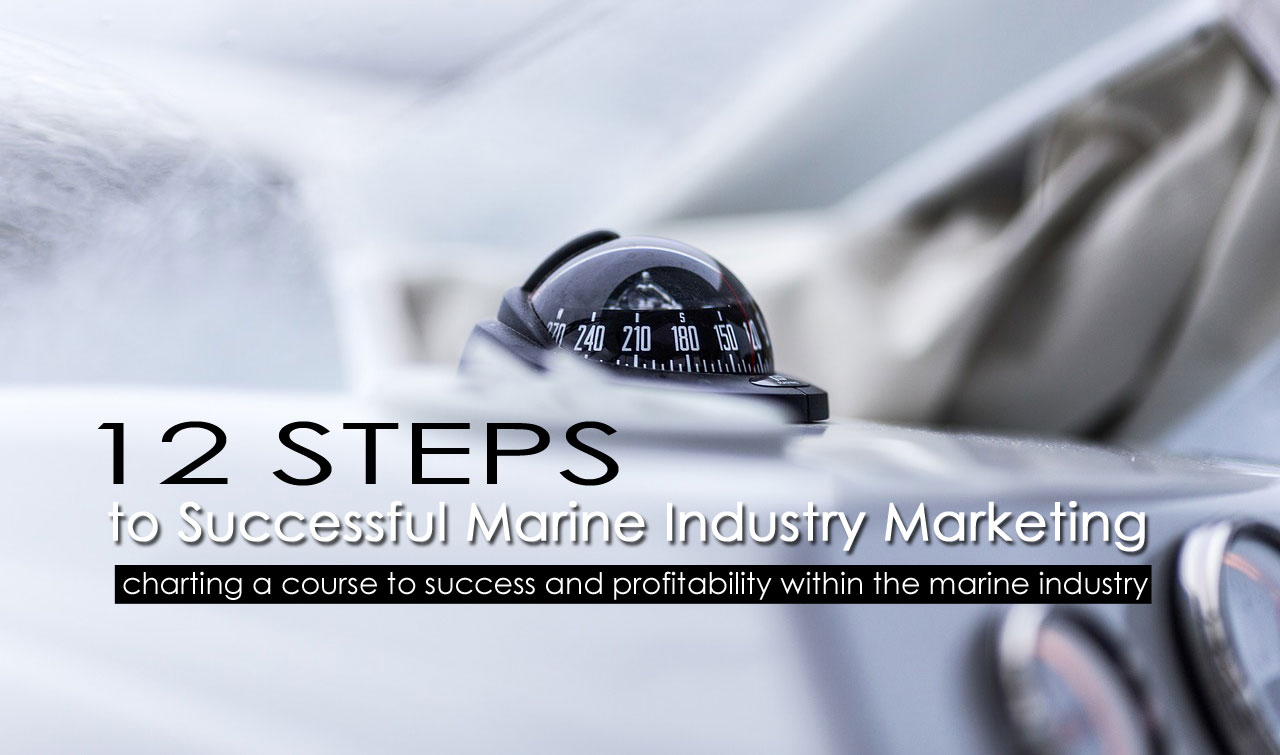 ---
Charting a Course to Success and Profitability within the Marine Industry
In my opinion, marine marketers can enhance their success rate by integrating into their efforts lessons learned from sailing/boating, training and experience.
Sailing and marketing are both processes based on a myriad of defined, repetitive, and creative decisions and, in part, utilize the same skill set. If you can hone the marketing process to eliminate wasted time or dead-end segments and reduce market spend, you will have a more effective marketing effort—much as a sailor who uses careful pre-planning can optimize chances for enjoying a safe, pleasant trip with fewer negative happenings.
Are you starting to see the connection, get your bearings?
Marketing to me is experiential, meaning that my experiences and those that my clients have brought into the equation have provided a learning experience and offered a full menu of haptic and visual induction and interaction. Marketing, as we move into the future, needs to do the same for all involved—building on the experiences of the brand, the agency, the marketing group, and, most importantly, the prospect, consumer, or customer.
In much the same way, sailing/boating is also experiential in nature. Through experience, sailing becomes an interactive, sense-based activity, with the sailor learning from both successes and mistakes. Again, much like marketing.
Here are my top 12 steps, or knots if you wish, each adding more speed to the long-term ROI/ROR success of your program. These are the magical dozen steps to make nearly every marketing effort effective, successful, and based on profitability.
---
---
Sailing / Boating Action 
Setting Sail & Selecting Destinations
Points of Sail / Directions
Navigation
Weather
Tacking / Gybing – course corrections
Set and drift
Passage making
Sea Sickness
Cruising / Racing
Marlin spike / boat skills
Docking – Destination / arrival
Safe Harbor
Marketing Equivalent
Research, setting goals and expectations
Strengths, Weakness, Opportunities, and Threats
Planning you effort
Preparing for your competition & unexpected situations
Keep moving forward
Tracking and Measurement
Continuous Improvement/Corrective Marketing
Adjustments to weak results or poor response
B2C or B2B
Building business and skills
Success and evaluation
Profits, ROI, and ROR
Do you need an example of the process in action?
Think trade shows, and events. Many marketers, if not most, see a trade event as a single event and plan their marketing and advertising (often forgetting the 7 pillars of sales promotion) as a strategic element.
In actually, there are three main parts to a trade event, such as a boat show.
pre-show
the show on the floor or on the dock parts of the event
the post-show
Each of the three stages needs to incorporate every one of the 12 steps outlined above. The percentage of your effort devoted to each stage may vary, but the three promotional opportunity segments of the trade event are and must be viewed as reflective events, not standalones. They must be co-supported to achieve or optimize the results, achieve your goals and objectives, and, most importantly, keep the consumer, customer, or potential client active in the sales process.
The above-mentioned 12 steps also support the traditional marketing pyramid. They each address in one way or another the Awareness, Interest, Consideration, Intent, Evaluation, and Purchase process that traditional marketing and advertising is based upon.
What do you think?
This is an oversimplification of a very complex process, sure, but that is my point. Sailing or boating is complex, multi-tiered, layered, and complicated at first, but once you understand the simple basics of the concept, sailing and boating are less daunting. There seem to be too many marketers who get caught in the weeds, do not fully understand the depth of most marketing efforts, and forget that even the most basic marketing efforts need to be carefully planned and should follow my 12-step checklist as an introductory formula.
Remember KISS— Keep It Simple, Sailor!
Benefit from my knowledge, experience, and even my mistakes. This list is a product of my many years of marketing success across multiple verticals, different demographics, and a diverse set of goals and objectives.
Accept my offer for a free, no-obligation 30-minute phone call to discuss your needs and learn how my process will add benefits to your efforts. Please feel free to email me at thad.kubis@tifmc.org. Let's chart your to course to success together.
---
The following two tabs change content below.

Offering integrated marketing/media communication consultant based services; my broad skill set is founded on profit advocacy and ROI – Where marketing becomes dialogue and engagement! Integrated Marketing • Media Convergence • Profit Advocacy • Multi-Media Management • Forensic Marketing Analysis thad.kubis@tifmc.org 917.597.1891

Latest posts by Thaddeus Kubis (see all)